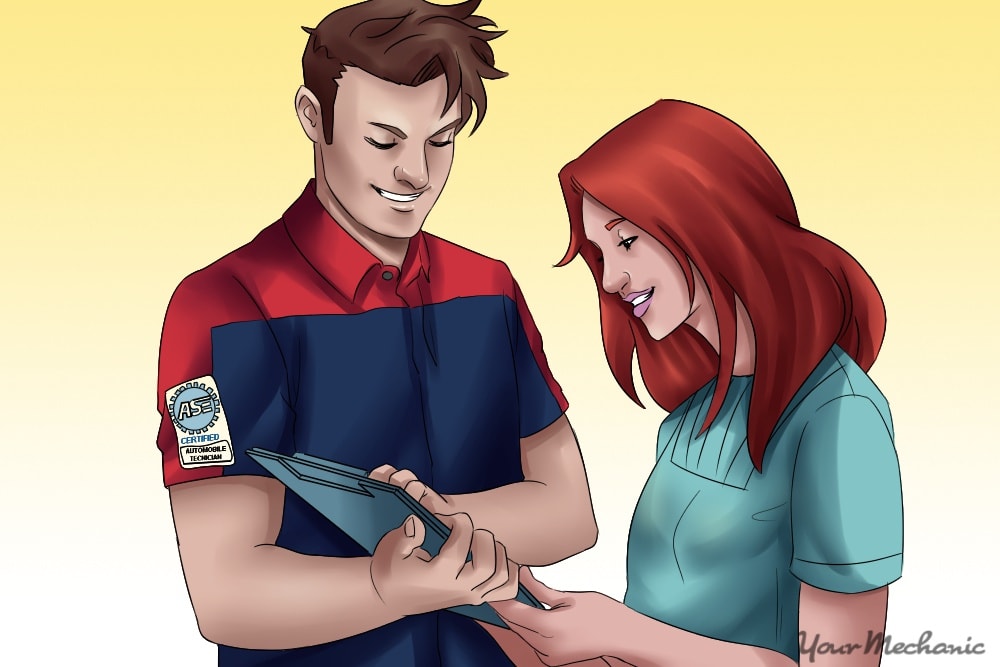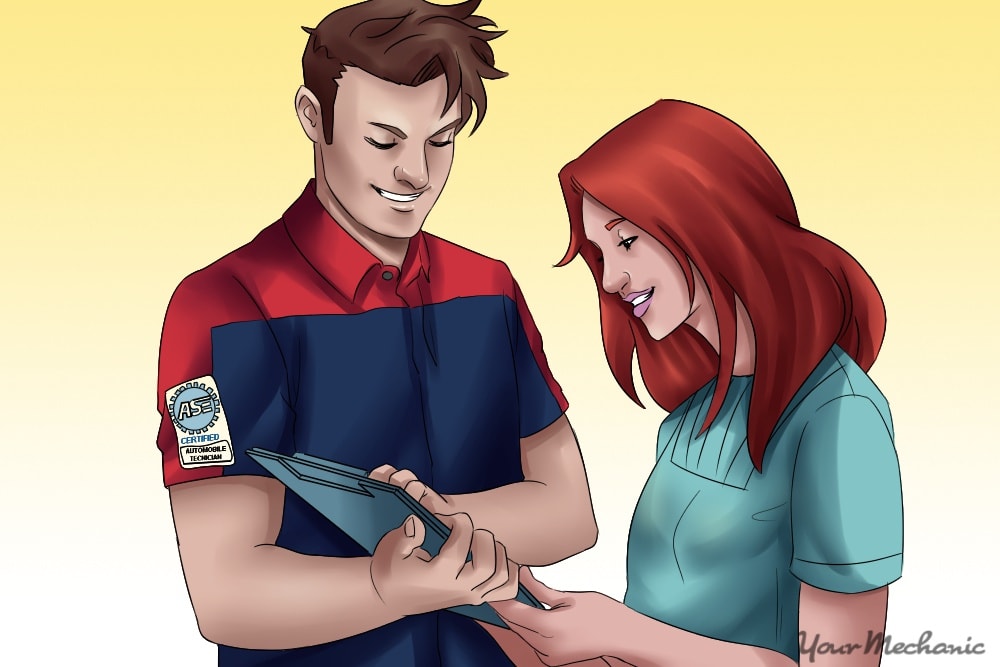 The National Institute for Automotive Service Excellence (ASE) is a non-profit organization that began in 1972, promoting excellence in automotive service and repair. The organization holds exams for automotive technicians who want to become certified professionals in any part of the automotive service industry. Automotive technician jobs are often easier to get if you have ASE certification.
This credential is a standard throughout the industry and certification can be provided in eight different areas:
Automotive transmission/transaxle
Heating and air-conditioning
Manual drivetrain and axles
Suspension and steering
Brakes
Electrical/electronic systems
Engine performance
Engine repair
Each area requires a minimum of two years' experience before a certification is granted. That said, an individual can register for and pass an exam in advance without having proof of experience (except for the X1, L1, and L2 tests), but certification will not be granted until after proof of experience has been fulfilled. Additionally, experience in one given area of study does not necessarily translate to another, so one must gain experience as it relates to the exam. If any person passes all eight exams they become a Master Automobile Technician.
Obtaining ASE certification performs several functions:
It provides security for employers who then know the employees they hire are experienced professionals in their field.

It provides protection for the consumer whose vehicles are being repaired. They can be confident that a trained expert is working on their car.

It benefits the technician who can prove their expertise and skill, and demand a higher wage or position because of it.
ASE certification is not life-long like many other programs. The ASE certification program requires that individuals are re-tested every five years to ensure they are keeping up with current repair techniques and technology. The tests are complex, and only two-thirds of those tested pass on their first attempt.
Note: ASE tests and certifies individual automotive service personnel who demonstrate the knowledge and skills needed to perform their role professionally. ASE certifies the individuals, not the repair shop.
Part 1 of 3: Register and take tests through the myASE account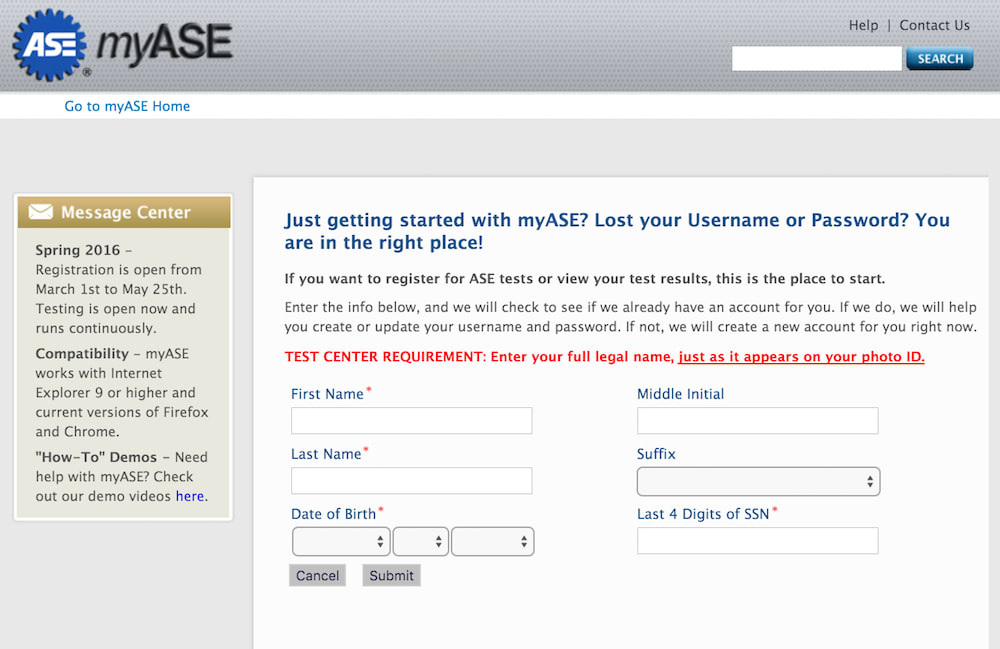 Step 1: Create an account: Go to the ASE website and click on "Create myASE Account." * Fill in your name, date of birth, and Social Security Number and click Submit.
After you're registered, you'll be able to register for tests, review your test scores, and check in to see updates.
Step 2: Choose your tests. Each ASE certification test has between 40 and 75 multiple choice questions to measure your knowledge in the 8 categories.
The work experience form also spells out which test is associated with each area of knowledge.
Note: See Part 2 below for details on work experience.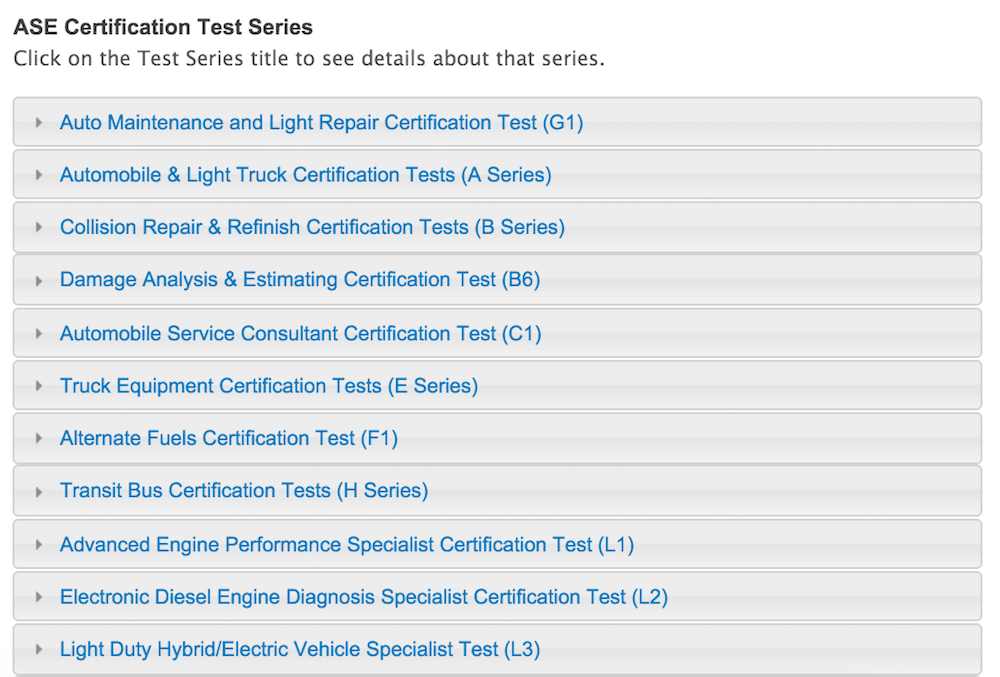 Step 3: Register for tests. You can register for the tests you want to take through your myASE account or by calling them at 1-877-346-9327.
Click on the "Register Now" box on the left side of the screen. A list of tests you can take will be displayed. It includes tests for all different lines of ASE certification, not just automotive technician, so carefully choose the tests you want to take.
For ASE Master Technician status in the auto field, you require tests A1 through A8. You'll need to complete the tests within 90 days of purchasing them, so only pick the ones you'll be able to complete in that time frame. Each test is $37 to take, plus a $36 registration fee.
There are 16 series of tests in different categories.
Click on the test you're interested in taking and a dropdown box will show you more details about that particular test.
Click the checkbox beside the test you want to purchase, then scroll to the bottom and click continue. Complete your payment. You're now ready to take the test, but you'll have to do so at an authorized test facility.
Step 4: Find a test center location near you. In the United States, ASE partners with Prometric for in-person testing.
Use the Test Center Locator to find a test center that's convenient for you. There are 500 test centers in the US.
Registering for tests costs $36 which is paid once, no matter how many tests you take.
Note: Tests cost $37 each, except for L1, L2, and L3, which cost $74 each. You can take as many re-certification tests as you want (the most you'd have to pay is $147).
Step 5: Schedule your tests. ASE tests are available for you to take year round. When you register for an ASE test, you have 90 days to schedule an appointment and take your test at a test center.
Step 6: Study for the test. You can download the free study guide from the ASE site, as well as buy practice tests, which cost $14.95 each.
These question are not the same as the ones you'll find on the real tests.
Note: There are no classes or courses that are required for you to take an ASE test. However, to become certified, you must pass one or more of the certification tests as well as have two or more years of hands-on work experience.
Step 7: Take the test. Arrive for your test at least half an hour early so you have time to check in and get settled.
Bring your photo ID with you to the test. The name on the ID must match the name on your ASE registration.
You cell phone and other personal items will be put in a locker during the test so don't bring items to the test unless absolutely necessary.
Each test has a specific time limit. Make sure you know how much time you're going to have for your chosen test well before you arrive so there are no surprises.
Note: You will pass through a metal detector before entering the testing room.

Tip: It's a good idea to get used to the ASE system by taking their demo exam before your actual test so you know what to expect.

Note: If you fail a test, try to gain more hands-on experience before you take the test again so you have a better chance of success.
Part 2 of 3: Complete your work experience
Part of becoming ASE certified involves not just passing the test is having relevant hands-on working experience. Only when your work experience is submitted, reviewed, and approved will you be issued your ASE certification. The amount of work experience you need to do varies by test, and is specified in detail on the work experience reporting form. In general, ASE lets you claim experience in these areas:
You're allowed to register and take the tests (except for the X1, L1, and L2 tests) before you have all your work experience but you won't receive full certification until you fulfill the experience requirement.
Step 1: Download the ASE Work Experience form. In your ASE account, click on "Work Experience" at the top of the page.
Click on the box "Print Work Experience Form." The PDF version of the work experience form will display. Print it from your browser window.
Step 2: Complete your personal information. Enter all the information legibly on page 3 of the work experience forms, and at the top of page 4.
If your information is incomplete or illegible, it may delay your application or it may not be recognized.
Step 3: Complete your employment information. Fill in your current employer and previous employer information fully.
Provide the names and addresses of your current and previous employers, covering up to 3 years or more for Repair Technicians and at least 2 years for Service Consultants, Parts Specialists, and Collision Damage Estimators.
ASE will verify your work experience before you receive your certification, so this is critical.
Step 4: Check off your areas of work experience. Select the areas where you have professional experience.
Note: In-class work experience does not count towards certification.
Step 5: Get signatures on the form. Complete sections 4 through 6 on page two, showing the work areas in which you have actual hands-on experience. Have your supervisor sign and date the form on page 4, then sign the bottom of the page yourself.
Unsigned work experience forms won't be processed.
Step 6: Submit the form to ASE. You can mail in the forms to ASE or you can fax the completed work experience forms to (703) 669-6122.
Send the completed form to:
ASE Customer Service 101 Blue Seal Drive SE, Suite 101 Leesburg, VA 20175
Tip: You can call their hotline if you have any questions, call 1-800-390-6789 (option 9).
Step 7: Wait for ASE to contact you. The form you use to turn in your work experience gets verified by the ASE. Once they confirm your work experience, they will issue your ASE certification.
Part 3 of 3: Complete all eight categories of certification
In order to receive your ASE Master Technician Certification, you're required to complete tests A1 through A8 of the automotive certification process. You'll also be required to complete the necessary work experience for each section before you will receive the ASE Master Technician designation.
Test A9, Light Vehicle Diesel Engines, is not required for Master Technician status. While many ASE Master Technicians will choose to complete diesel engine certification, you can achieve Master status without it.
Once you've completed all eight required sections, you're automatically recognized as an ASE Master Technician and your certificate will be sent out to you in the mail.
To maintain your ASE Master Technician status, you need to re-test in each section every five years. The tests are complex and only two thirds of those who take the test pass on the first try. If you don't re-certify in one or more category, you will lose your Master Technician status. However, if you pass the recertification tests in the lapsed area, you'll regain your ASE Master Technician status.
Part of the ASE certification program is a requirement to complete a re-test every five years. This ensures you stay current with new technology and practices and provides continued assurance for employers and customers that you are dedicated to quality automotive repairs and service.
An automotive mechanic is a great career in which many people have found success and happiness. If you're already a certified mechanic and you're interested in working with YourMechanic, submit an online application to work for YourMechanic here for an opportunity to become a mobile mechanic.
---
The statements expressed above are only for informational purposes and should be independently verified. Please see our
terms of service
for more details