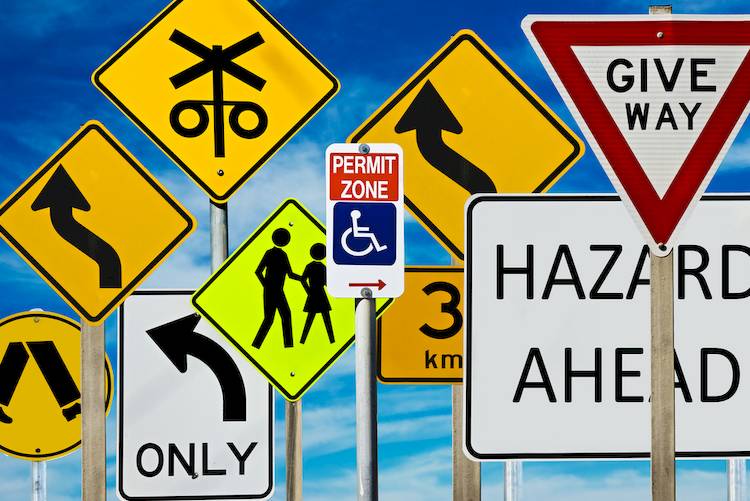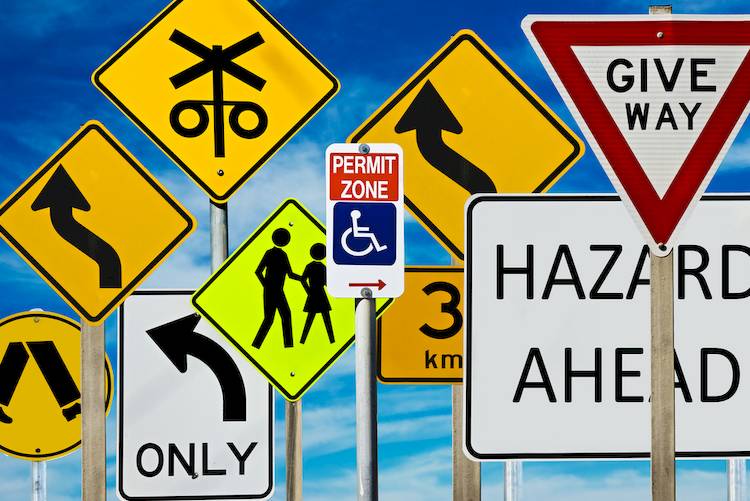 The rules of the road in Oregon are similar to those of other states in the US, but there are some important differences. Read through these rules of the road to ensure that you're operating your vehicle legally and properly when driving in Oregon.
General safety
Motorcyclists in Oregon must have a valid Oregon driver's license. To operate any moped or motorcycle over 50cc, they must obtain a instruction permit and then pass a knowledge test and skills test to obtain their motorcycle endorsement for their Oregon driver's license. Also, motorcyclists must wear helmets whenever operating a motorcycle or moped.

Seat belts must be worn at all times by all adult drivers and passengers.

Infants must be secured in rearward facing child seats up to the age of one year. Children weighing less than 40 pounds must sit in an approved child seat. A booster must be used for children under 4'9" or up to the age of eight.

Red flashing traffic light should be treated as a stop sign, while a yellow flashing light indicates that drivers should slow down and make sure that the intersection is clear and safe before continuing through.

If a driver encounters an out of order traffic light, they should treat the out signal as a four-way stop.

Flashing amber lights on school buses indicate that following and approaching traffic should slow down. Flashing red lights and/or an activated red "STOP" sign must be treated as a stop signal and must be obeyed until the lights are out and the sign is deactivated.

Drivers should watch for pedestrians in crosswalks and at intersections. Drivers should also be aware that some cities and towns in Oregon have mid-block crosswalks and that pedestrians in crosswalks always have the right of way.

Parking is illegal in bicycle lanes. Turning across a bicycle lane is legal after checking to ensure that no bicyclists are approaching, but it is illegal to enter the bicycle lane to prepare for the turn.

Drivers must always yield to emergency vehicles. It is illegal to enter a roundabout or intersection if an emergency vehicle is approaching. If an emergency vehicle is overtaking, drivers should pull over to let it pass.
Important rules for safe driving
In Oregon, drivers may perform a right on red if they have come to a full stop and made sure that the way is clear.

Drivers should stay in the right lane except when passing. Passing on the right is illegal, and it is illegal to pass across a solid yellow or white line.

The first driver to reach a four-way stop will have the right of way after coming to a complete stop. If more than one vehicle arrives at the same time, the driver to the right will have the right of way, and drivers to the left will yield.

U-turns are prohibited in certain places in Oregon, including between intersections in cities, locations without speed limits where visibility is impaired, and at intersections controlled by traffic signals (unless a sign permits U-turns).

Blocking intersections and crosswalks is illegal in the state of Oregon. Do not move forward into an intersection or crosswalk until you can completely clear it with your vehicle.

A sign with a white diamond and/or the initials "HOV" indicates a high occupancy vehicle lane. Only vehicles carrying two or more passengers may travel in this lane.

Some freeway on-ramps have ramp meters, which signal drivers when they may merge onto the freeway, one vehicle at a time. These are most often placed in high-traffic areas and will be active at busier times of the day.
DUIs and other legal issues for Oregon drivers
Oregon has an implied consent law, stating that by operating their vehicles drivers agree to blood, urine, and/or breath tests for blood alcohol content. Drivers who are 21 years old and up will fail this test at 0.08 or higher and will be charged with a DUI. Drivers under the age of 21 who test positive for any alcohol in their system will be subject to the same penalties.

Drivers involved in accidents must stop, give any reasonable assistance to anyone who is injured, and exchange information. You must file a police report within 72 hours of the incident if there is more than $1500 worth of damage to any involved vehicle and/or other property, if you own one of the vehicles involved in the crash and the driver has not reported the incident, and/or if there was a death or injury as a result of the accident.

Motorcycles and trailers are required to have a single valid rear license plate. All other vehicles must have both valid front and rear license plates.

Radar detectors are permitted for use in private vehicles in Oregon but are prohibited in commercial vehicles.
These rules of the road in Oregon may differ from those in other states, so it is important that you are familiar with them and other common traffic laws that remain the same in all states. If you would like more information, please reference to the Oregon Driver's Manual.
---
The statements expressed above are only for informational purposes and should be independently verified. Please see our
terms of service
for more details