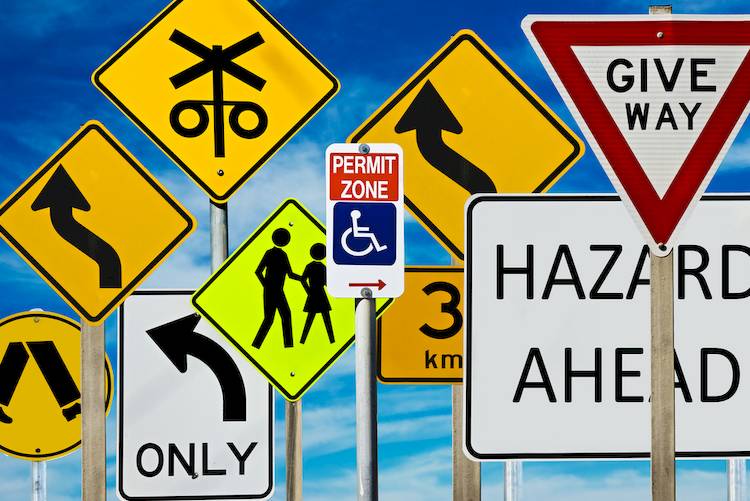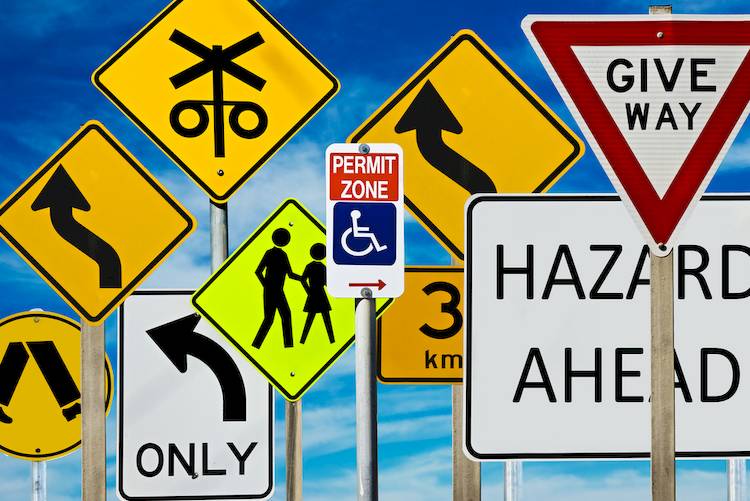 While most drivers understand the basic rules of the road since many of them are based on common sense, each state has different rules. The following are some of the road rules for Alaska drivers that may be different from those to which you are accustomed to following in other states.
Safety belts
All people in a vehicle are required to wear safety belts.

Drivers are responsible for all passengers under the age of 16. Fines for children not restrained properly are up to $50 and up to 2 points against the driver's license.

Children eight years old and younger must be in the appropriate child safety seat based on their height and weight.

Adult passengers caught not wearing a seatbelt will be fined $15.
Electronics in vehicles
Drivers can't send or read text messages while driving.

Drivers can't operate a vehicle while a device with a visual screen (ie. laptops, TVs, etc.) are in operation.
Speed limits
The speed limit is 20 MPH when driving in business districts and school zones.

The speed limit in alleys is 15 MPH.

The speed limit in residential areas is 25 MPH.

Local authorities can change the above speed limits with posted signs based on prevailing traffic conditions.
Headlights
Headlights are required in all situations such as fog, rain, smoke, snow and dust in which visibility is reduced to 1,000 feet or less.

Driving only with parking lights during the day and at night is prohibited.
General rules
Following - Drivers are required to follow the "four second rule," which is leaving four seconds of space counted using a stationary object, when following other vehicles. Additionally, if a vehicle is on a two-lane road and has five or more vehicles behind it, the driver must pull over to let them pass when it is safe to do so.

Right of way - Drivers who approach an intersection should yield right of way to the driver on the right. However, if the right of way is not yielded, drivers must yield to the other driver, even if the driver on the left is breaking the law. Drivers must always yield right of way to pedestrians.

Slow moving vehicles - Vehicles that travel at 25 MPH or less are required to use an orange, triangular slow moving vehicle sign.

Loads - Cars and trucks hauling a load must have everything secured to ensure it can't fall out of the vehicle.

Littering - Littering on the roadways is illegal and can carry a fine up to $1,000 and up to 90 days in jail.

Flashing red arrows - A flashing red arrow on a traffic light means that the driver must stop before entering the intersection. Proceed through the flashing red arrow only if there are no pedestrians or other traffic approaching and it is safe to do so.

Road signs - Alaska has frequent animal encounters on the roads. Proceed with caution when signs are posted that wildlife, such as bears, elk, caribou, mountain goats and sheep, are present.

Parking - It is illegal in the state of Alaska to leave a vehicle running if it is unattended.

Red vehicle lights - Vehicles that are not police, fire or ambulance are not permitted to have red lights that are visible from the front.
Required equipment on roadways
All vehicles manufactured after 1965 must have two combination lap/shoulder belts in the front seat.

A white license plate is required on all vehicles.

All vehicles must have windshield wipers and a working defroster.

All vehicles must have a working muffler.
Following these rules of the road will keep you safer and out of trouble when driving on Alaska roads. If you need more information, check the State of Alaska Driver Manual.
---
The statements expressed above are only for informational purposes and should be independently verified. Please see our
terms of service
for more details