A Certificate of Title, or car title, proves your ownership of your vehicle, and it's a necessary form for you to register it with your state, and to get license plates.
If you lose your title certificate, or it becomes damaged and is no longer usable, it's possible to get a replacement. In fact, you will need one if you plan to sell your car.
Your car title contains important information about your vehicle and is a legal document. It shows:
Your name
Your address
The Vehicle Identification Number, or VIN, of your vehicle
The make, model, and year of your vehicle
A Transfer of Title section
The Transfer of Title section is perhaps the most important part of your vehicle title. In the event that you want to sell your car, you must provide the buyer with your car title with all the information in the Transfer of Title section completely filled out. Without the Transfer of Title, it's not possible for the new owner to register the vehicle under their name and get new tags for it.
Part 1 of 3: Obtain a duplicate title application
You'll need to find your state's closest Department of Motor Vehicle office or visit its online site.
Step 1: Enter a search for your state DMV website.
Locate the Forms or Applications section on the site, or do a search.
Step 2: Download the application. Download the form from the state DMV website if one is available.
Otherwise, go to the local DMV office and request a duplicate title application.
Step 3: Find out specific requirements for your state. Some states will ask for a notarized copy, which means you'll have to sign in front of a notary.
Many banks provide notary services for a small fee.
Step 4: Fill out the form. Complete the information required on the form completely.
You'll need to provide your own personal information and information about the vehicle.
You may need to explain why you're requesting a replacement title.
Step 5: Sign the form. Sign the form in the manner required by the state DMV.
You may have to wait until you go to the local DMV or go to a notary.
Part 2 of 3: Submit the form to request a duplicate title
Step 1: Find out what other items you need to have on hand before you submit the form for processing.
Many states charge a fee and request proof of identity before processing these forms. You may find this information on the website or the actual form itself.
If in doubt, contact the local office by phone and ask them.
Step 2: Find out how to submit the form. Some states allow you to mail it in while others may require you to go to the local office in person.
You may also be able to submit the form online.
Tip: Allow enough time for the replacement title to be issued to you before you sell your vehicle. You can find out estimated processing time at your local DMV office. You cannot sell a vehicle without a title.
Note: If there is a lien on your vehicle, the original title will be sent to the lienholder. Request a copy of the title for your records.
Part 3 of 3: Get a replacement title for an unregistered vehicle
It may occur that you have just purchased a vehicle, and you lose the title certificate before the title is transferred to your name. If you are able to reach the seller, it may be possible to get a new title certificate through another process.
Note: This process may not be applicable in your state or if your vehicle is under a certain age. Typically, that age is 6 years.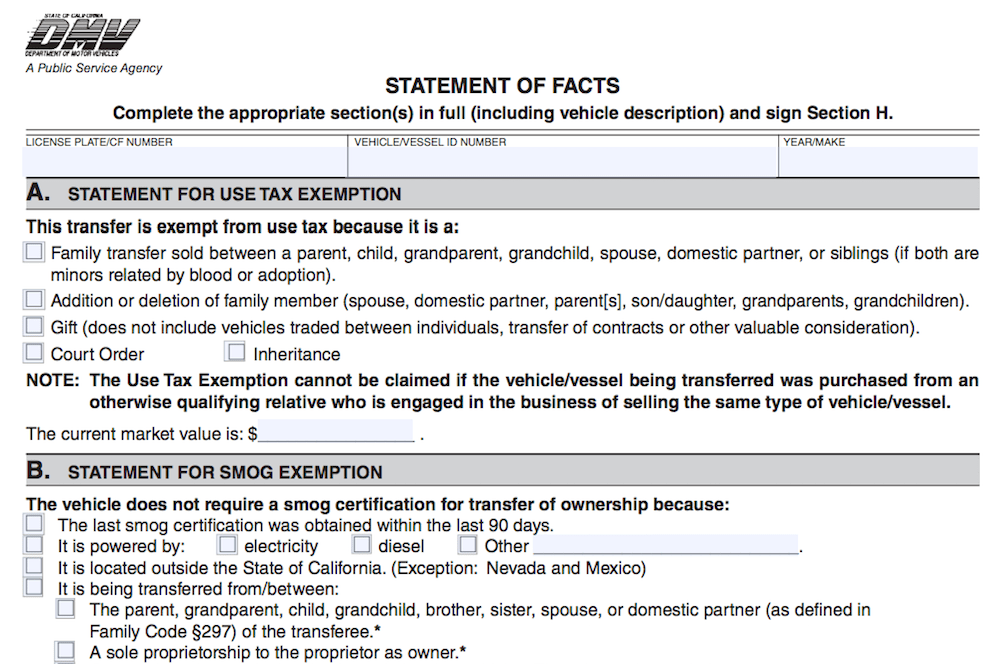 Step 1: Fill out a Statement of Facts form with the seller. Include specific details about the vehicle and the transaction.
You may need to provide photos of the car from all sides for proof of value.
Step 2: Fill out an Affidavit of Due Diligence. Complete an Affidavit or a similar form for your state.
This states that you have done everything to find the original title and the validity of the sale.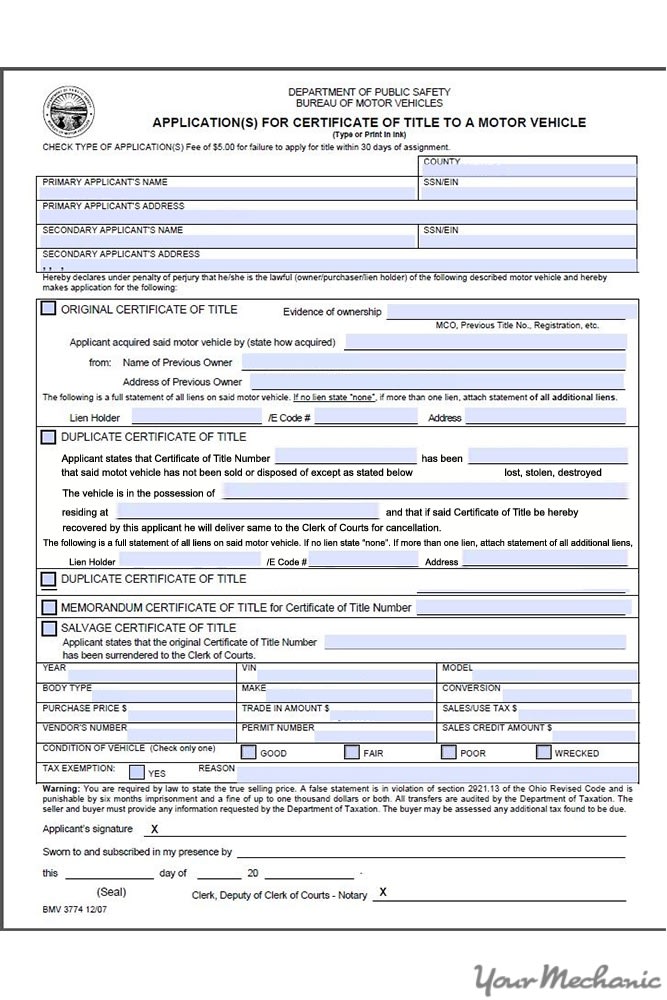 Step 3: Complete an application for a Certificate of Title.
Step 4: Write out a statement of protection from the buyer. This releases the state of any future claims regarding the purchase.
Step 5: Provide a surety bond if required by the state. This is on a case-by-case basis and varies by state.
A surety bond is a sum of money that must be placed in a secure bond, ensuring that if there are financial damages associated with a falsified title, your money will be payment for the damages.
Most financial institutions and bond agencies can assist you in acquiring a surety bond if required.
Step 6: Provide payment for the title application. Add up your sales tax owed, your title transfer fee and any additional fees required for your application.
Step 7: Wait for your new title to arrive. If you have taken a loan out for your vehicle, the title will be sent to the lienholder or bank.
Request a copy from your bank for your records.
A good practice is to keep your car's certificate of title in a safe location such as a safety deposit box or a secure location at home. Obtaining a replacement title isn't a difficult process though it can be quite time consuming, and never happens at a convenient time.
---
The statements expressed above are only for informational purposes and should be independently verified. Please see our
terms of service
for more details