When shopping for your next vehicle, you naturally want to discover everything you can about its history. While the dealership or individual in possession of the car or truck you're considering can provide much of the information you need, such as what type of maintenance or repairs have been done throughout the years, you can't be completely assured of the accuracy of what they provide. Also, in the case of a vehicle with multiple previous owners, the last person to drive it may not even be able to answer all of the questions you have.
This doesn't mean you should simply accept limited information at face value or give up on discovering any unknowns about your potential purchase. The Vehicle Identification Number (VIN) of that car or truck is the key to unlocking a wealth of information from police reports to specifications. While it's true that many investigative searches by the VIN come with a price tag attached, you may be surprised at how much you can discover absolutely free.
Part 1 of 5: How to read a VIN
Part of the reason the VIN can reveal so much information about a vehicle is because it's the unique identifier of that particular car or truck. This ensures there is no mistake that what the number reveals applies solely to that vehicle and no other.
What a lot of people don't realize, however, is that the number itself is quite revealing about specific details. Each number and letter of the VIN corresponds to a particular piece of information that may be helpful in making a purchase decision.
The types of data on the VIN include where the vehicle was built and assembled, its model year, and the size of its engine. Refer to the chart below for a detailed breakdown of what each of a VIN's parts means.
There are four main ways you can get a free VIN check, and each method targets a slightly different kind of information. Consequently, we suggest you use all four instead of a single means. You can make the best purchasing decisions when armed with the most knowledge about the vehicle you're interesting in buying.
Ask the dealer or individual owner to write down the VIN on a piece of paper and conduct your research online before making any commitments. Don't let anyone pressure you into a purchase before you're ready because there are plenty of other vehicles on the market. Take the time you need to feel sure about such a major decision, and don't hesitate to contact one of our technicians for advice.
Part 2 of 5: Get Informed on vehicle specifications
Remember how every number and letter on the VIN corresponds with a particular piece of background about that vehicle? Since you can't be expected to remember what every little bit means, there is a free website that breaks all of that information down for you.
Step 1: Go to the Vin Checker website in your browser.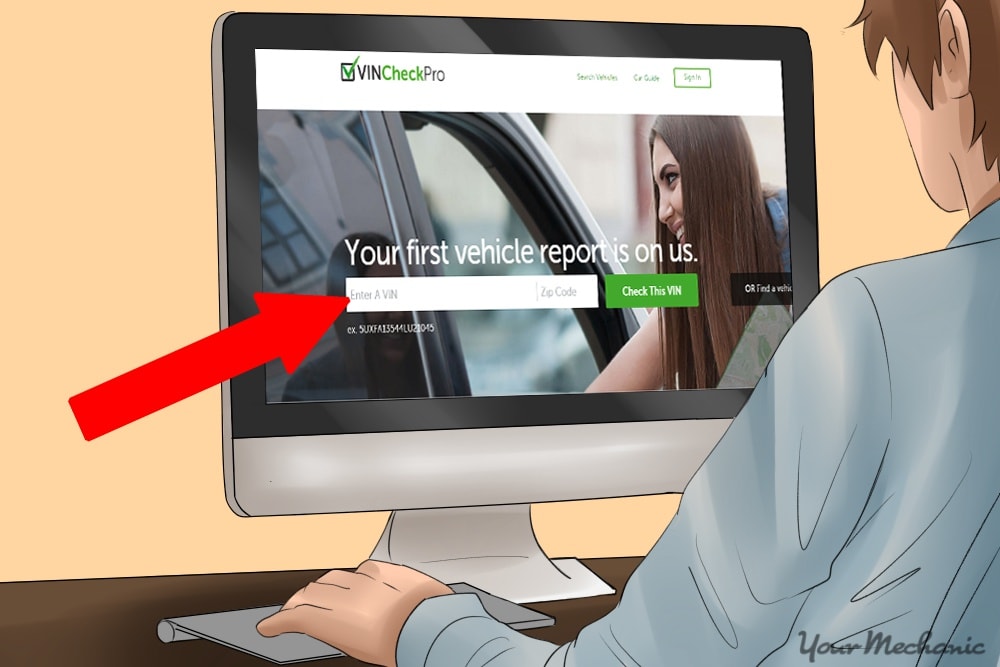 Step 2: Fill out the necessary information. Enter the VIN number of the vehicle you are researching and your zip code into the designated text boxes.
Step 3: Review the report. Push the "Check Your VIN" button to reveal the vehicle's specifications, including fuel efficiency, NHTSA, and IIHS crash test ratings. Although there will be an option to purchase a more detailed report, the information you gain from this free search can be quite useful in making a purchase decision.
Part 3 of 5: Ensure the title is free and clear
The last thing you want to do is get involved in purchasing stolen property or the complicated title history of a vehicle, especially when there is no shortage of cars and trucks with clean titles for sale. That's why it's a good idea to rule out any chance that your potential purchase is less than on the up-and-up.
Step 1: Visit the National Insurance Crime Bureau (NICB) website. The National Insurance Crime Bureau (NICB) is a non-profit organization committed to combating insurance fraud and related crime. It partners with various law enforcement agencies and casualty insurance companies to achieve this purpose.
Step 2: Use VINCheck on the vehicle. Select the VINCheck option under the Theft and Fraud Awareness menu.
Step 3: Examine the vehicle's report. Enter the VIN, check the box to agree to the NICB's terms of use, and enter the displayed verification code, then push the Search button. This reveals if the vehicle in question has a current theft report or outstanding title brand.
Warning: The NICB does not reveal if there is an outstanding lien, but you can check for that information with your local Department of Motor Vehicles (DMV).
Part 4 of 5: Make sure the vehicle isn't part of a recall
Few people consider the possibility that the vehicle that has caught their eye may have had a serious issue that resulted in a safety recall from the manufacturer. While most issues that merit a recall are quickly located and fixed, a few vehicles slip under the radar due to the changing of hands or locations. For peace of mind, it is advisable to take advantage of the free NHTSA service to see if your desired vehicle has ever been recalled.
Step 1: Access NHTSA's website. Visit the National Highway Transport Safety Administration (NHTSA) website for reliable information.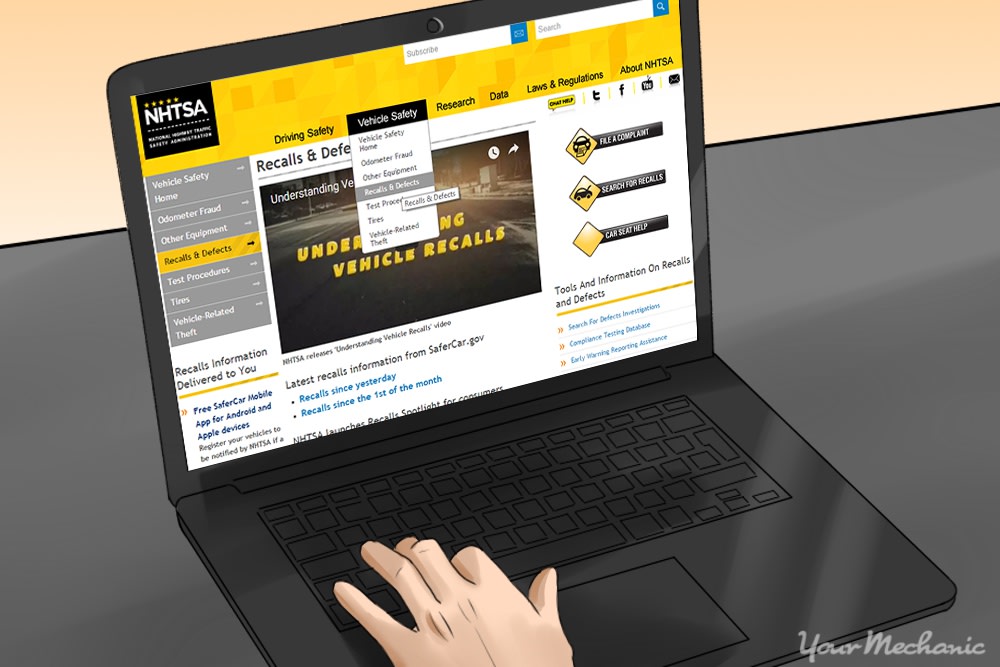 Step 2: Click on Recalls & Defects. Under the Vehicle Safety drop-down menu, select Recalls & Defects.
Step 3: Click the Search for Recalls by VIN button. This is located at the bottom of the page.
Step 4: Submit your VIN. Enter the VIN and displayed verification code in the appropriate text boxes, then press Submit. This will show if a safety recall is incomplete or has been issued in the past 15 years for all major vehicle manufacturers.
If, however, there is a recent recall or a recall older than 15 years, it may not be in the database.
Part 5 of 5: Go old-school and just ask
Occasionally, a motivated seller is willing to pay for a more comprehensive VIN check themselves and supply the results to potential buyers like you as proof that the vehicle is worth its asking price. Unless you ask, you won't know. Alternatively, consider paying for a comprehensive vehicle report yourself. In the long run, a small up-front investment could save you a lot of money down the road.
While running a VIN number using these methods may not tell you everything you need to know about a potential purchase, they are highly effective in alerting you to major issues, such as title complications or significant damage in the past. If everything comes back clear after running the VIN, be sure to have a mechanic look it over using a service like our pre-purchase car inspection. Using a multi-pronged approach to researching a vehicle before committing to a purchase can ultimately save you from a bad decision or reinforce your desire to buy.
---
Next Step
Schedule Pre-purchase Car Inspection
The most popular service booked by readers of this article is Pre-purchase Car Inspection. YourMechanic's technicians bring the dealership to you by performing this job at your home or office 7-days a week between 7AM-9PM. We currently cover over 2,000 cities and have 100k+ 5-star reviews... LEARN MORE
SEE PRICING & SCHEDULING
---
The statements expressed above are only for informational purposes and should be independently verified. Please see our
terms of service
for more details