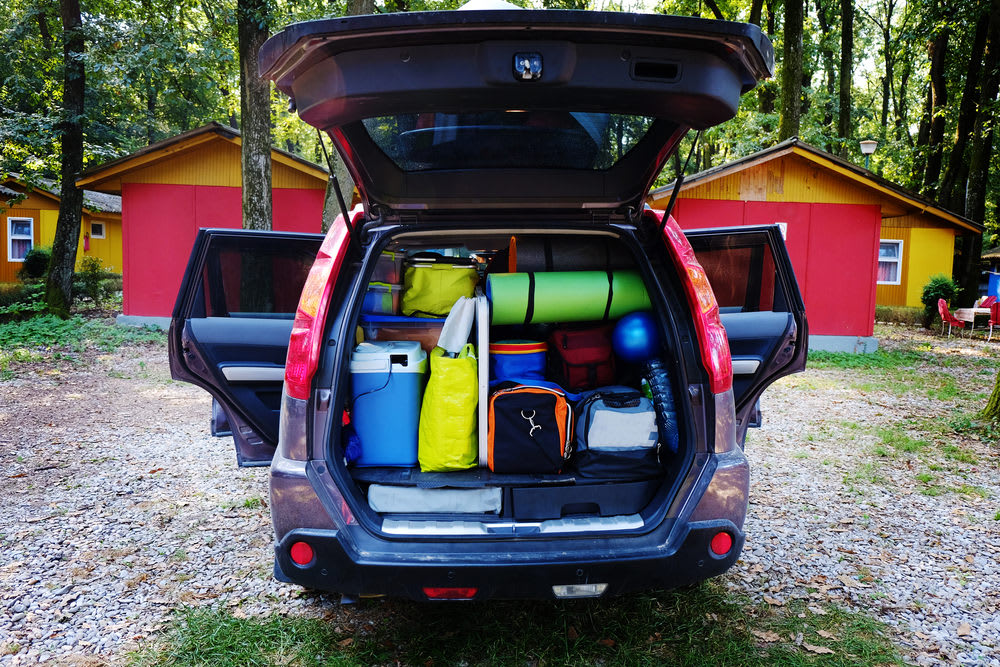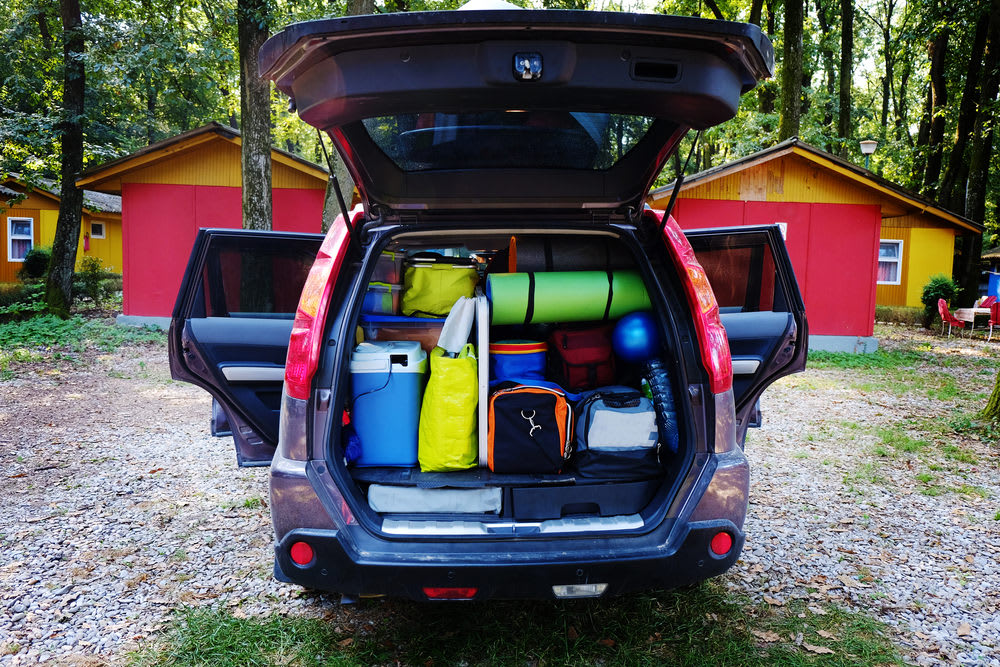 Each summer, millions of Americans hit the road and head for the great outdoors. They ditch their cellphones, sit on beach chairs under a string of battery powered Christmas lights, and make s'mores. These people are called campers.
Campers are easy to identify. When you see that over-packed car filled with sleeping bags, inflatable mattresses, tents, fishing equipment, coolers, grills, curling irons, electric razors, and, of course, a string of battery powered Christmas lights, driving down the highway, you've found the campers.
People who camp pack a lot of stuff. The problem with taking all of this stuff is that at some point you have to carry it from your car to your campsite. Depending on how far the parking lot is to your campsite, you could work up quite a sweat hauling your gear from here to there.
If you want to experience nature, but you're not so keen on hauling stuff around, you could try car camping, or as some people call it - camping-lite.
Car camping is kind of like camping on your driveway (minus the cement). You pull up to your assigned parking spot, pitch your tent next to your car, put your grill next to your car, and enjoy nature … next to your car. In other words, you can pack as much as you want, you don't have to haul anything around because everything is in your car. You can just enjoy nature.
The upside of car camping is pretty simple to remember - park, pitch, relax. Maybe you'll need to get up from your beach chair to stretch your legs once in awhile, but for the most part - park, pitch, relax.
The downside of car camping - your neighbors are really really close so you need to use your inside voice when you're outside. If you have kids, it's more of a challenge.
Car camping, once you get the hang of it, is a peaceful way to vacation. It's usually accessible, relatively affordable, and it's a great way to relax in the crisp, open air. A lot of planning is necessary to ensure you don't forget any essentials so your trip is fun and safe. Here are some helpful planning tips to get you well on your way.
Before you start packing
Before you head out the door on your next camping trip, you need to prepare properly and perform a few tasks first. When camping, you can expect to be cut off from civilization and must prepare appropriately, including bringing food, shelter, and any medical supplies you might need on your trip.
Pick your destination. Choose a few favorite destinations and make your travel plans around them.
Having more than one option is a good idea in case something unexpected arises and you have to change plans.
If your destination is popular, it might require a reservation, so be sure to schedule that well in advance.
If luxuries, such as a shower or toilet, are a necessity, make sure the campground you plan on going to has them. A smaller or remote campground is less likely to have these extra amenities, so keep that in mind.
Tip: Go to uscampgrounds.info to check campsite availability and make reservations at popular camping destinations throughout the US and Canada.
Select the time of year. Deciding on when you leave is critical to how you plan, especially if you're heading to the mountains.
Weather conditions change often in the mountains, and roads can be closed during the winter due to bad weather and other potentially hazardous road conditions.
Wildfires are common during the summer in the Western United States, which can shut down important roads.
Tip: Keep important contact information with you in a notebook so you have it handy at all times. Be sure to have phone numbers for the state or federal park you're visiting, the local forestry service, and local transportation agencies along the way. (If you're planning an interstate road trip, there might be many)!
Check your vehicle for maintenance. Car maintenance is always very important, especially for longer trips.
Here are a few important checks we recommend you have done before car camping:
Have the oil changed – We recommend this is done every 5,000 miles and definitely before starting a longer road trip. Read more about our oil change services here.

Have the cooling system flushed – Most people go car camping during the summer, and there's nothing worse than having your car overheat while you're on the road. Read more about our cooling system flush services here.
Are you leaving on vacation soon? Do you know the exact condition your car is in before your trip? These checks should be done by a professional. Book one of our mechanics to come out and perform a thorough inspection as soon as possible.
Bringing your pets. If you plan to bring your pet, call ahead to see if your campground allows them.
Also, take your pet to the vet to make sure they are healthy and immunized before you leave.
Keep your pet on their normal diet and plan to have enough food, treats, and water for the entire trip.
Also, pack a leash and collar, bedding and toys, bags to pick up their waste, and medication.
If you're traveling past state lines, you will need your pet's medical records and vaccination reports.
What to pack?
Car camping gives you the freedom to take whatever you want to make your vacation as luxurious and comfortable as possible. Click the links below to read about helpful tips and tricks for packing and other great resources for reviews, inspiration, and more.
You need lots of water. You can't do without it, so the only variable is where you get it.
If you're going to camp near a lake or river, you'll have plenty, but you must make sure it's clean! Consider the benefits of purchasing a water filter.
If you're allowed to have a fire at your site, you can boil it from a stream or lake and cool it right there. It takes time, but it is cost-effective.
Alternatively, your campground might have a water pump for you. Call ahead to make sure it works.
If you're bringing bottled water, it's a good rule of thumb to bring twice as much as you think you need. Don't underestimate cleaning, washing, and, if you bring your pet, keeping their water bowl full!
Get food and cooking equipment ready. Whether you're the minimalist camper who's happy with some beef jerky and a bag of trail mix or the camper who packs the whole kitchen and a generator to run the appliances, it's always best to plan for your needs so you know exactly what to shop for.
This ensures that you have enough food and that you won't have a lot of waste, either.
Camping staples like hamburgers, hotdogs, and chili are easy to cook and prep for dinner.
Food.com has some great camping recipes to help you decide.
The more important cooking items and equipment to bring include:
Utensils – Tableware (at least one set for each camper), a spatula, a wooden spoon, and tongs. Store all of it in a big plastic box to keep it organized and use the plastic tub as a washing station (don't forget washing liquid and a dish cloth).

Fuel – Are you packing a barbecue? Does your campground have one or allow one (check before you leave)? If so, you'll need plenty of charcoal, gas, or both if you use a fire and a camping stove. You'll also need matches or a lighter, and newspaper to use as a fire-starter.

Prep equipment – A chef's knife, a paring knife, or other smaller knives (have a knife carrier or wrap them in a towel), cutting boards, a vegetable peeler, aluminum foil, plastic wrap, paper towels, prepping bowls, plates, cups, and mugs.

Cooking equipment – A large pan for boiling water, or a sauté pan, saucepans with lids, a skillet (best for breakfast foods), skewers for marshmallows and hotdogs, and a teapot for hot drinks.

Storage – If you plan to have a lot of perishable foods, it's best to have one cooler for meat and another for everything else. Change the ice every other day and double wrap meats to avoid cross contamination. Fill the other cooler with fruit, vegetables, eggs, butter, cheese, milk, drinks, condiments and other fresh ingredients. For dry goods, like bread, coffee, tea, cocoa, sugar, cooking oil, salt, pepper, and spices, use a heavy-duty box. Keep all food in your car to keep it away from animals.
Choose your tent. You also need a good tent to provide protection from the elements.
Size is probably the most important factor, along with a waterproof exterior. You'll want to protect it from the ground so make sure it has a ground sheet.
Alternatively, if your tent is neither waterproof nor has a ground sheet, get tarpaulin from your local hardware store.
Tip: You should also include some indoor activities, such as board games, to play in the tent for days when the weather is bad. Some favorites include Uno and Snap, as well as books to read.

Pack sleeping bags. It's easy to underestimate how cold it can get at night in the wild, especially at higher elevations, even during the summer.
The most important rule is to make sure sleeping bags stay dry. Store them loosely in plastic garbage bags for extra protection in wet weather.
Consider purchasing affordable foam pads at your local department store for added comfort and warmth.
Tip: Sleeping bags can come with different temperature ratings, which are important to consider when you decide where you're car camping. But be wary! Rating systems used to be unreliable. The European EN 13537 rating is considered the most dependable.

Tip: You should also throw a rug or two in with your camping supplies. Rugs come in handy as a way to add more warmth on cold nights, as well as finding use as a tablecloth in a pinch.
Assemble a first aid kit. No matter how much time you plan to spend car camping, you should have a few necessary medicines and remedies on hand.
Either buy a premade kit, or assemble your own.
Make sure you have:
Alcohol wipes

Anti-itch cream
Aspirin or ibuprofen
Bandages
Gauze
Neosporin
Q-tips
Tape

Tweezers
If you take medication regularly, or have a pet that does, add those to your kit.
Don't forget toiletries. Bring travel-sized soap, toothpaste, and deodorant.
In addition, bring a toothbrush, and don't forget bug spray or sunscreen!
Toilet paper is also a necessity, so make sure to toss at least a few rolls in the trunk.
You need light at night. Make sure you have a flashlight, headlamp, or a lantern so you can find your way around at night.
Rummaging through your belongings in the darkness looking for something you need can be frustrating, but the dangers of trying to navigate yourself through the darkness is worse! Avoid injury by keeping a light close by.
Keep a small flashlight in the glove box too.
Pack plenty of clothes. Make sure you have the year-round essentials first: sunglasses, a hat, gloves, several T-shirts, underwear, plenty of socks, jeans, long sleeve shirts, sweatshirts, and a warm jacket.
For the summer, make sure you have shorts and swimsuits.
Don't forget your rain gear either! You never know when the weather can turn.
Bring a pair of comfortable shoes (or sandals for summer) and a pair of boot for hiking, if you prefer.
Tip: Make sure all your shoes are broken in: Nothing is worse than blistered feet when you're out in the wild.
Get at least one map. With a map in hand, you'll be more confident in your surroundings for hiking, and you'll be able to strategically choose your preferred campsite.
A map will allow you to navigate a few options when you arrive, including:
Do you want to be away from road noise?
Do you want more privacy or to be closer to bathrooms and other facilities?
Pack any necessary tools. Packing a few tools can help you with various tasks during your trip.
Keep it simple: A hatchet, a few screwdrivers, and a Swiss Army Knife should provide all of the tools you need.
Tip: You can gather scraps of wood for a fire much easier with a hatchet, and you can hammer in tent pegs. If you have children, make sure there's a cover for the blade, and, of course, keep them safely tucked away with your personal things or in the trunk of your car.
General camping safety tips
In addition to preparation, you need to observe any guidelines or rules for the campground you are going to. Usually, you can find any rules or regulations at the campground's website.
Follow campground rules. Campground personnel implement rules and regulations to keep campers safe.
This includes being respectful of other campers around you. Playing loud music and yelling is disruptive and takes away from the pleasure of others.
You should also keep an eye on any children you have with you, especially in campgrounds with swimming locations or close to wilderness areas.
Take care around animals. Wild animals are another area of concern when camping.
Most camping areas with access to wild animals have special trash bins to deter animals from entering areas with people. If your campground does not have trash bins, take your trash with you.
Avoid leaving food out as this can attract animals. Keep food items in a sealed container or your vehicle.
Do not feed the animals as this encourages them to make contact with people, a dangerous prospect, especially with children.
Preparation is key to making sure that you have what you need when car camping. Without proper preparation expect to spend a long, cold, and lonely few days at your campsite. Making sure you have enough food, shelter, and the other items you need can ensure that you have a safe, fun time camping. Also, follow any rules and regulations to ensure your safety when camping and to keep potentially dangerous encounters with any wild animals to a minimum.
---
The statements expressed above are only for informational purposes and should be independently verified. Please see our
terms of service
for more details