A new vehicle comes with a manufacturer's new car warranty that covers defects and unexpected problems that occur. The new vehicle warranty coverage is in place for a set time or mileage, whichever comes first. When the manufacturer's new car warranty expires, either because you've reached the time limit or you've exceeded the mileage according to its terms, you become responsible for the cost of repairs.
An alternative to paying for vehicle repairs out of pocket after the new car warranty has expired is to purchase an extended warranty. An extended warranty is available from most vehicle manufacturers as well as from aftermarket warranty companies. Extended warranties operate much like an insurance policy where you pay for coverage hoping that problems don't crop up, but are prepared in case they do occur.
Also, much like an insurance policy, every extended warranty has a list of exclusions specific to the policy you choose. Overall, common problems that are not covered by extended warranties are:
Belt problems
Hose leaks
Regular maintenance procedures like oil changes
Tire wear or replacement
Wearable brake parts
If any of the excluded conditions occur on your vehicle, you'll be solely responsible for the charges to repair it.
There are several options when it comes to extended warranty choices. Here's how to select the extended warranty that is best for you.
Part 1 of 4: Determining the type of coverage you need
Each manufacturer that offers extended warranties on their vehicles will have slightly different coverage plans. Aftermarket extended warranties also have different levels of coverage within each company as well as differences between different extended warranty companies.
Step 1: Decide between the manufacturer or an aftermarket company. Determine if you want an extended warranty through your manufacturer or through an aftermarket extended warranty company.
Manufacturers that offer their own extended warranties usually require that covered repairs are completed at their own franchised dealers. This is a benefit because you know factory-trained technicians will be working on your vehicle. Manufacturer extended warranties can be limiting, though, especially if you do not live near your dealership.
Aftermarket companies may have a list of approved repair facilities, but you'll be able to select where you want to take your vehicle for repairs. Cars with aftermarket extended warranties are often repaired at independent repair shops, meaning there is a chance that the technicians may not be up to speed on your particular vehicle's systems.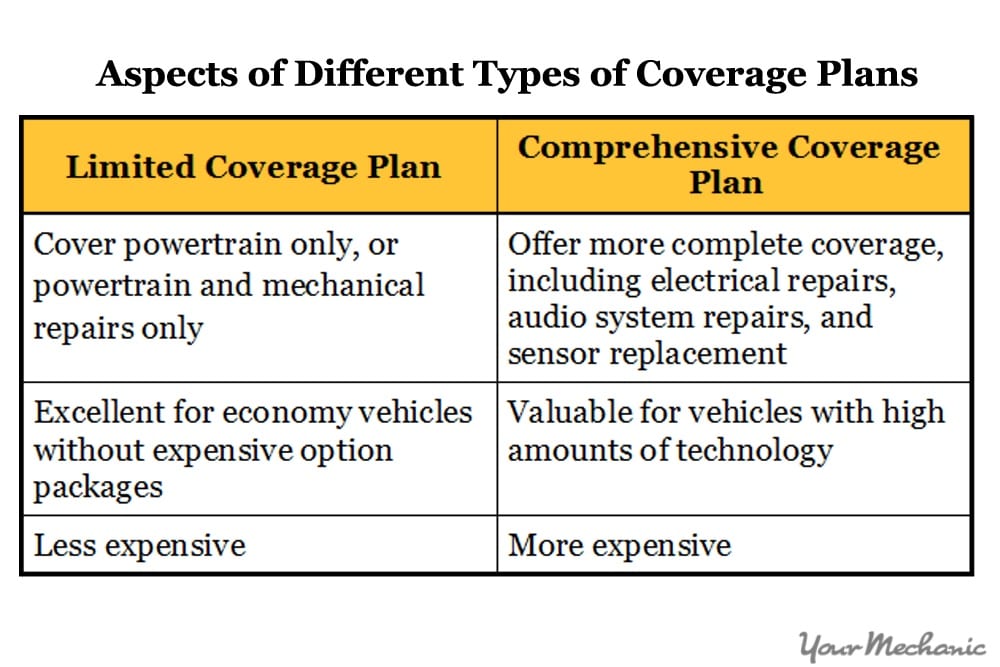 Step 2: Decide between comprehensive and limited coverage. Determine if you want comprehensive coverage or limited coverage.
Part 2 of 4: Determining the length or term of your coverage
With extended warranties, you can choose the length of the term for which you want to cover your vehicle. This can vary depending on your personal vehicle experience.
Step 1: Consider how often you replace your vehicle. If you replace your vehicle every five years, and your new vehicle warranty covers you for the first three years, purchase an extended warranty that will cover you for the next two years, until your normal vehicle replacement interval of five years is up.
If you tend to keep your vehicle until its usable life is over, however, take an extended warranty with the longest term possible.
Extended warranties are available for vehicles up to 15 years old from certain reputable extended warranty providers such as Endurance.
Step 2: Consider your budget for an extended warranty. The longer your warranty term is, the higher the purchase price will be.
This is because the older your vehicle gets, the higher the likelihood that you will experience problems that the extended warranty will have to cover.
Part 3 of 4: Determining the mileage limit of your extended warranty
Step 1: Consider your typical driving habits. If you drive short distances or don't drive your vehicle daily, you may not need a high mileage limit on your extended warranty.
However, if you drive a long highway commute every day, you'll want to look for an extended warranty that offers the highest mileage limit.
Step 2: Consider your budget again. Some policies cover vehicles up to 150,000 miles, but that coverage comes at a cost.
Step 3: Consider again how often you replace your vehicle. If you typically keep your vehicle until it has high mileage, the extended warranty will likely become more beneficial.
Repairs become more frequent on average when your vehicle has more miles on it. Major component repairs to systems like the engine and transmission become more likely the higher the mileage gets.
Part 4 of 4: Choosing a deductible for your plan
Most extended warranties have a deductible as part of their terms, though not in every case. A deductible means that you pay a portion of the covered repairs as a flat fee. If the repair cost is less than the deductible amount, you pay the whole repair cost. If the covered repair cost exceeds the deductible amount, you pay the deductible and the extended warranty covers the rest.
Warning: Some extended warranties have claim limitations that restrict the dollar value that can be claimed per visit. If the repair costs exceed the dollar limit, you're responsible for the amount owing beyond the limit as well as the deductible.
Step 1: Find out the deductible options. Deductible choices often coincide with your term and mileage lengths.
Step 2: Consider how often you expect to make a claim. Though you don't want to encounter vehicle problems, you will likely need to use the extended warranty at some time, especially if you keep your vehicle for many years beyond the new vehicle warranty.
The more frequent you make claims, the more money you will spend on deductibles.
Step 3: Consider your vehicle's level of options. If you have a vehicle with advanced technology such as a navigation unit or DVD player, or many power options like power seats, heated seats, power windows, and multi-zone heating and air conditioning systems, choose a low deductible value as your chances of needing repairs is increased.
If you don't plan on keeping your vehicle beyond the new vehicle warranty, it may not be of value to invest in an extended warranty. If you are unsure whether you are planning to keep the vehicle for a long time and want to be covered in case you do keep it, choose an extended warranty that has an option to refund the unused portion of the purchase price or is transferrable to a new owner.
---
The statements expressed above are only for informational purposes and should be independently verified. Please see our
terms of service
for more details