A major part of the automotive repair industry involves autobody repairs. That can include:
Collision repairs
Glass replacement
Autobody repairs often include the need to repaint part or all of a vehicle. Anytime the vehicle's exterior finish is affected, a section will need to be repainted.
A vehicle's paint job isn't just for appearances. It also protects the metal components from rust and corrosion and provides a protective layer against environmental elements like bird droppings and sap.
Applying paint to a car in a uniform, professional method is done by spray. Compressed air is connected to a paint gun and paint is fed through the gun and atomized by the compressed air as it is pushed through a narrow tip.
In its original form, car paint is too thick to be sprayed onto a car. It has to be thinned or cut with another material in order for it to be runny enough to spray from your paint gun. Solvent is the most common material used to thin car paint, and car paints can contain up to 90% solvent.
Unfortunately, solvent contains VOCs, or volatile organic compounds, that react to the surrounding environment and contribute to ozone creation, a significant component in smog.
There are, however, ways to minimize the pollution created by painting a car.
Method 1 of 3: Paint your car in an environmentally-friendly environment
Step 1: Paint your car in a professional paint booth. The equipment involved in painting cars is specialized including the paint booth.
Airflow inside the paint booth takes overspray and solid particles in the air through a filtration system that traps pollutants for proper disposal.
If you don't have access to a paint booth through your workplace, inquire about renting booth time at small local body shops.
Step 2: Use clean filters in your paint booth. To effectively manage the particulates, replace paint booth filters as often as your setup indicates in its instructions.
Some filters should be changed every 1-2 weeks while others can last 6-12 months.
Some paint booths use water to filter VOCs and other pollutants from the air.
Dispose of all paint booth filters and materials as hazardous waste to prevent pollution.
Method 2 of 3: Use waterborne paint
Commonly, paints are thinned using solvents, also known as paint thinner. The solvents are volatile organic compounds, meaning they evaporate easily. They are a major contributor to pollution from painting a car.
Using waterborne paint reduces pollution caused by paint by eliminating solvent from the paint material.
Step 1: Find a paint supplier that carries waterborne car paint. Major paint suppliers such as PPG carry waterborne paint for every application.
Step 2: Apply the paint according to the manufacturer's instructions. Thin the paint with water in the precise proportions indicated on the instructions.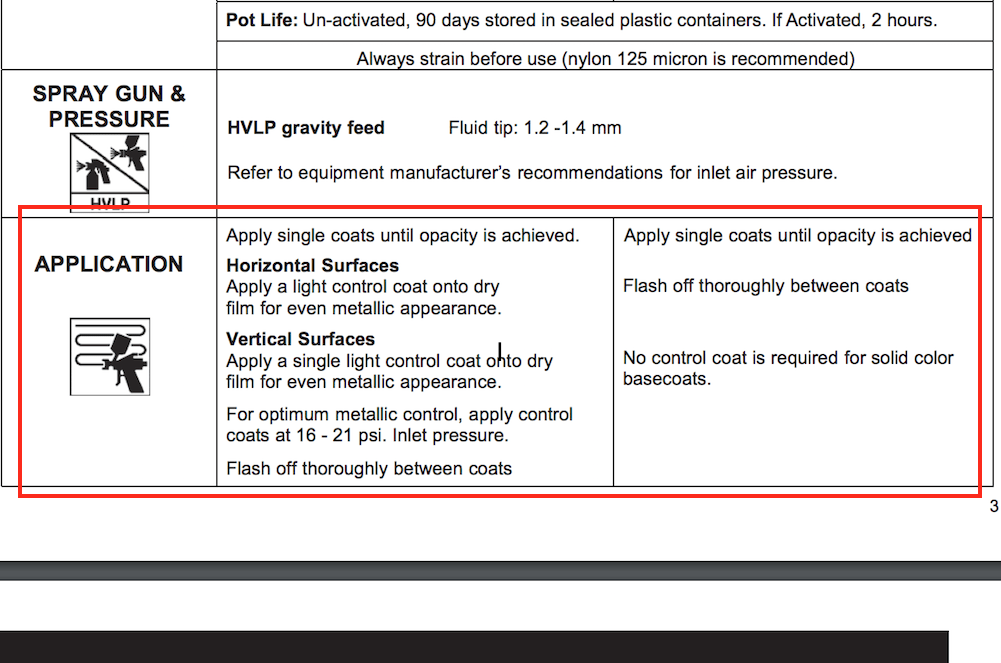 Typically, waterborne paints require two basecoats of color followed by a clearcoat.
Step 3: Alternatively, use a low-VOC solvent-based paint to spray your paint.
Warning: Although waterborne paints produce less harmful pollutants, always use safety equipment that includes a respirator. The paint itself contains toxic materials that can cause serious illness if inhaled.
Method 3 of 3: Use high-volume low-pressure spray equipment
A major contributor to pollution from car painting is overspray. This occurs when the atomized paint is sprayed at high pressure and is suspended in the air. One paint method known as HVLP or high-volume low-pressure painting minimizes the amount of overspray that is created.
Because there is less overspray produced with HVLP paint guns, there is less overall paint waste. Reducing the amount of paint used not only reduces the harmful pollutants but saves you money on paint materials.
Step 1: Purchase a HVLP paint gun. There are two main styles of HVLP paint guns on the market, a siphon feed paint gun with a hopper on the bottom, and a gravity feed paint gun with a hopper on the top.
The siphon feed works well and is more economical for purchase.
The gravity feed requires less compressed air pressure and results in even less overspray than the HVLP siphon feed paint gun.
Step 2: Set the pressure. Set the pressure on your compressor to 50-80 PSI, according to the instructions on your paint gun.
The paint gun has an air cap that restricts the air pressure at the tip to 10 PSI but the air supply must be higher for consistent paint application.
Minimizing pollution when applying paint is crucial, but there are additional ways to reduce pollution when painting a car. Always dispose of masking materials safely, checking with your local authorities for the proper disposal methods. Also, dispose of any unused paint in hazardous waste pails. If you make a mistake and need to remove spray paint or want to know more about applying paint to your car before you begin, it's always a good idea to fully prepare yourself before attempting this kind of task.
---
The statements expressed above are only for informational purposes and should be independently verified. Please see our
terms of service
for more details