Ethanol fuel is an alcohol-based type of biofuel that is used as a popular alternative to gasoline. It is made from distilled plant and biodegradable materials, such as corn and sugar, as opposed to regular gasoline, which is made from refined oil. While it is slightly more expensive than regular gasoline, when ethanol is blended with regular gasoline in the correct proportions, it can produce a fuel with a higher octane rating and fewer harmful emissions than regular gasoline. In this step-by-step guide, we will go over how to make ethanol in small batches for personal use.
Part 1 of 3: Preparing your materials
Materials Needed
Biodegradable materials (fruit/corn/grains)
Distilled water
Ethanol production permits and paperwork
Gasoline
Large bin with lid, such as a barrel or garbage bin
Measuring cup
Pole or blunt object (for mashing up biodegradable materials)
Step 1: Obtain the proper paperwork and permissions to produce ethanol fuel in your country. If you are producing ethanol in the United States, log on to the Alcohol and Tobacco Trade Bureau website to obtain the correct forms.
The paperwork for permission to produce ethanol can be found here.
Fill out and submit the paperwork, and confirm that you are legally authorized to produce ethanol before proceeding.
Step 2: Make sure that your vehicle or equipment is compatible with ethanol fuel. If you plan to use your ethanol fuel solution in one of your vehicles or pieces of equipment, make sure that it is compatible.
Vehicles and equipment that are designed for use with ethanol will have special corrosion-resistant fittings and lines.
If your equipment or vehicle is not designed for use with ethanol, take proper precaution to retrofit it with the correct corrosion-resistant components, as problems may arise if ethanol fuel is used in a system designed for only gasoline.
Step 3: Gather all of the necessary materials. Before beginning, make sure that you have all of the necessary tools and materials for ethanol production.
Gather enough food or biodegradable materials to fill about one third of your bin or barrel.
When gathering food to convert into ethanol, take into account that throwaway fruit that could be considered rotten will work just fine; it is not necessary to waste fresh fruit to make ethanol.
Also be aware that grains such as corn, wheat, and barley can also be distilled.
Part 2 of 3: Making your ethanol fuel mixture
Step 1: Place your fruit or biodegradable materials into your bin or barrel. Add your biodegradable materials to your bin until it is about one third of the way full.
Take care not to exceed this amount to prevent the possibility of the mixture overflowing during fermentation.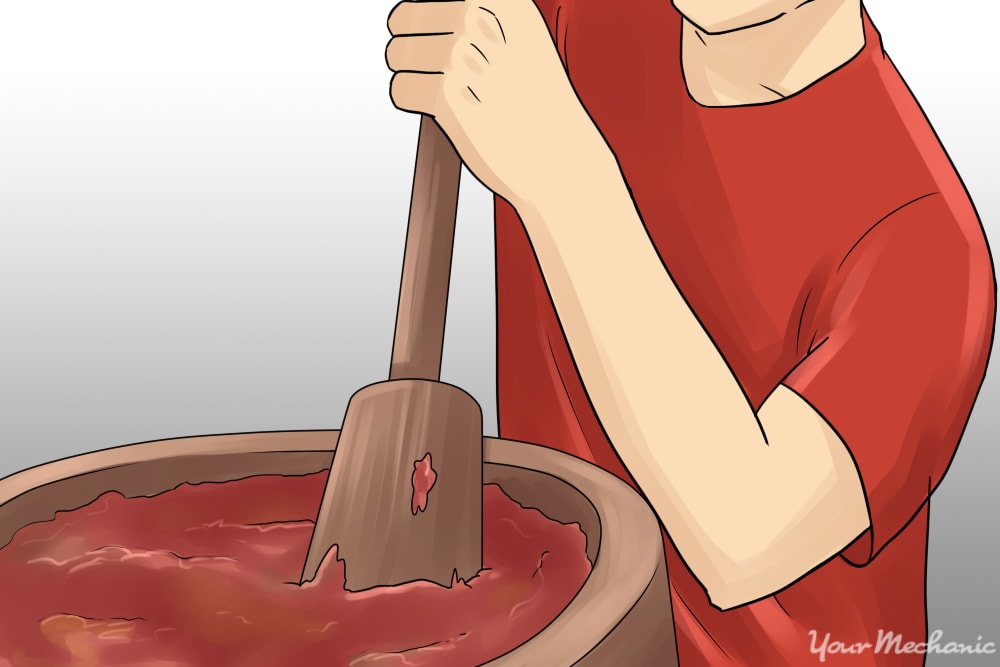 Step 2: Use your pole or blunt object to grind and crush all of the fruit. Mash all of the fruit to the best of your ability using your pole or blunt object.
Mashing the fruit to a fine consistency will allow it to ferment faster later on down the line.
Step 3: Add your distilled water and distiller's yeast to the bin. Add two packets of distiller's yeast to your bin, and then add water until the bin is about three quarters of the way full.
Then cover the top of the barrel with its lid.
Step 4: Allow the solution to sit until completely fermented. Over the course of about two weeks, the sugar content should slowly decrease until it reaches zero.
Check the sugar content daily using the hydrometer until it reads zero.
Part 3 of 3: Refining and mixing your ethanol for use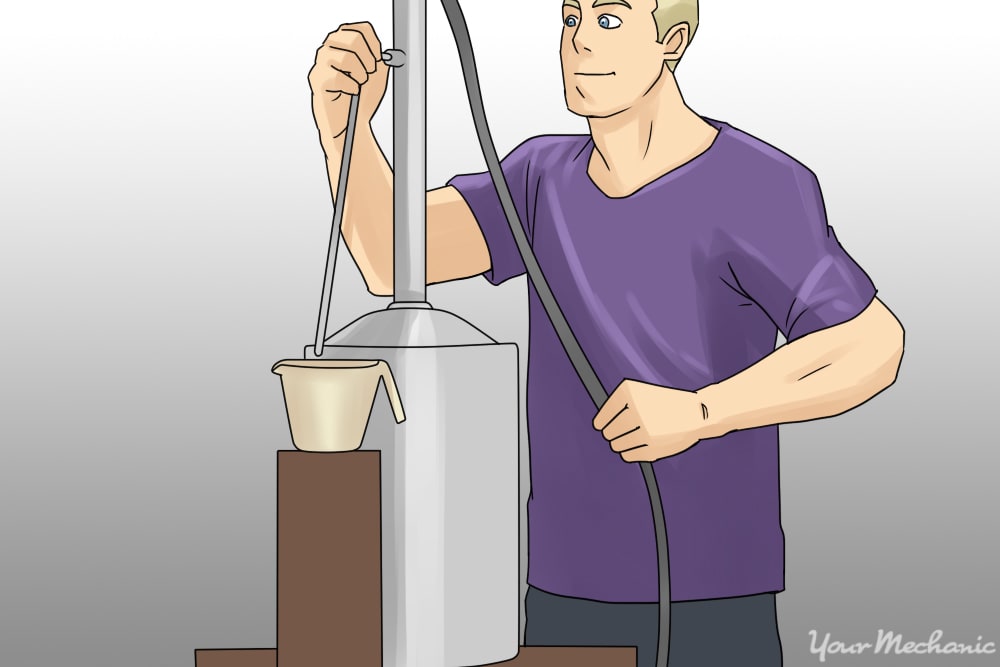 Step 1: Distill your solution using the reflux still. A reflux still is an instrument used in home wine and beer making; it is used to refine the fermented mixture until it is of suitable purity.
Pour your solution into your reflux still and follow the manufacturer's instructions for operating the still to ensure that the solution is properly refined.
Note: Make sure to pour the fermented mixture into the still as soon as the sugar levels have reached zero. Failure to do so could cause buildup to form in the mixture that could potentially cause harm to your engine or equipment.
Step 2: Remove the water from your distilled solution. Run your distilled solution through a fuel water separator or filter.
Removing the water from your solution will ensure that whatever vehicle or piece of machinery you use the ethanol mixture in will not suffer any damage due to moisture or other impurities present in the fuel.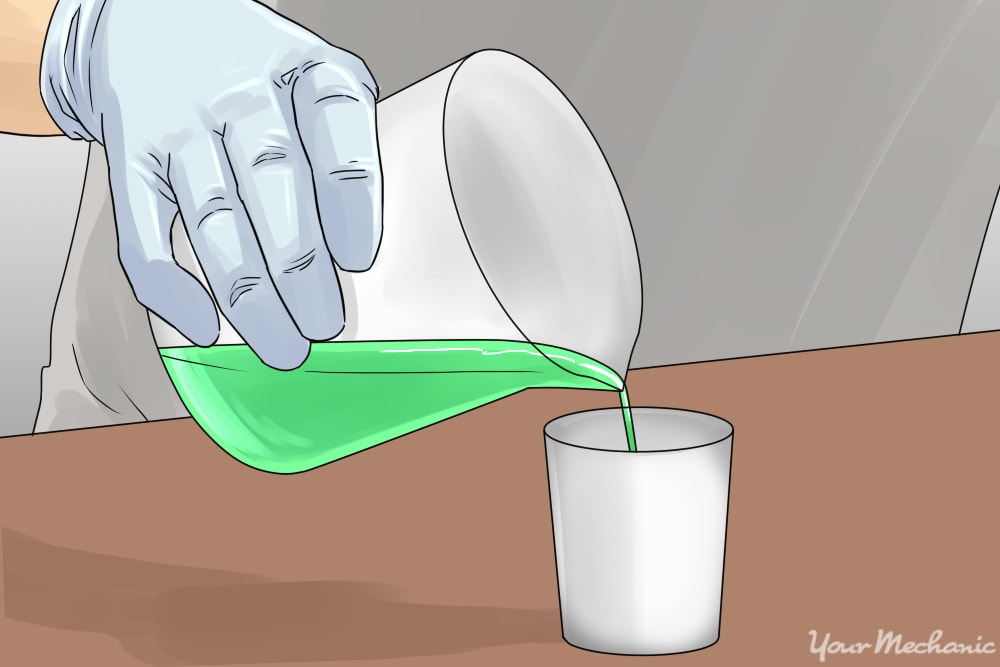 Step 3: Mix your distilled ethanol solution with gasoline. Once the solution is ready, mix it with gasoline to the appropriate ratio using your measuring cup.
Aim for a ratio of fifteen percent gasoline and eighty five percent ethanol to create the E85 mixture that is commonly used in "Flex Fuel" vehicles.
Once the ethanol is mixed in proportion it is ready to use. Homemade ethanol can be used in vehicles that are equipped for use with ethanol fuels, such as Flex Fuel vehicles. It can also be used to power many types of equipment, such as lawn mowers, generators, and other equipment that runs off fuel.
---
The statements expressed above are only for informational purposes and should be independently verified. Please see our
terms of service
for more details