Why do cars need tune ups?
Your car needs tune ups to enable your vehicle to run well and prevent expensive engine parts from being damaged. Depending on the age of your car, a tune up can take a full day or just one hour. Loosely defined, a tune up is a set of time and/or mileage-triggered services that are performed on the vehicle to help it drive well. Tune ups don't usually include repairs, but are the perfect time to catch creeping issues that can lead to engine breakdowns down the line. A tune up can be performed during an oil change when your vehicle is due for a new air filter - almost always just once a year for newer cars. Once your vehicle has more than 30,000 miles on it, a tune up will tend to include more preventative maintenance such as battery and cable service, tire rotations, fluids, new spark plug wires, PCV valves, fuel filters, tire pressure, and oxygen sensors.
How much should a tune up cost?
The timing and price of a tune up will vary greatly depending on your car. An average tune-up for a mid-priced sedan can start at around $40 for basics and run up to $800 for a full scale scheduled maintenance tune up according to our parts partners at AutoZone.
Which cars cost the most to tune up?
As a rule, BMW's and Mercedes Benz cost the most to maintain over the vehicle's lifetime, while Toyota's reign supreme as the least expensive car to maintain (less than $6,00 over the car's lifetime). Newer cars that use more electric parts and require fewer oil changes promise their customers a less exhaustive tune up schedule, however their long term wear costs have yet to be proven. We've ranked the costs of maintenance here.
How do I find out what kind of tune up my car requires?
For the average vehicle, drivers will typically only need to bring in their cars for oil changes and tire rotations until the car reaches 30,000 miles. Thereafter, vehicle owners will need to check out their owner manuals or a scheduled maintenance calculator in order to track the necessary scheduled services for their vehicles.
Should I get my tune up at a shop or dealership?
If your vehicle is under warranty then you'll likely want to defer to your dealership for scheduled maintenance services if the tune ups are covered by your warranty or service contract. Once your car is no longer covered by your dealership, then you'll want to consider whether or not premium pricing for dealer services are worth the extra cost and drive to the dealership. To find the best tune up near you, you can simply look up the services that your vehicle needs and take a few minutes to call around local shops to price compare or use a price comparison guide to calculate how much a tune up will cost you if you opt for dealership, shop, or order services from a mobile mechanics at YourMechanic that comes with a 12,000 mile/12 month warranty backing.
Which repair providers have the best tune ups?
While dealerships can be more expensive than local repair shops, the skill level of a mechanic is often the same. The main difference may be in the branding of their parts, as dealerships may opt for OEM grade parts. The mechanics who worked on cars tune ups at both shops and dealerships however, are usually of equal skill; they're often called "lube techs" and may be apprentices. So if you opt for a dealership or local repair shop, you may want to talk to the sales associate or shop owner to inquire about the skill level and knowledge of the technician who'll work on your car.
What's the difference between a lube tech and an experienced mechanic?
While lube techs can become skilled at changing oil and standard parts, they may not be able to spot safety issues because they don't have the years of experience that a seasoned technician acquires after years of automotive repair experience. Car owners who want to spot issues before they become dire enough to set off a check engine light should make sure that the shop will have a seasoned technician inspect their vehicle in addition to the lube tech who can not only change your oil but also knowledgeably explain any potential safety issues that you may need to watch out for in the future.
Why does YourMechanic send mechanics instead of lube techs for tune ups?
Inexperienced lube techs missing important issues during routine tune ups or oil changes is a long known issue in the industry, and is partially why YourMechanic only works with experienced technicians who've passed an extensive skills assessment. Whenever a customer books an at home oil change or a tune up through YourMechanic.com, they'll immediately get to see their mechanic's profile which details their level of expertise and experience. During their tune ups, customers will also get a detailed vehicle condition report based on a free 50 point inspection as well as photographic documentation of the vital engine parts under the hood and transparent pricing for every repair – and we stick to that price.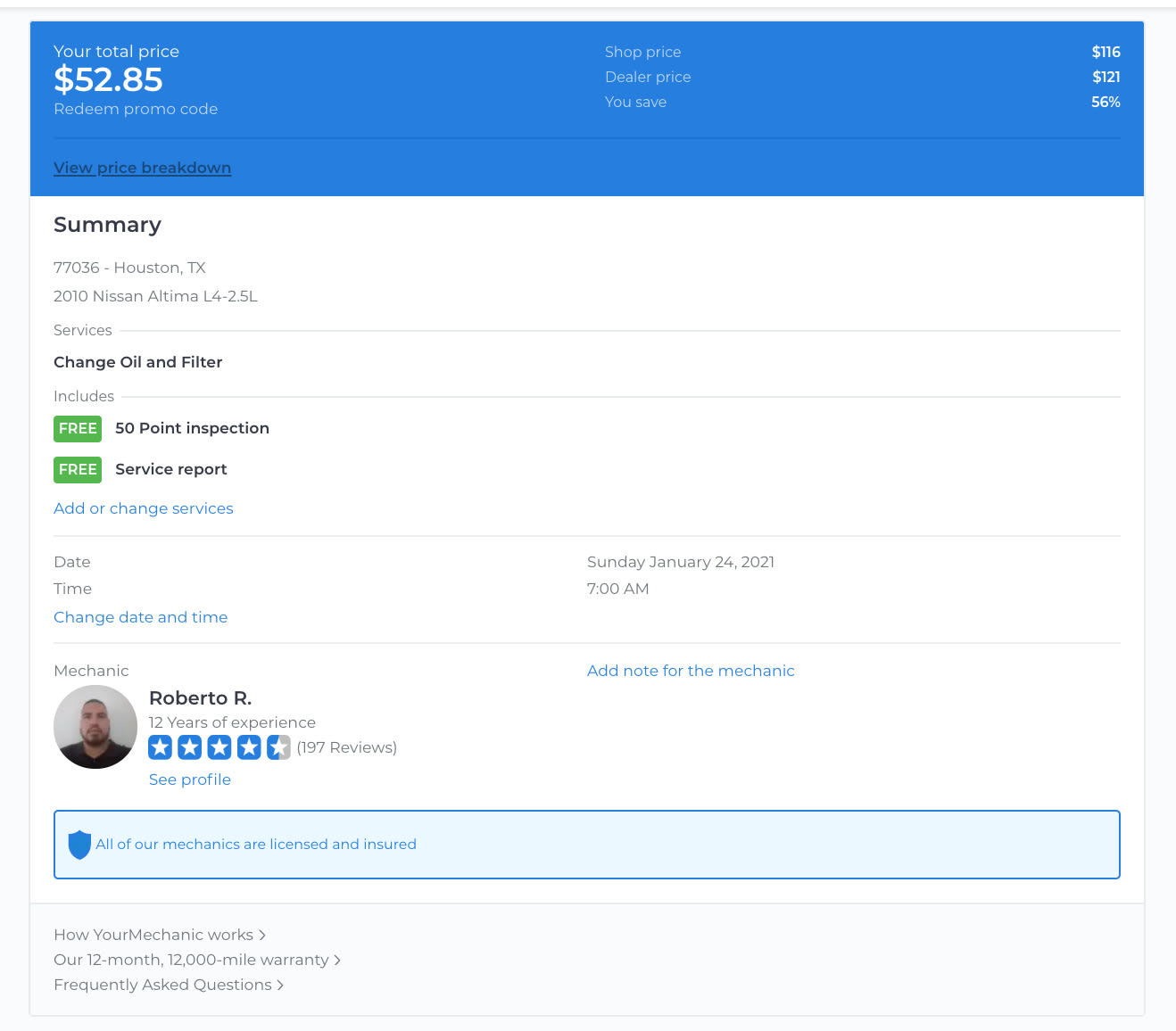 How can I learn more about my mobile mechanic's background?
The high level of YourMechanic's professionals' expertise and the detailed inspection required by YourMechanic to complete a tune-up is the main distinction between a tune up from a shop or dealership and a mobile mechanic near you who has the training to catch safety and repair issues before they become an expensive problem.
---
The statements expressed above are only for informational purposes and should be independently verified. Please see our
terms of service
for more details