Winter weather can make driving difficult. Snow and ice decrease visibility and cause roads to be slippery. You have to factor in extra time to warm up your car in the morning. Before you're ready to drive, you also need to make sure that you've cleared any snow and ice from your windshield and side mirrors. This can require several minutes of standing in the cold and scraping ice off of your windshield, which is an unpleasant process.
However, there's a simple solution that you may not have thought of before: paper bags. Rather than leave your windshield and side view mirrors exposed all night, you can use paper bags to keep ice off your windshield. It's a simple, cheap, and easy process that can save you plenty of time during those cold winter months that leave your vehicle covered in thick ice.
Follow the steps below to keep ice off of your windshield by covering it with a paper bag.
Part 1 of 3: Prepare the paper bags
You will need enough paper bags to cover your entire windshield as well as your side mirrors (if you wish to cover those as well).
Materials Needed
Paper bags (several)
Scissors

Step 1: Get several paper bags. You can recycle paper bags you've used to bring your groceries home or you can request extra bags at the grocery store checkout counter to take with you.
Tip: It's a good idea to keep them in the trunk of your car so that you'll have some wherever you go during the winter.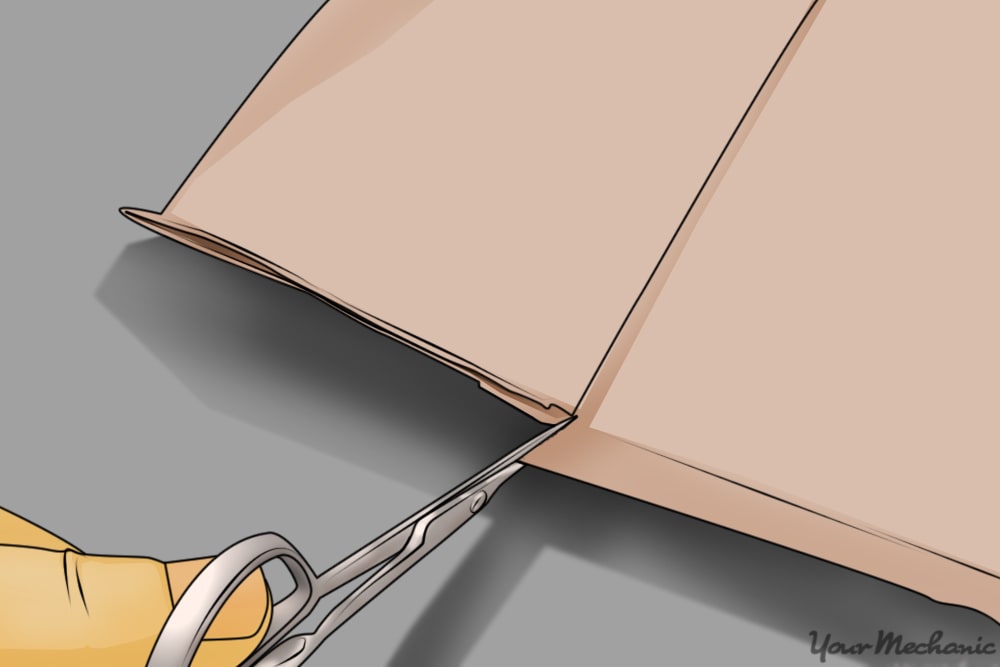 Step 2: Cut the paper bag along the creases. You will need to either cut the paper bags or tear them until they can lay flat on the windshield. This will allow you to spread the bag flat on the surface of the windshield.
Cut down three of the corners of the bag. It's easiest to cut along the folded seams of the bag.
Tip: If you do not have scissors or another good cutting tool with you, you can tear the bag with your hands. Try to tear it as straight as possible so that you don't end up with several pieces of paper bag, which will require more effort to secure them to your windshield.

Part 2 of 3: Apply the paper bags to your windshield
After cutting the paper bags so that they can lie flat on your windshield, place them on your car.
Materials Needed
Cut paper bags
Rubber bands
Tape
Step 1: Cover the windshield. Cover the entire windshield with the paper bags by laying them over the glass area.
Step 2: Secure the bags. Place the windshield wipers over the paper bags to help secure them in place. If your wiper blades or arms break when you do this, call a mechanic to replace them for you.
If you have tape, you can also tape the paper bags together and then secure them with the windshield wipers.
Step 3: Cover the back window. If you choose to cover the back window, cover the entire window with paper bags.
Step 4: Cover the sideview mirrors. You can fold a portion of a paper bag around the sideview mirror.
Tip: Placing a rubber band around the paper bag once it's covering the sideview mirror is a good way to secure it in place.

Tip: Snow and ice may still gather on your car over the night, but it will be on the outside of the paper bag rather than the covered glass areas of your vehicle.
Part 3 of 3: Remove the paper bags
Once you're ready to drive, remove the paper bags from your windshield, back window and the sideview mirrors. There will be no ice on the glass sections of your vehicle.
Step 1: Remove the bags. Lift the windshield wipers and remove the paper bags. They may be covered in snow.
Remove the paper bags from the back window of your vehicle if you've placed any there.
Dump the snow off of the paper bags.
Step 2: Remove the rubber bands. Take off the bands from around the paper bags on your side view mirrors.
Step 3: Save the bags for next time. If excessive snow or ice hasn't soaked through and ruined the durability of the paper bags, fold them up and place them in the trunk of your car or find another secure location for them in your vehicle.
Tip: Using paper bags is most effective overnight. You should protect the glass windshield, back window and sideview mirrors with paper bags in the evening after you're done driving the car for the day.

Warning: Be sure to remove all of the paper bags before driving your car. It's important to drive safely at all times. Driving with even a portion of the paper bags still on your windshield or side view mirrors will decrease your visibility and make driving more difficult.
Using paper bags to prevent ice from accumulating on your windshield is a cheap and easy way to save you time during icy weather in the winter. Be sure to keep paper bags handy at all times so that you follow these easy steps to keep your windshield free of ice and save you from the trouble of having to use an ice scraper before being able to drive your car every morning.
---
The statements expressed above are only for informational purposes and should be independently verified. Please see our
terms of service
for more details