Having someone go through the contents of your car and take your personal belongings is a huge violation of your privacy. The act of breaking into a home or vehicle with the intent to commit a crime or theft is known as burglary.
Thieves break into cars almost solely for opportunistic reasons, especially if things of value are in sight. That can include:
Briefcase
Camera
Duffel bag
Laptop computer
Loose change in the cupholder
Shopping bags
It's an emotional experience when someone has broken into your vehicle. It can be difficult to recollect what you had left inside your car, and taking inventory of what has been stolen from you is stressful and heart-wrenching.
Here's what you do when you discover your car has been broken into.
Part 1 of 2: Leave the scene undisturbed
When you approach your vehicle, you may not notice immediately that your car has been burglarized. Thieves employ methods that, while they can cause damage, minimize the appearance of a theft or burglary. From the moment you notice that a crime has been committed that involves your vehicle, leave your vehicle untouched.
Step 1: Check your vehicle's condition. Don't enter your vehicle if you see glass around your car and your window is broken.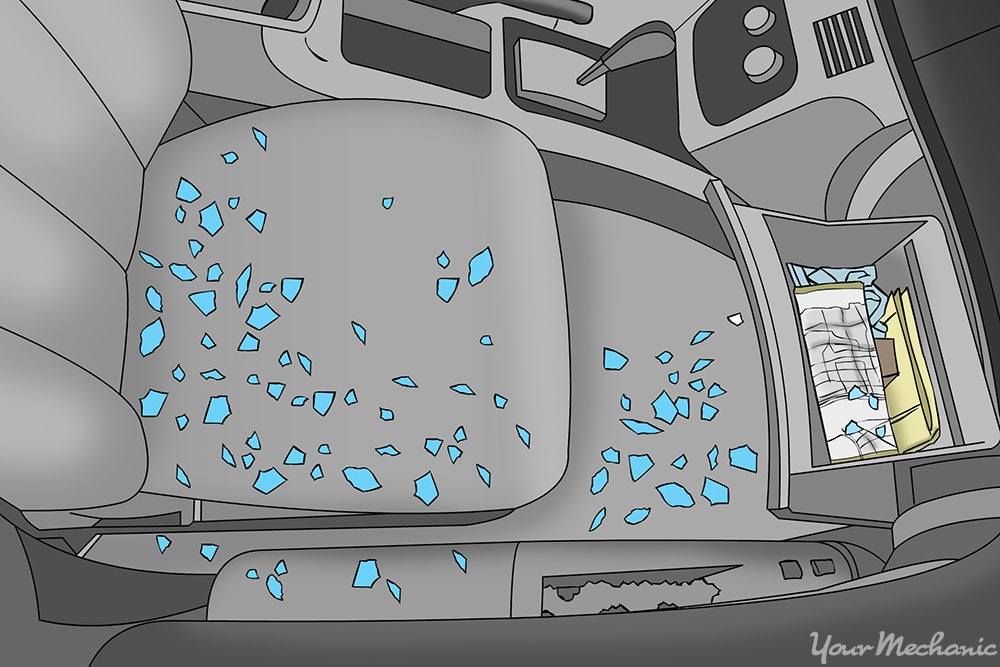 Car windows are made of safety glass and there is little risk of injury from coming into contact with a broken window, but entering your car can disturb and contaminate evidence that could be used to find and convict the criminal responsible.
Step 2: Check the locks. If your key won't enter your door lock cylinder or you notice the lock cylinder or handle have been damaged, don't enter your vehicle.
Thieves will sometimes jam a screwdriver into a door lock or under the door handle to force the door open.
Step 3: Exit your vehicle. If you enter your vehicle without noticing any damage or forced entry, exit as soon as you see evidence of a break-in.
The signs of a break-in include missing possessions, a damaged ignition cylinder, glove box contents strewn around, or your bags emptied by someone looking for valuables.
Step 4: Avoid your vehicle if a break-in is in progress. If you notice someone attempting to break into your vehicle as you approach, walk past the area till you reach a secure spot.
Warning: Never approach a thief or confront them. You don't know how they will react or if they have a weapon.
Once you're a safe distance away, if your car's key fob has a panic button, press it to startle the thief.
Call the police emergency line immediately if you see someone attempting to break into your car or in the process of going through your possessions.
Part 2 of 2: Contact the authorities about the break-in
Step 1: Report the break-in. Call the police non-emergency line if the burglary has already occurred and the thief has left the scene.
Call the police to report the break-in. Again, don't enter the vehicle until you've been told it is alright to do so.
Step 2: Check for missing or damaged items. Compile a list of the belongings in your car while you wait for the police to arrive. Note any items of value including electronics, money, clothing, and even your garage door opener.
Without touching your vehicle at all, check if there are any items missing or damaged.
Step 3: Make a police report. Make a report with a police officer when they attend the scene.
Report how long your vehicle was parked in its location, whether you locked the doors, and provide them a list of the belongings that were in your car.
Step 4: Let the police inspect your vehicle. Give the police space to complete their inspection of the scene. The officers will look inside and around your vehicle for any clues or evidence. Your vehicle may even be impounded to be fingerprinted in some cases.
Answer any questions you are asked by police as completely as you can. Sometimes the smallest detail is the one that will help find the thief.
Step 5: Fill an insurance report. Provide an initial report to your insurance company.
It's important to report a vehicle break-in as soon as possible. The car theft report is usually the same process as you would use for a car accident.
Provide a detailed description of missing items along with sales receipts, if you have them available. Your sales receipts for valuable items may contain the serial number to aid in recovery, and will also help establish a dollar value of the items stolen.
Step 6: Protect your other property. If keys were stolen from your car, whether it is house keys or the keys for another vehicle, have the locks replaced or re-keyed.
A thief likely has your address from paperwork inside your vehicle and may be targeting you for a home invasion or burglary as well.
Check for your garage door opener. When thieves find your address, they will take your garage door opener for easy access to your home or belongings.
If your wallet, credit cards, or other financial information was taken from your car, contact your bank to report the items stolen and to have new cards re-issued.
Contact your credit card company to report your card stolen in case the thief tries to use your credit cards for unauthorized purchases. Call a credit bureau such as Experian to report the theft in the event of unauthorized credit applications or identity theft.
While having your vehicle broken into leaves you upset and with a feeling of distrust, be aware that being burglarized is not your fault. Another person has chosen to break the law and violate your space.
To prevent car burglaries to the best of your ability, leave your belongings out of sight in your car and always lock your doors.
---
The statements expressed above are only for informational purposes and should be independently verified. Please see our
terms of service
for more details