When you are shopping for a new car, there is a good chance you have a vehicle that you need to get rid of before you can purchase the new one. You can either sell the car privately or trade it in to the dealership, crediting its value towards your new vehicle.
While you typically can expect to get 15-20% less value for your vehicle trading it in to the dealership, there are several advantages to this method:
You usually get credit for the taxes in addition to your car's value
The process is simple and stress-free
You don't have to get a state inspection before trading in your car
You don't need to advertise your car, arrange to meet buyers, or negotiate on your own
Though dealerships use several resources to value trade-ins including the Kelley Blue Book valuation tools and previous auction results, your vehicle's individual condition is a major factor that affects your car's trade-in value.
There are many ways you can take action to increase your car's trade-in value to the dealer.
Part 1 of 6: De-clutter your vehicle
Materials Needed
Cleaning brush
Cleaning cloths
Soap
Vacuum
Water
Step 1: Throw out any garbage in your car. Get rid of any clutter in your car so that you can present it in a way that shows it has been maintained carefully throughout the entire duration of your ownership.
Get rid of any garbage, cups, papers or empty bags that may have accumulated in your car.
Step 2: Remove your personal belongings. Remove all pictures, stickers or personal mugs from your car so that it is clean and tidy.
Step 3: Organize your car's tools and paperwork. Tuck your insurance papers and manuals neatly into the glove box.
Put your extension cords, snowbrush, toolkit, or other tools in the trunk. Try to organize and put them in a tool box.
Step 4: Remove any items on the rearview mirror or visors. This could be air fresheners, storage straps, parking passes, and garage door openers.
Part 2 of 6: Clean your car's exterior
Step 1: Wash your car's exterior. The dealer can see the actual paint condition on a clean and shiny car instead of having to guess the condition of the vehicle under layers of dirt. A clean and well maintained exterior also shows that you care for your car.
Step 2: Clean the wheels. Wash brake dust and dirt buildup off of your wheels. Clean wheels enhance the presence of your car and also ensure that your car's tires work properly.
Step 3: Touch up any scratches. Touch up stone chips and small scratches with touch-up paint.
Step 4: Detail your car. If your paint is faded, polish your car's exterior. To get the best value for your car, take a step further after cleaning it and detail the exterior of your car.
A bright and reflective paint job will give your car a "wow" factor, while faded and scuffed up paint can give the car an old and worn out look.
Step 5: Apply a fresh coat of wax. Just like washing your car and polishing it, waxing your car will enhance your car's appearance, getting you a better trade-in value from the dealer.
Part 3 of 6: Clean your car's interior
Step 1: Vacuum the carpet and seats. Remove any loose dirt and gravel from the floor of your car or your car's seats by vacuuming.
Bits of french fries or muffin crumbs are unsightly and can cause bad odors in your car, lowering its value to the dealer.
Tip: Make sure to vacuum under the floor mats and in between all crevices as well.
Step 2: Wipe down any plastic or vinyl interior parts. Remove dust and dirt buildup inside to give the upholstery a clean and cared for look.
Step 3: Remove any stains. If there are stains on the seats, shampoo your seats or get the stains removed professionally.
Step 4: Shampoo your carpets. Shampoo the carpets if there is excessive dirt or salt staining. Although your car's carpets are prone to getting dirty, make the effort to make the carpet look as new as possible.
If you have floor mats that contain carpet-like material on them, these should also be shampooed to give them a fresh appearance.
Part 4 of 6: Clean your car's windows
A simple way of boosting the value of your car is to clean your car's windows inside and out before your trade-in valuation.
Step 1: Clean the inside of the windows. Spray glass cleaner on a lint-free cloth and wipe the inside of your windows. Repeat if necessary to get a streak-free finish.
Warning: Don't spray the windows directly because the cleaner will settle on your interior trim and leave spots.

Tip: Always use a clean, lint-free cloth for cleaning your windows to prevent streaking.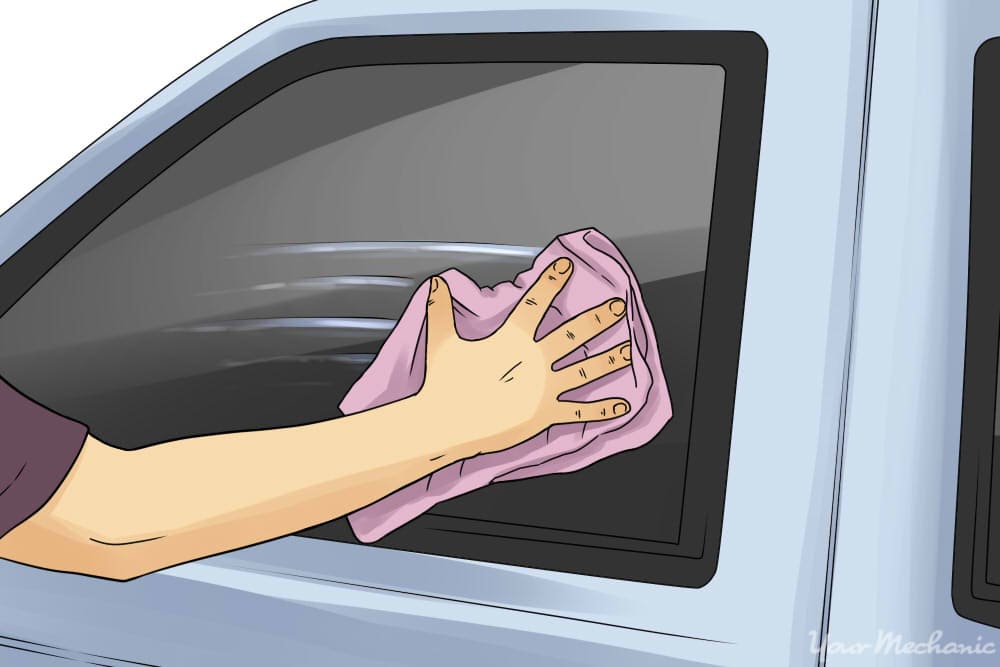 Step 2: Clean the outside of your windows. Washing your car gets the bulk of the dirt off the glass but can leave residual dirt or soap residue on the glass.
Spray glass cleaner either onto your cloth or directly onto the glass.
Wipe in a vertical pattern then a horizontal pattern to achieve a streak-free clean.
Step 3: Clean the tops of the windows. Roll your windows down a few inches and spray glass cleaner on your cloth and wipe the top ½ inch of glass.
This edge rolls into the window channel and is often forgotten when your windows are cleaned.
Part 5 of 6: Spruce up your car's mechanical appeal
Step 1: Make sure your tires are in decent condition. If your tires are worn out, the dealer will expect an expense of $500 or more to replace the tires before they can sell your car.
Have good tires installed before you bring in your car for a trade valuation.
You don't have to buy new tires. Auto recyclers sell gently used tires, often for much less than half the price of new tires.
Step 2: Replace torn wiper blades. If your wiper blades are streaking or have torn rubber edges, replace the wipers for better visual appeal.
Step 3: Address minor operating problems. In general, the better your car operates, the more you can expect for a trade-in value.
You should do your best to address minor problems of your car. Here are some examples of easier fixes that you can do before you bring your car for a trade-in valuation:
Check Engine Light: Have the problem inspected and repaired by a technician.

Clunking sounds and rattles: Get a professional mechanic to inspect the engine and fix it if the cost is minor.

Steering pulls to one side: Get a certified mechanic to inspect the car and perform a wheel alignment.
Part 6 of 6: Take your service records along with you for the valuation
Step 1: Collect all the service records for your car. Keep all your oil change records and fluid change logs for this reason.
Step 2: Arrange the records in chronological order. Having your records up-to-date and in order will make things easier for the dealership to assess the history of your vehicle.
Keep track of your major maintenance intervals such as timing belt replacement and transmission fluid changes.
Step 3: Take service records to your trade valuation. A properly maintained vehicle will command a higher value than one with an unknown or poor service history.
You may not have the time or resources to complete all of these steps to get the best price for your trade-in. However, try to complete as many of the above tasks as you can so that you can increase the value you will receive for your trade and pay less for your new car.
If you would like to have your car inspected before trading it in to take care of any easy repairs, you can get a comprehensive inspection from YourMechanic. Our certified professionals can come to your home or office to look at your car and make any needed repairs before you trade it in.
---
The statements expressed above are only for informational purposes and should be independently verified. Please see our
terms of service
for more details