In the United States, air conditioning repairs are regulated by the Environmental Protection Agency, or EPA. That's because the refrigerant in the system is harmful to the environment if it's released into the atmosphere. For that reason, vehicle mechanics who wish to conduct air conditioning system repairs must obtain an EPA technician certification.
For automotive air conditioners, the Clean Air Act specifies the requirements in Section 609. Anyone who services or repairs motor vehicle air conditioning (MVAC) systems must complete the certification process.
The EPA technician certification program educates its students on the proper use of air conditioning repair equipment, regulations pertaining to MVAC repairs, the importance of recovering refrigerant, and the environmental effects of improper disposal and handling of refrigerant.
Follow these steps to get your EPA technician certification.
Part 1 of 3: Find an authorized EPA technician certification program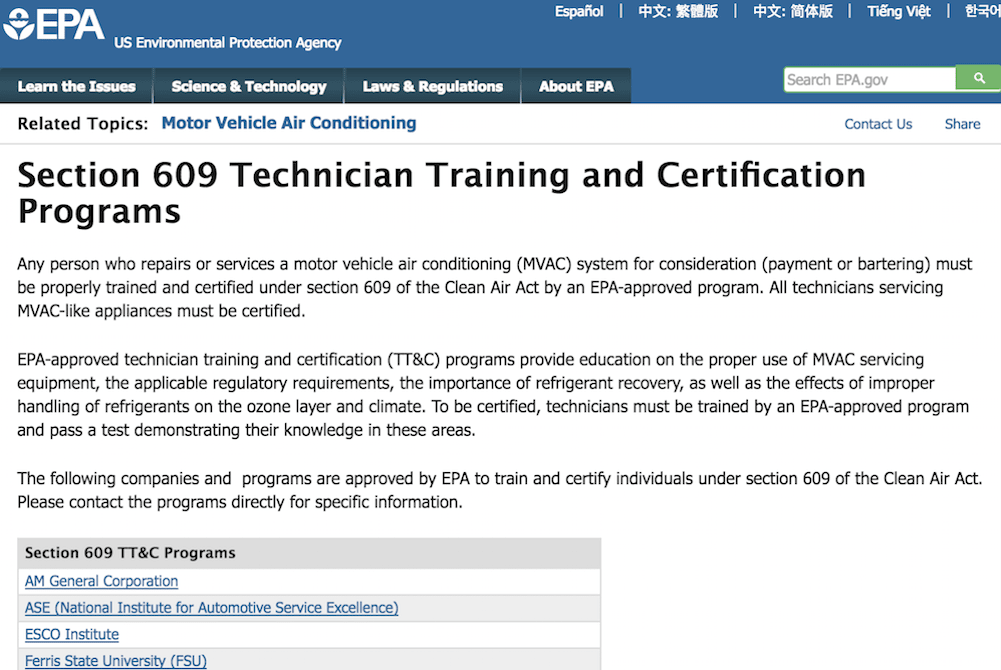 Step 1: Locate an EPA technician certification program. There are many to choose from, which you can find listed on the EPA Section 609 website
Most of the facilities that offer the EPA technician course provide online testing, such as the Greater Cleveland Auto Dealers Association and the National Institute for Automotive Service Excellence, or ASE.
Tip: Some programs such as the ASE program offer a printed booklet instead of online coursework for those who study better with paper-based training.
Part 2 of 3: Study for the EPA technician certification
Step 1: Study the required information for the EPA technician certification. Go through every part of the course thoroughly as you'll be tested on all aspects of the course.
Aspects covered in the program are different motor vehicle air conditioning systems, understanding refrigerants and their environmental and health impacts, EPA regulations for automotive technicians, alternative refrigerant options, and responsible refrigerant management.
Note: The EPA technician certification program doesn't teach technicians about automotive air conditioning repairs, but rather provides education on the safe and responsible handling and disposal of refrigerant.
Part 3 of 3: Take the EPA technician certification quiz
Step 1: Enroll in the quiz at one of the EPA online course providers. The fee for the quiz is set by the facility and not by EPA, so costs can vary, but are quite reasonable. Once you've paid for the quiz, you'll be able to access and complete it.
Step 2: Complete the quiz online. The EPA technician certification quiz is 30 questions, of which you must get 24 correct to pass. Online certification courses will immediately inform you of a pass or fail.
The information in the quiz is industry specific, so studying the program information is important to ensure a passing grade.
The EPA technician certification process provides the background knowledge required for handling refrigerant safely in motor vehicles. For vehicle air conditioning repair certification, check out ASE's Automotive Technician programs.
---
The statements expressed above are only for informational purposes and should be independently verified. Please see our
terms of service
for more details