It's incredibly frustrating to have a car that stalls and it always seems to happen at the worst possible time – like when you're in middle of a busy intersection with fifty enraged drivers behind you. There are a lot of different things that can cause a car to stall. Fortunately, with enough knowledge, the problem can be diagnosed and fixed.
Method 1 of 2: Have a mechanic fix the car
There is a dizzying number of reasons a car may stall and you might want to consider taking your vehicle to trained professional. Certified technicians, like those at YourMechanic, can quickly pinpoint the problem. This can save you both time and money; imagine yourself kicked back with a cold beverage instead of scrounging around under the hood.
Method 2 of 2: Fixing the car yourself
Materials Needed
Safety glasses
Protective gloves
Small flashlight
Brake or carburetor cleaner
Step 1: Check diagnostic trouble codes. If you decide to have a go at fixing your stalling vehicle yourself, the first step is to retrieve any diagnostic trouble codes that may be stored.
On modern vehicles, the powertrain control module (PCM) stores a diagnostic trouble code (DTC) when it senses a problem with one of the onboard systems. It then turns on the check engine light. These codes help narrow things down and indicate where to start your diagnostic process. They're like the first step on a GPS route – you may eventually get to your destination without them, but it will take you a whole lot longer.

Once you've retrieved the code, follow the manufacturer's given diagnostic procedures. Individual subscriptions for vehicle repair are available online through alldatadiy.com. Free repair information for many vehicles can also be found on autozone.com under the repair help tab.
Step 2: Check for vacuum leaks. Vacuum leaks are a common cause of engine stalling.
To check for vacuum leaks, start with a visual inspection of the vacuum hoses and tubing.

If there isn't anything obvious, the next step is to check for leaks using a can of carburetor cleaner.

Warning: Be cautious while doing this as solvent is very flammable! Spraying carb cleaner on an arcing plug wire can quickly lead to a visit from the local fire department.

Start by spraying the solvent around suspect locations throughout the engine compartment. If the solvent is sprayed in the vicinity of the leak, the idle speed will suddenly change and smooth out.

Tip: Professional technicians use expensive EVAP smoke machines to find vacuum leaks. These devices put smoke in the system which billows out at the location of the leak. While professional versions of these machines cost hundreds of dollars, there are how-to videos for homemade versions available.
Step 3: Check computer inputs and outputs. In most cases, OBD II compliant vehicles built after 1996 will turn on the check engine light if there is a problem with one of computer's inputs or outputs. Inputs to the computer system are from the various engine sensors. Outputs are items the computer controls in response to measurements taken by the sensors.
Step 4: Check that the engine is getting fuel. An engine that is not getting enough fuel will stall out. This could be due to a failed fuel pump, clogged fuel filter, or simply not enough gas in the tank (don't always trust your fuel gauge as it could be faulty).
To determine whether the issue is fuel related, begin by seeing if the vehicle will run on an alternate fuel source, such as brake cleaner. Spray the brake cleaner directly into the throttle body; if the vehicle runs the problem is fuel related.

Warning: Be careful when doing this! The engine can backfire causing injury. Engine damage can also occur if too much brake clean is sprayed in, resulting in hydrolock (when a liquid or solvent enters the engine, causing it to seize up) and a big repair bill.

If the problem is indeed fuel related, continue the diagnosis by checking fuel pressure. This is done by inserting a fuel pressure gauge into the pressure side of the fuel delivery system. On most gasoline port injected engines, fuel pressure should generally be between 40 and 50 PSI. It's a good idea however, to consult the manufacturer's repair information for the exact specification for your car.

Also, it's important to note gasoline direct injected engines and diesel engines have much higher fuel pressures (thousands of PSI). These systems require dedicated gauges for testing as well as extensive safety precautions. In other words; testing these systems is best left to a professional.

Tip: Here's a video on checking fuel pressure.
Injector control, or lack thereof, can also be a reason for engine stalling. After the engine stalls and will not restart, use a noid light to check if the computer is commanding on the injectors. If the noid light does not illuminate, you'll need to consult the manufacturer's repair information regarding the injector control circuit.

Tip: Here's a video on checking injector control.
Step 5: Check that the engine is getting spark. There's a lot more to your vehicle's ignition system than just the spark plugs. A bad crankshaft position sensor or faulty ignition module can cause stalling, too.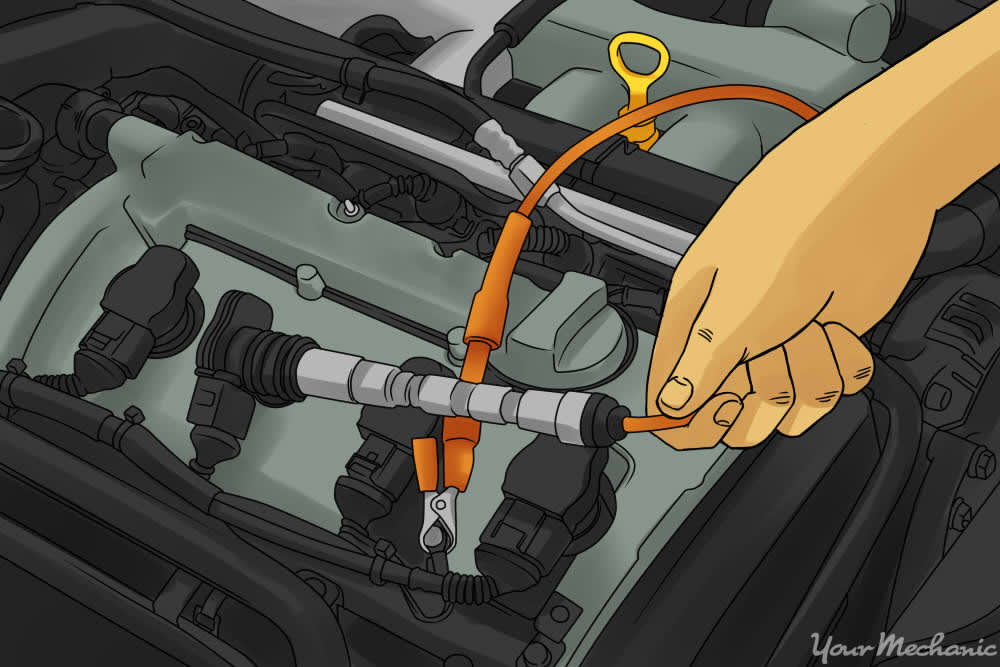 To check for adequate spark, install an inline spark tester between the plug boot and a good ground. Then crank the engine. If the tester lights up, the engine is getting spark. If not, consult the manufacturer's repair information regarding the ignition control system.

Note: Like the fuel injector test, checking for spark must be done when the engine is "acting up." In other words, check for spark after the engine has stalled and will not restart.

Tip: Here's a video on how to use an inline spark tester.
Step 6: Check the charging system. A worn battery, faulty alternator or loose connection can also cause a vehicle to stall.
Start by checking the connections at the battery and alternator to make sure they are clean and tight.

If everything looks good, take your vehicle to have the battery and alternator checked. Most auto parts stores, such as Autozone, will perform this service for free.
This is just the tip of the iceberg when it comes to testing and repairing a stalling engine. With modern, computer controlled vehicles, there are countless reasons an engine may stall. Trying to hunt down the cause of a stalling can lead to swearing, busted knuckles and hair loss. If this doesn't appeal to you, remember, there are trained professionals who have devoted their lives to diagnosing engine problems.
---
The statements expressed above are only for informational purposes and should be independently verified. Please see our
terms of service
for more details