In this guide, we will go over why cars need oil changes, when oil needs to be changed, and how to find the best oil change coupon codes and deals near you. As deals are always changing, we update our guide monthly to help you find the best oil change deals near you!
Why do I need to change my oil?
When engine oil gets dirty and needs to be changed – either at its due date or when an engine meets a certain mileage interval – more expensive parts under the hood can get damaged, and eventually this can lead to engine failure. Oil filters, meanwhile, keep the oil clean by preventing debris collection. Filters need to be replaced on a regular basis in order to avoid clogging so that oil can pass into the engine.
What kind of oil coupon should I use for my car?
The quality of oil and filter matters, so it is worth knowing the best deals and coupons for the best brands and suppliers. You should be aware of the fine print: some coupons are for oil change services using recycled or low-quality oil. This guide will help you find the nuggets of gold in the haystack of junk deals and shady coupons out there.
If there are no great oil change coupons right now, can I delay my oil change?
Most car owners should change their oil based on their car's OEM recommendations – which they can find in their car owner manual or by using YourMechanic's Scheduled Maintenance Guide. While a couple of weeks are unlikely to have a major adverse impact on your car, delaying longer than that is a risk you are taking. For some cars, you may need to change oil event earlier than recommended. Temperatures below 0 degrees may warrant more frequent oil changes, as oil will break down faster.
Frequently Asked Questions about Oil Change Coupons
How do I find oil change coupons near me?
You can look in your local penny saver or newspaper for oil change coupons, but you can also find oil changes deals and coupons near you by simply googling "oil change coupons" and your city and state.
You should also include your car's make and model in case dealerships near you are running an oil change deal. This also helps you find an oil change provider who may specialize in your particular type of vehicle.
How do I know if an oil change coupon is valid?
Oil change coupons - whether they're online or in print - generally have an expiration date listed. However, we strongly recommend calling the oil change shop to confirm that the coupon is valid and that they'll honor the pricing on the coupon for your make and model, as some franchises tend to put out coupons that don't apply to all oil types. Make sure that you are getting a deal: it may ultimately cost you more for an oil change at a shop than if you opted for a mobile oil change right at home with a mobile oil change service.
Are discounted oil changes bad for your car?
Oil change coupons can help you save money on all kinds of oil changes without compromising quality. You can find a good bargain, as long as you know the right questions to ask the service center before your appointment. Make sure that you confirm the oil and filter that the lube techs will be using; find out if all parts and supplies are included in the coupon price; and make sure that the technician is properly trained and will perform a full 50-point inspection during your appointment, as some shops save money by hiring inexperienced workers.
What's the normal price of an oil change?
The average price of an oil change will depend on your area and your car's oil requirements. Synthetic oils can be more expensive, but you get higher quality oil. You can view a breakdown of fair pricing for parts and labor using YourMechanic's full quote price breakdown.
Coupons for the leading Oil Change chains
Walmart Oil Change Pricing & Coupons
Walmart's lowest price starts at $19.88 for a conventional oil change and can go up to $49.88 for a full synthetic oil change Power & Performance Oil change. With such low prices, you don't need coupons for Walmart's truly low priced, always discounted oil changes.
Valvoline Coupons & Pricing
Valvoline synthetic oil changes coupons range from $7 off for a full synthetic or synthetic blend oil, or $5 off for a conventional oil. To find even deeper cuts such as up to $15 off of a fuel system cleaning service or an air filter, check out your local Valvoline sites for their coupon specials.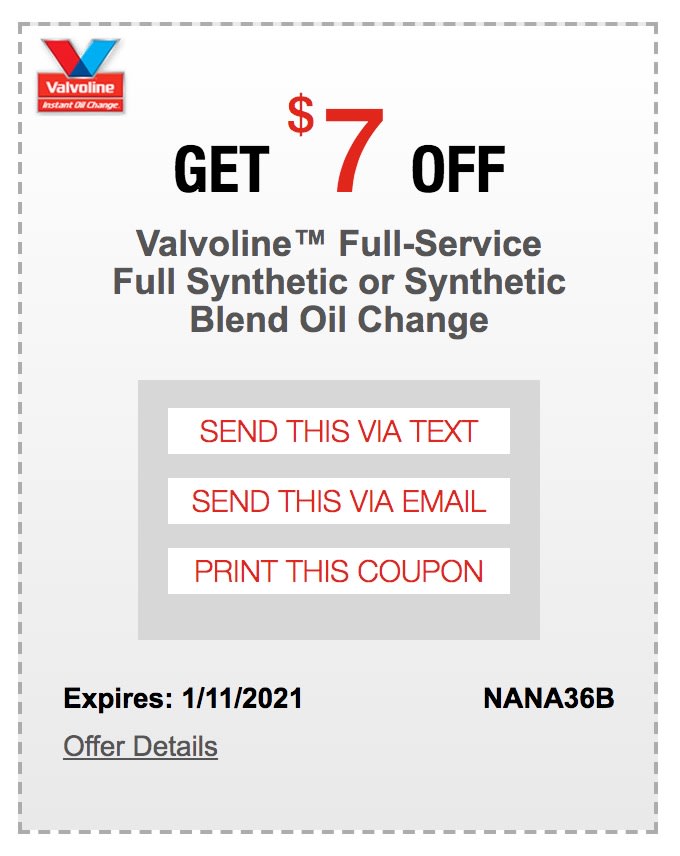 Pep Boys Oil Change Coupons
Pep Boys give a 30% off oil change coupon that applies to all engine types. The pricing isn't clear online, so you'll want to get pricing over the phone before going into the shop. You can compare their pricing to dealerships and mobile oil change pricing by getting an instant quote at YourMechanic.com/book to be sure you're getting a good deal.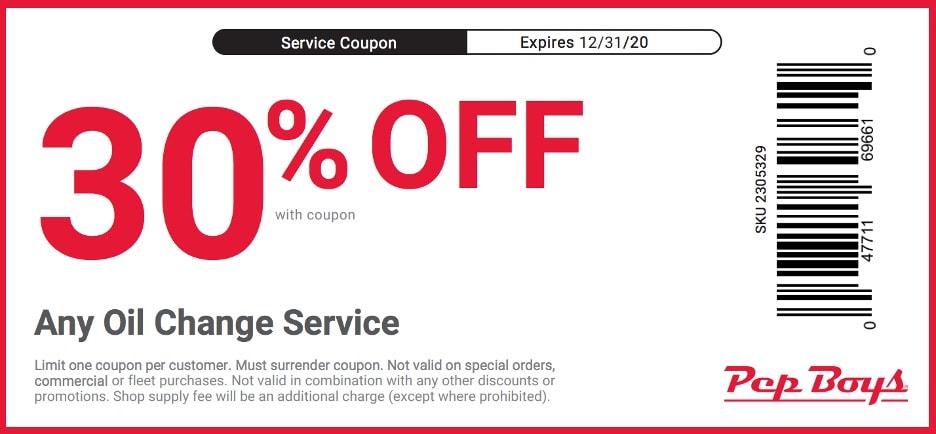 Firestone Oil Change Pricing & Coupons
Firestone oil change coupons start at $24.99 for a standard oil change and up to $54.99 for a full synthetic oil change, which includes an oil filter.
Take Five Oil Change Coupons
Take Five is a quirky drive thru oil change that focuses on quick oil changes with quality oils like Mobil 1. Take Five always offers $5 off coupons for all customers, and a 25% off of oil changes for veterans.
Pennzoil Oil Change Coupons
Pennzoil is a favorite of DIY car owners, offering coupons on their oils and services. If you'd like the oil changed for you, Pennzoil offers a $10 off coupon for their oil change services. You'll need to do your research to find pricing at their participating oil change locations.
Oil change coupons by car manufacturer
Ford Oil Change Coupons
One of America's leading brands for trucks and SUV's such as Ford Explorers and Mustangs, offering an extensive oil change coupon that covers up to six quarts of Motorcraft oil and Motorcraft oil filter. The coupon for an oil change and more is just $49.95, and includes lots of extras, such as: Tire Rotation and Pressure Check, Brake Inspection, Vehicle Checkup, Fluid Top-Off, Battery Test, Filter Check, and Belts and Hoses Check.
Toyota Oil Change Pricing
Toyota's are known for their reliability and are lauded by mechanics for how simple they are to fix and maintain. While the brand's dealerships aren't currently offering discounts on oil changes, the brand is constantly updating its specials nationwide. You can check the dealerships specials on Toyota's site for owners.
Chevy Oil Change Coupons
Chevrolet gives between $10 to $125 off bulk services, which can include oil changes, brakes, air filters, and even wiper blades. Chevrolet's coupons can be applied to all of the brands' makes, including Impalas, Suburbans, and Silverados.
Honda Oil Change Coupons
Oil change coupons for Hondas are available periodically on the nationwide dealers' sites. For anyone seeking oil change coupons and deal for the best-selling vehicles for families – Honda Accords, Passports, CR-Vs, Odysseys – check out your local dealerships' site. Some Honda Dealerships offer coupon deals for as low as $39.99 for up to 6 quarts of oil (synthetics are excluded from the deal however).
Nissan Oil Change Deals
Popular for the Xterra, Altima, Maxima, and all Nissan models - Nissan dealerships provide coupons for free inspections and occasionally offer oil change coupon deals for Nissan car owners. Check out their site to find local deals at a dealership near you each month.
Jeep Oil Change Coupons
Jeep offers a myriad of oil change coupons for all of its models. Depending on the type of oil your vehicle requires, you can get an oil change for as low as $29.95 for a synthetic blend oil – or up to $109.95 for a full synthetic oil diesel oil change. Just be sure you know there are additional charges may be applied for engines with oil capacity that exceeds 12 quarts and fluid disposal.

Subaru Oil Change Deals
Subaru doesn't offer nationwide dealership coupons, however, individual dealerships will offer varied oil change deals, such as Synthetic Oil Changes for roughly $79.95 or Conventional Oil Changes for $44.95. The pricing is similar to YourMechanic's pricing - at $84.66 for an at-home mobile repair.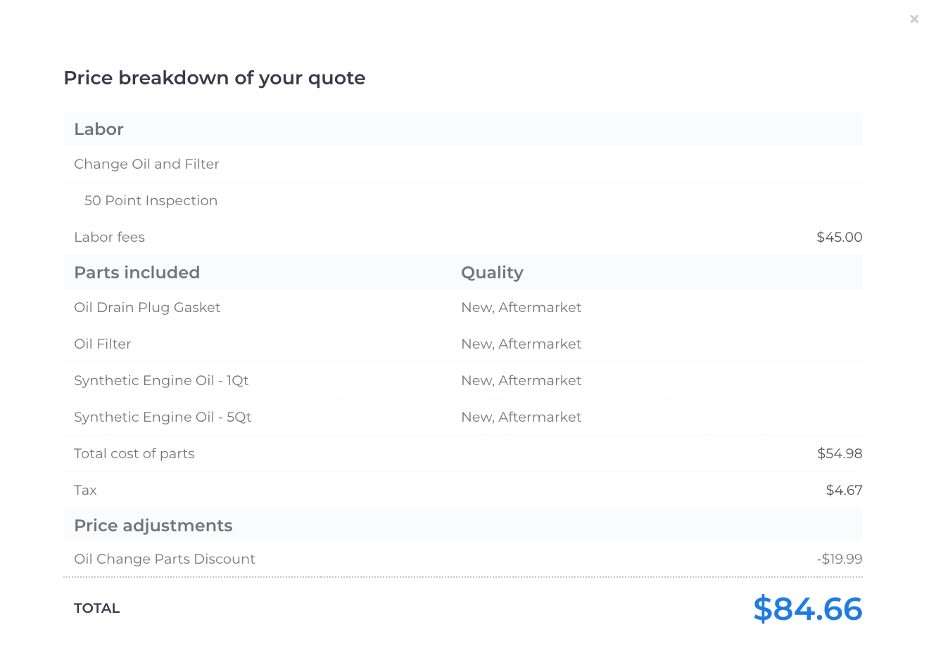 Hyundai Oil Change Coupons
Hyundai local dealerships offer varied coupons for oil changes — some as low as $39.95 ($30 off of a $69.95 synthetic oil change, which is required for most Hyundai vehicles such as Sonata, Elantra, and Tucson). Each dealership will offer its own coupon, so check your local dealership to find Hyundai oil change deals.
Kia Oil Change Deals
Kia offers some of the lowest priced oil change discounts around – as low as $26.88 for a standard oil change in some cities, however that price won't apply to conventional oils.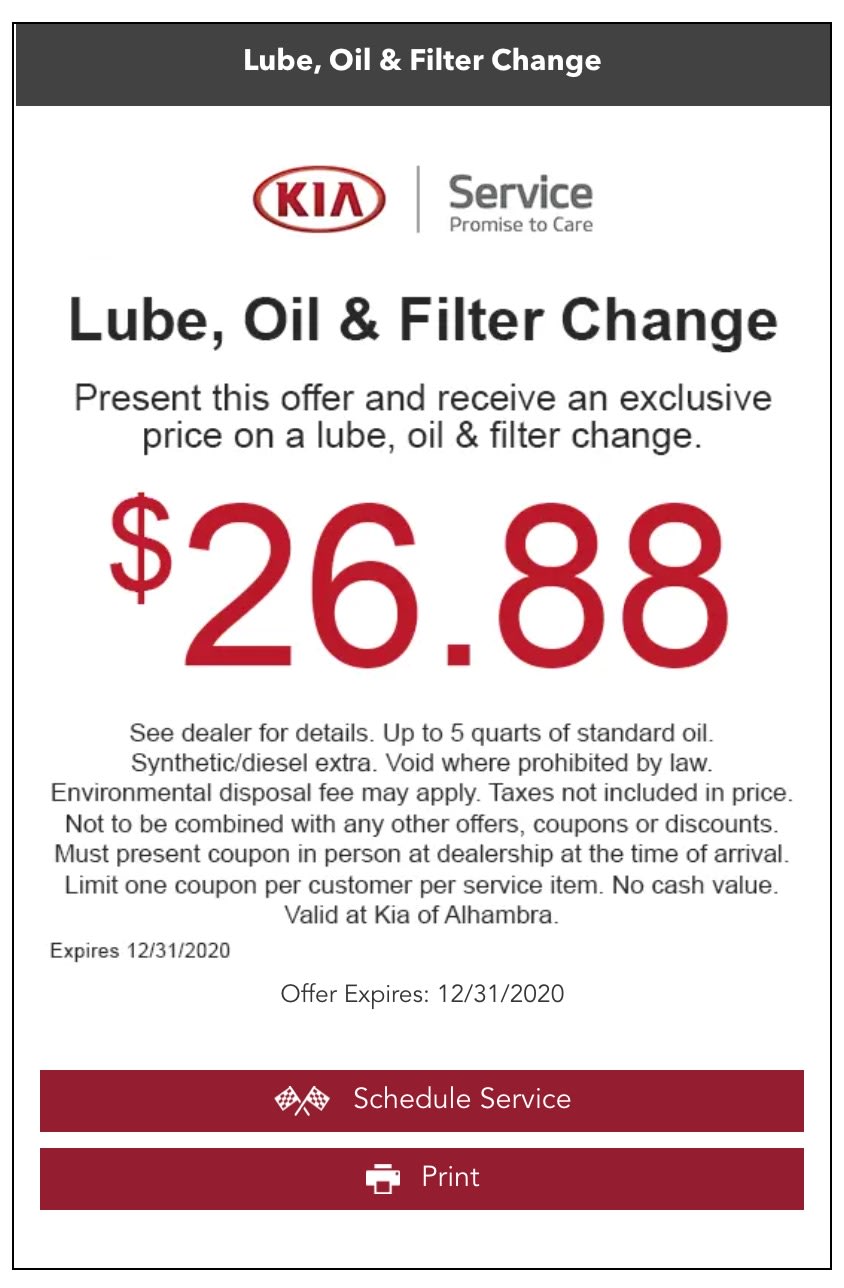 Dodge Oil Change Coupons
Each Dodge dealership provides coupons for a variety of deals. Depending on a Dodge owner's location, you can find a coupon for a semi-synthetic oil change for as low as $24.95.

Most Popular Oil change Discount Coupons:
$10 off oil change coupons
Speedee Oil Changes offers up to $10 off any oil change with their coupons, depending on your city and state. Check out Speedee's locations and savings here.
$15 off oil change coupons
Midas offers $15 off oil change coupons for a synthetic blend or full synthetic oil change. The important tip is to be sure to call the shop for a price quote, as the oil change provider charges for an oil disposal fee.

$20 off oil change coupons
Jiffy lube offers a $20 oil change coupon on their oil changes online. We couldn't find oil change pricing on our local Jiffy Lube's site, so we called into the Jiffy Lube in Mountain View, CA and asked them if we could use the coupon which hadn't expired yet. For a full synthetic oil change, the total cost would be $99.99 for 5 quarts and $10 for each extra quart after that. For our 7-quart engine, we would have paid $120.With the coupon we would have paid $103.01. YourMechanic's price for the full synthetic oil change would have been $89.94 for the same service, without any extra charge for the convenience of coming directly to a customers' driveway. You can read more about our experience with Jiffy Lube here.
---
The statements expressed above are only for informational purposes and should be independently verified. Please see our
terms of service
for more details