Aside from having your car stolen, having someone break into your car is perhaps one of the most violating things that can happen to your vehicle. Just knowing that someone has broken into your car, looked through your things, and stolen your personal things can evoke a strong emotional reaction.
Unfortunately, there are people who simply don't respect others enough to leave their vehicles alone. You need to protect your car from:
Attempted thefts by locking your doors
Accidents and collisions by making sure your car is safe to drive
Premature fading and corrosion by cleaning and waxing it regularly
Dents and dings by parking in places where other doors won't hit your car
There is another category of people who will break into your vehicle who aren't doing so to be malicious. They are citizens looking out for the wellbeing of children and pets left in your vehicle.
Whatever the reason may be, here are some steps you can take to prevent people from breaking into your car.
Part 1 of 5: Protect your belongings
Most car break-ins occur because someone has left something of value behind in the car. You can prevent most car break-ins by keeping your valuables and belongings out of sight. You want to make your possessions as unnoticeable as possible so potential thieves will carry on to the next vehicle.
Step 1: Remove all your valuables from your car. Take your valuables with you instead of leaving them in your car when you park.
If your belongings are visible, it dramatically increases the likelihood that a thief will target your vehicle.
Electronic items, duffel bags, hand bags and shopping bags left in your car will definitely draw the attention of those who pass by it.
Whether you are stepping away from your vehicle for just a minute or parking for several hours doesn't make a difference — it only takes a thief a couple of seconds to smash a window and grab your personal belongings. It would take only a few more seconds for a thief to break-in discreetly by punching a hole by the handle.
Step 2: Hide your valuables well in your car. If your valuables are not in plain sight, a thief will probably pass your vehicle by.
Put small items in the glove box or console so that they are out of sight. Put larger items in the trunk or hatch so thieves can't see them.
Step 3: Cover any items in the car. If you must put items in your car's back seat, put them on the floor and cover them with a towel or blanket to conceal them.
Use a towel or blanket that doesn't draw attention to your car or highlight the fact that it's covering an item of value.
Step 4: Protect your audio system. Audio systems draw the attention of thieves even if there are no other valuables in sight. An expensive audio unit usually indicates other concealed items like a subwoofer and amplifier in the trunk.
If you have an expensive audio system, remove the radio faceplate from the head unit each time you leave your car.
Step 5: Do not leave any money in your car. Don't leave loose change, wallets, or credit cards on the dashboard or in cup holders.
You're inviting thieves to break into your car by leaving cash and credit cards in full view. If thieves steal your wallet or credit cards, not only can there be significant financial repercussions, but there can be identity theft involved which can trouble you for years.
Part 2 of 5: Protect your car with a security system
Thieves always look for the easiest target where they can get in and out without drawing attention to themselves or their actions. An automobile security system can help prevent a break-in by sounding an alarm if your vehicle is the target of a break in.
Step 1: Install a high-quality car alarm. Modern car alarms can include options such as motion sensors, knock sensors or a sirens if there is any unauthorized entry into your car, opening of the hood, or entry into the trunk.
High-quality car alarms include offerings by Viper and CompuStar.
Tip: You can select a car alarm that includes two-way communication, meaning when the alarm goes off you are notified on your car's alarm remote or on your smartphone.
Step 2: Advertise the car alarm on your vehicle. Prevent your vehicle from being targeted for a break-in by putting a car alarm sticker on your car's window. If a thief sees there is an alarm installed on your vehicle, there is a high likelihood they will move onto the next target, leaving your car alone.
A car alarm not only makes a series of deafening noises from a siren under the hood, but also acts as a theft deterrent if a car alarm decal is on the car window.
Install a high-quality car alarm that is set off when your car is broken into, bumped against like a thief would who is breaking in, or is started while the alarm is still armed.
If you consider your neighborhood to be a high-risk area for car vandalism, theft, or break-in, a proximity sensor could be beneficial as it gives a warning to people who get too close to your car.
Place a window decal in highly-visible locations such as on the driver's and passenger front door windows so thieves know your car is equipped with an alarm.
Warning: If you're parked in a dark, remote area, a car alarm may not be enough deterrent as a thief can break in, take your possessions, and disappear before anyone responds to the alarm.
Step 3: Put a dummy sticker on your car window. You may not be able to afford a car alarm for your vehicle, or it may not be feasible because of your car's age or condition.
Invest in a car alarm sticker that you can install on your car windows, indicating you have a car alarm when in fact you do not. Thieves don't truly know if your car has a car alarm or not, so they will likely move onto the next target instead of attempting to break into your car.
Part 3 of 5: Tint your car's windows
In addition to cooling your car and making it more appealing, a window tint can obscure the view of your car's interior and thereby, protect your car from thieves. If a thief can't see inside your car to determine if there is anything of value, they will move onto the another vehicle instead.
Step 1: Determine the darkest window tint level legally permitted in your state. Check the legal tint limit for your state before installing any window tints.
Tip: It is better to know the maximum permissible tint limit as otherwise you may get a ticket for excessively dark window tints and may have to remove the tint.
Step 2: Get the window tint installed. You can install the window tint by yourself or have a professional install it for you to get the most professional appearance and finish.
Part 4 of 5: Park your vehicle in a well lit area
Your parking location has a significant impact on how likely your car will be targeted for a break-in. Always try to park where your car is highly visible, day or night.
Step 1: Try to park in a garage wherever possible. If your vehicle is out of sight, it is less likely to be the target of a break-in. In addition, a garage will add a level of security to your car as a thief would now need to break into your garage in order to break into your car.
Step 2: Park where there is lots of traffic. Thieves prefer quiet streets and parking lots where they aren't likely to be seen while breaking into your car.
Park in an area of a mall parking lot close to entrances, near the door to your apartment building, or on a busy street.
Step 3: Park in a well-lit area. Thieves prefer to operate in the dark where they can't be identified and their actions can go unnoticed.
Whenever you need to leave your car on the street or in a public parking lot, try to park under a street light.
Step 4: Use monitored parking wherever possible. Whether you are parking at home, at the mall, or at work, try to park where video surveillance is used.
For a few hundred dollars, you can get a camera installed and provide monitored or recorded video surveillance for your driveway at home. A video surveillance system gives you peace of mind and often proves to be an additional deterrent for would-be thieves.
If your car is still broken into while it is in a monitored area, you may be able to identify the thieves based on the video.
Part 5 of 5: Be responsible with your precious cargo
If you travel with your young children or pets in the car, you should ensure that you never leave them unattended or alone in the car. Unfortunately, there are people who don't have the best intentions all of the time. These people may want to steal your car, rob you, or cause you physical harm even if you are in your vehicle. There are steps you can take to help ensure your safety as you approach your vehicle and as you drive.
Warning: Always be aware of your kids and pets in order to avoid inadvertently locking them in your car as it is very dangerous for their health. Responsible citizens may have to break into your car to free them from a hot or cold car interior.
Step 1: Plan your trip before leaving the house. If you plan on stopping at a store where pets are not welcome, it is better to leave your pets at home instead of bringing them along in the first place.
If you leave your dog in the car, a concerned person may smash a window to free the pet from the car on a hot summer day or a cold wintry day.
Step 2: Always take your children with you. If you are making any stops, bring your children into the store with you.
Regardless if it's hot out, cold out, or if you've left the engine running, you should never leave young children unattended in a car. A child left alone in a vehicle will draw the attention of passersby who may break-in to free the child from a potentially dangerous situation.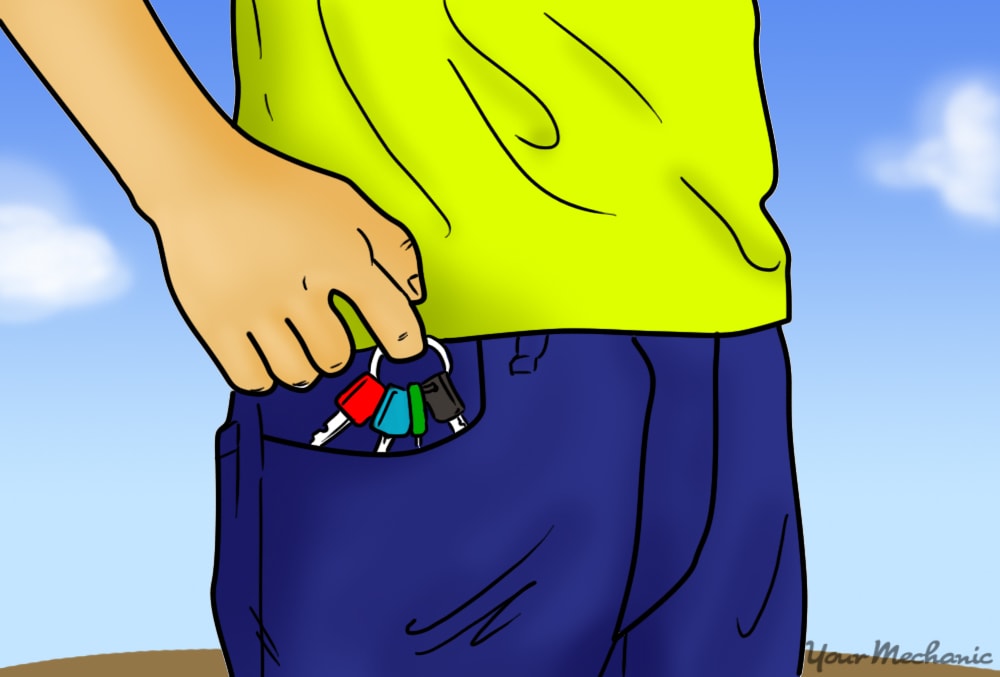 Step 3: Carry your keys close to you as you approach your vehicle. When you approach your car, keep your keys in your hand but concealed in your pocket or purse, or against your body until you need to use them.
A thief will have a much more difficult time taking your keys from you if you aren't holding them loosely or holding them exposed.
Tip: Because your safety is of the utmost importance, give up your keys to an assailant if you are being threatened with harm.
Step 4: Lock your doors at all times. When you are in your car, lock the doors to prevent unwanted people from entering your car.
Lock your doors no matter where you are driving as you never know who may pose a threat.
When you leave your car, lock your door every time.
If you leave your car unlocked, someone can get into the backseat to hide and wait for you to return.
Step 5: Don't roll your window down the whole way. When a stranger approaches your window, roll it down only enough to talk, and not enough for them to reach into your window.
If someone you don't know comes up to your car, treat them as a potential threat until you can verify their intentions.
If you don't trust someone who approaches your car, don't open the window no matter what.
If you are unfamiliar with the area where you are driving, don't take any chances with your safety or your possessions. If you find yourself in an uncomfortable or scary situation, use the panic button on your car remote or your car horn to startle and scare off ill-intentioned people.
Any one of these methods will assist in reducing the likelihood of having your vehicle broken into, and using more than one method will reduce the chances even further. The best way to prevent your car from a break-in is to protect your valuables and avoid leaving your belongings in your vehicle.
---
The statements expressed above are only for informational purposes and should be independently verified. Please see our
terms of service
for more details