Enticed by the benefits of owning an electric vehicle? EVs are on their way to becoming the widespread car of choice over gasoline-powered automobiles. EVs run off electricity and require charging to fill up their battery and power the car instead of fuel in a gas tank. They are often noted as a more environmentally-friendly ride for emitting fewer emissions than gas-powered cars. Due to the newer technology and manufacturing cost, some of the most popular and well-known battery electric cars come with a hefty price tag. However, several automakers have created fully electric vehicles at more affordable prices.
The downsides many potential EV owners are concerned about are mile range and charging time. Most electric cars, especially those in the lower price range, have a significantly shorter driving range than gas-powered cars. On top of that, depending on where you live, charging stations may be difficult to find, especially if you don't have a home charging station. Level 1 or low charging stations take about 20 hours to fully charge most EVs. Faster and even super-charging public charging stations exist, but they can be challenging to find in certain areas unless an owner has installed a Level 2 charging station in his or her home. The majority of EV owners plug in their cars overnight to regain a full charge or at least enough charge for the next day.
Despite some drawbacks, electric cars can be very economical depending on the user's regular driving conditions. Additionally, some cars are available for state and federal tax credits. Commuters tired of wasting gas while sitting in traffic and city-dwellers who rarely drive at high speeds or for extended miles may want to consider a cheaper EV option. Listed from most to least expensive, read on for the 5 most affordable electric cars on the market today.
1. 2018 Volkswagon e-Golf: $30,495
vw.com
The 2018 Volkswagon e-Golf brings the sporty look of a roomy hatchback to electric vehicles. The e-Golf accelerates with speed and power similar to the gas-fueled Golf. Its battery sits below the rear seats for a low center of gravity, making the car feel well-balanced.
Range: 125 miles per full charge
Charging:
Level 1: 26 hours

Level 2: Less than 6 hours

DC Fast Charging: 1+ hours and only available on select models
2. 2018 Nissan Leaf: $29,990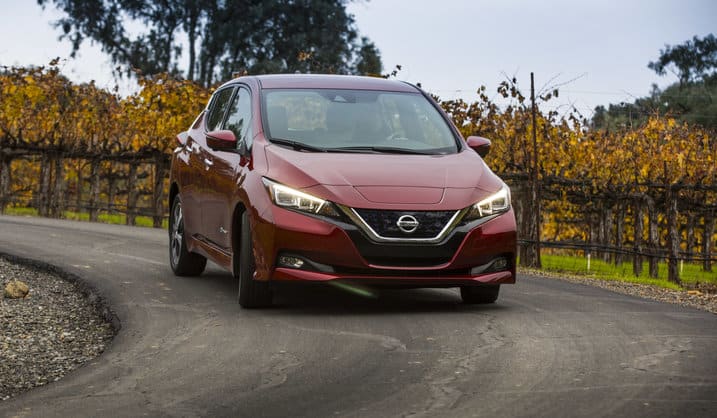 nissanusa.com
Though pricey for a small, compact car, the 2018 Nissan Leaf is rather inexpensive for a fully electric car. It features a long range compared to other cheaper EVs and extra horsepower in its electric motor. At an additional cost, it also includes an impressive infotainment system with Apple CarPlay and Android Auto compatibility, as well as the ProPilot Assist for semi-autonomous driving.
Range: 151 miles per full charge
Charging:
Level 1: 35 hours

Level 2: 7.5 hours

DC Fast Charging: Not available
3. 2018 Hyundai Ioniq Eletric: $29,500
hyundaiusa.com
Only available to California residents, the 2018 Hyundai Ioniq Electric offers another affordable option — especially in a state with notorious traffic in its largest cities. It offers a standard range and drives smoothly, providing safe and simple electric driving. It comes with upgradable driver-assist options as well.
Range: 124 miles per full charge
Charging:
Level 1: 24 hours

Level 2: 4 hours

DC Fast Charging: Half an hour
4. 2018 Ford Focus Electric: $29,120
ford.com
The 2018 Ford Focus Electric is one of many reliable Focus models. It does the trick for most drivers by providing just enough power for a fast ride but still comes with enough control for a smooth one. Its sporty look compared to other EVs can be appealing.
Range: 115 miles per full charge
Charging:
Level 1: 20 hours

Level 2: 5.5 hours

DC Fast Charging: Half an hour
5. 2018 Smart Fortwo Electric Drive: $24,650
smartusa.com
If you like fitting into any parking spot, the 2018 Smart Fortwo Electric Drive is the perfect option. Great for cities, it qualifies as a subcompact car by forgoing the usual backseat, and comes as a coupe or convertible. Its small size also leaves it with a smaller range, so it really is best for frequent navigation of clustered cityscapes.
Range: 58 miles per full charge.
Charging:
Level 1: 21 hours

Level 2: 3 hours

DC Fast Charging: Not available
---
The statements expressed above are only for informational purposes and should be independently verified. Please see our
terms of service
for more details