Newer BMW vehicles are equipped with an electronic, on-board Condition Based Servicing (CBS) system that is linked to the dashboard iDrive monitor. This system tells drivers when maintenance is required; the green "OK" symbol means the system check info is up-to-date and/or in good working condition, while the yellow triangle icon suggests the listed components are due for servicing. If the driver neglects the service indicator lights, he or she runs the risk of damaging the engine, or worse, ending up stranded on the side of the road or causing an accident.
For this reason, performing all scheduled and recommended maintenance on your vehicle is imperative to keep it running well so you can avoid the many untimely, inconvenient, and possibly expensive repairs that come from neglect. Luckily, the days of scratching your head and performing diagnostics to find the service light's trigger are gone. BMW's CBS system alerts owners about necessary vehicle maintenance so they can address the issue(s) promptly and without hassle. Once the system is triggered, the driver knows to schedule an appointment to take the vehicle in for servicing.
How BMW's Condition Based Servicing (CBS) system works and what to expect
BMW's Condition Based Servicing (CBS) system actively monitors engine and other vehicle components for wear. This system monitors the oil life, cabin air filter, brake pad wear, condition of the brake fluid, spark plugs, and, with diesel engines, the diesel particulate filter.
If the BMW model is equipped with the iDrive on-board computer system, the number of miles before a certain service is due will be located on the lower central section of the dashboard when the vehicle is turned on. On other models, the service information will be located on the instrument panel.
The CBS system tracks oil life through mileage, the amount of fuel consumption, and information about oil quality from a sensor located in the oil pan. Certain driving habits can affect the life of the oil, as well as driving conditions such as temperature and driving terrain. Lighter, more moderate driving conditions and temperature will require less frequent oil changes and maintenance, while more severe driving conditions will require more frequent oil changes and maintenance. It is unclear whether the CBS system takes into account these factors, so it is important to be aware of this and to check your oil periodically, especially for older vehicles with higher mileage. Read the table below to help you determine oil life for your specific vehicle:
Note: Engine oil life is dependent not only on the factors listed above, but also on your specific vehicle model, year, and what type of oil is recommended. Check the owner's manual for more information about what oil is recommended for your vehicle, and don't hesitate to get in touch with one of our experienced professionals for advice.
When your vehicle is ready for servicing, BMW has a standard list of inspection for servicing at different mileage intervals: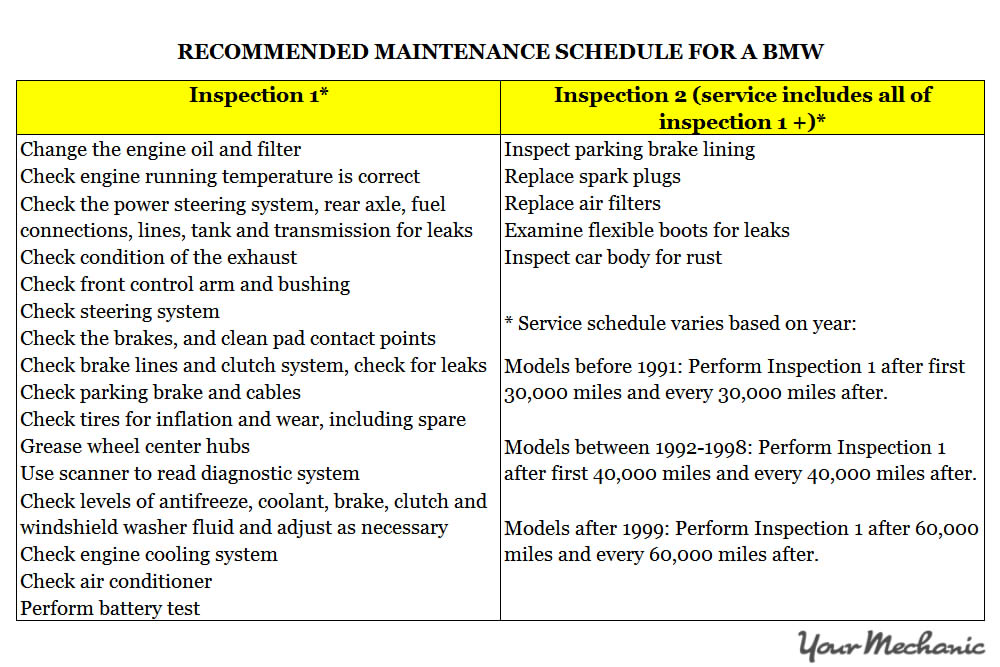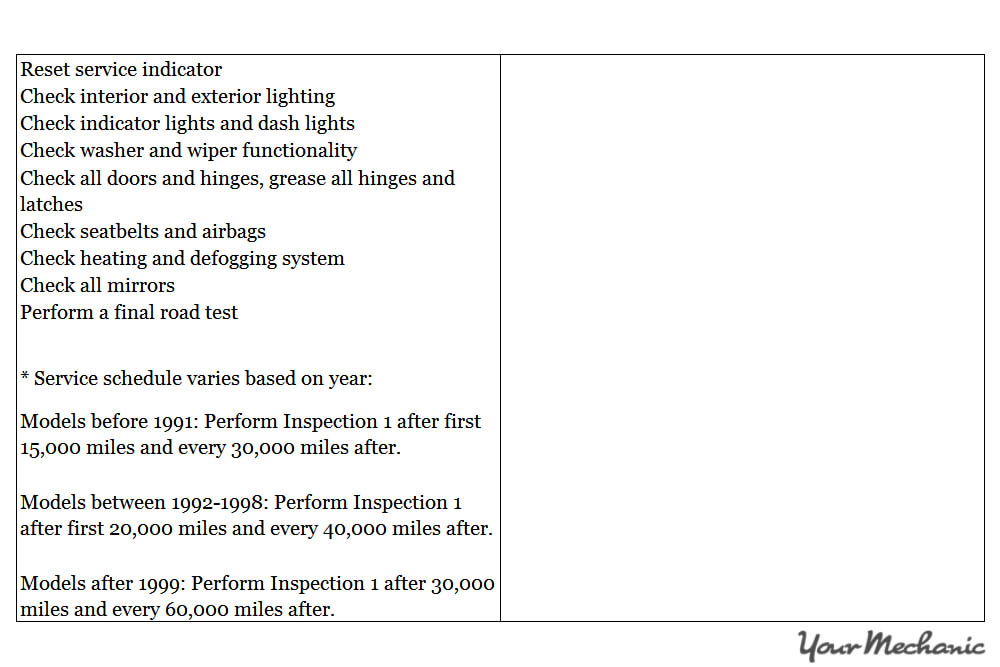 While the vehicle operating conditions are calculated according to the CBS system - that may or may not take into account driving styles and other specific driving conditions - other maintenance information is based on standard time tables such as those in old-school maintenance schedules, located in the owner's manual. This does not mean BMW drivers should ignore such alerts. Proper maintenance service will greatly extend the life of a vehicle, ensuring it is reliable, safe to drive, covered by the manufacturer's warranty, and it also provides a greater resale value. Such maintenance tasks should always be performed by a qualified technician. If you have any doubts as to what the BMW CBS system means or what services your vehicle may need, do not hesitate to contact our experienced professionals for advice.
If your BMW CBS system is indicating that your vehicle is ready for servicing, have it checked out by a certified mechanic, such as one from YourMechanic. Click here, choose your vehicle and service or service package, and book an appointment with us today. One of our certified mechanics will come to your home or office to service your vehicle.
---
The statements expressed above are only for informational purposes and should be independently verified. Please see our
terms of service
for more details