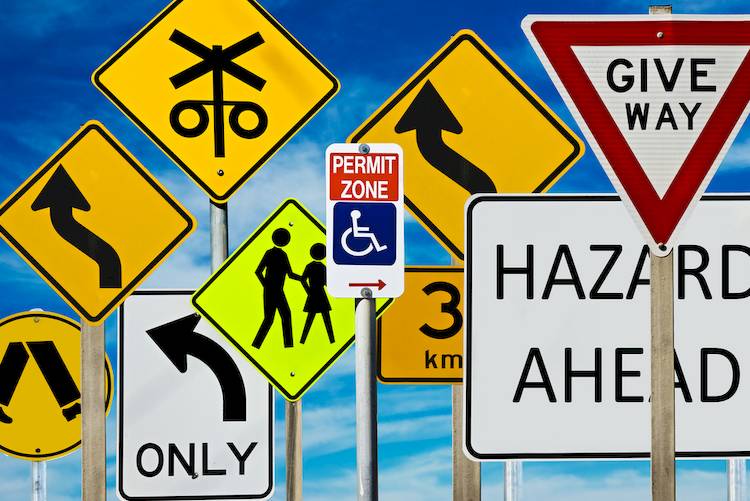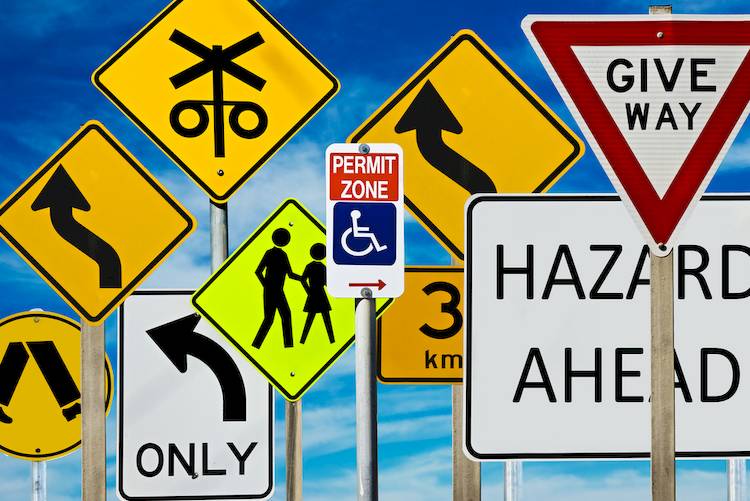 Anyone who drives a vehicle knows that there are laws that have to be followed to keep everyone safe on the roads. While you may be familiar with all the rules in your own state, others can have different laws in place. The following rules of the road for Idaho drivers may be different from what you are used to, so knowing them will make sure you are within the laws when visiting or even moving to the state.
Right of way
Drivers must always yield the right of way to pedestrians at crosswalks and intersections.

Pedestrians must yield the right of way when not crossing at an intersection or crosswalk, or when a traffic signal displays that they are not permitted to cross.

Drivers must yield right of way to livestock herds that are being moved over a road or highway.

Drivers must yield to livestock in open range areas where the animals are not fenced and free to roam.
Single Point Urban Interchange (SPUI)
An SPUI is a type of traffic indicator that controls turns from a single point in an interchange using painted arrows on the roadway.

When the arrow is orange, it indicates that drivers moving straight must stay in one of the two lanes on the right.

A green arrow requires drivers to stay in one of the left two lanes in order to turn left onto the highway.

Blue arrows direct traffic that is exiting the highway. One set of blue arrows directs those who are turning right and the other directs those moving through the intersection.
Accidents
If an accident occurs on a divided highway or interstate, the drivers are required to move the vehicles out of the lanes to either the shoulder or the median if no injury or death occurred.

Accidents resulting in more than $1,500 is property damage or those that result in injury must be reported to the police.

If uninsured drivers do not pay the damages that they caused during an accident, driving privileges can be suspended until the amount is paid or up to six years.
General rules
Licensing - Drivers who move to Idaho must apply for a new license and pass the written knowledge test within 90 days of becoming a resident.

School - Anyone under the age of 18 who is applying for a license is required to have proof of enrollment or graduation in order to have a license issued.

Speed limits - Idaho requires that all drivers follow the posted speed limits unless weather or road conditions make it dangerous to do so. It is illegal to hold up traffic by driving slower than posted limits when there is no reason to do so.

Passing - Drivers are permitted to pass on the right only if on a one-way road or a multi lane road with two or more lanes of traffic that are going the same direction. If a driver is turning left, passing on the right is also permitted providing it is safe to do so.

Slower drivers - Any driver that is driving under the posted speed limit on two-lane or rural roads and has three cars behind him or her is required to pull off the road when it is safe to do so to allow other drivers to pass.

Parking - When parking on a street, the vehicle must be 18 inches or less from the curb.

Signaling - Drivers are required to signal for all lane changes and turns.

Alcohol - While open containers in vehicles are illegal, passengers riding in the living quarters in recreational vehicles and passengers in vehicles that provide transportation for compensation are permitted to have and drink alcohol if they are 21 or over.

Windshield - Drivers are required to remove dirt, ice and snow from the windshield prior to driving to ensure they have visibility in all directions.

Cell phones - It is illegal to send or read text messages while driving unless using a hands-free device.

Funeral processions - Funeral processions have the right away. Additionally, drivers can't pass the procession using the right lane of multilane roadways unless the line of vehicles is in the farthest possible left lane.

Headlights - Headlights are required any time conditions limit visibility to 500 feet or less.

Drunk driving - If a person gets drunk at your home and drives, you could be held liable if he or she has an accident.

Safety seats - All children must ride in a safety seat or booster seat that matches their height and weight requirements.

Seat belts - All drivers and passengers are required to wear seat belts.
Following these rules of the road, in addition to the more common ones that are in place for all states, will make sure you are both safe and legal when driving on Idaho roads. If you would like more information, make sure to check the Idaho Driver's Manual.
---
The statements expressed above are only for informational purposes and should be independently verified. Please see our
terms of service
for more details