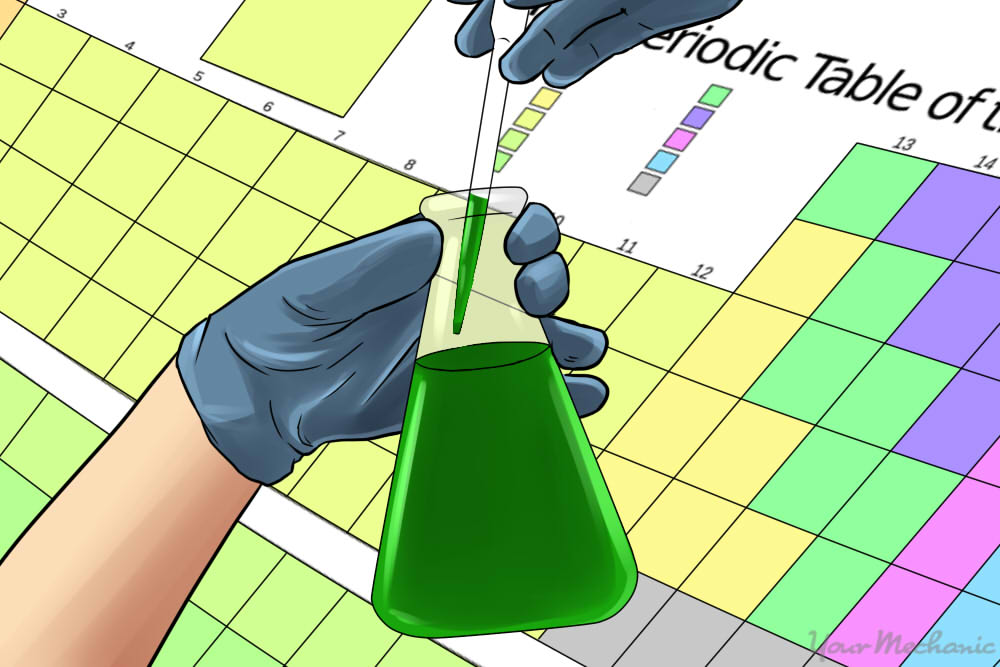 Schedule Brake Pad Replacement
$124.62 - $450.29
Price range for all vehicles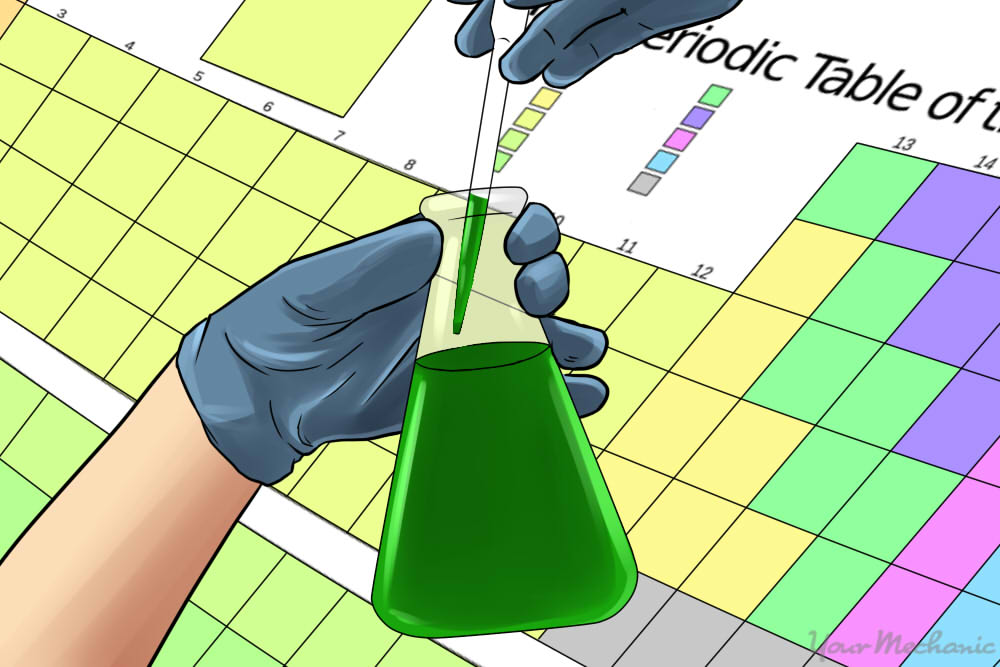 Diesel is used to fuel many different types of machines including:
Construction equipment
Delivery vehicles
Heavy-duty trucks
Highway tractors
Passenger vehicles
Diesel-fired heaters
Diesel fuel is an excellent source of energy because it is relatively safe compared to the more combustible option of gasoline. Diesel engines also generally have more torque than gasoline engines and are quite reliable.
As with gasoline, diesel fuel prices can fluctuate greatly. When the cost of diesel fuel gets too high, you may want to look for another source of fuel. Because diesel fuel is actually a type of oil, you can substitute an alternate source of fuel such as vegetable oil to run your diesel engine, although it will need to be processed first.
Creating your own biodiesel can be done right at home if you have a clean, safe, well-ventilated place to work and attention to detail.
Warning: Completely read through the instructions and familiarize yourself with them before beginning to produce biodiesel to prevent accidents, injury, or fire.
Part 1 of 2: Set up your workspace
Materials Needed
Protective smock or coat (for working with flammable products)
Respirator (for fuel vapors)
Safety goggles
The environment in which you will be making your biodiesel needs to be clean and well-ventilated.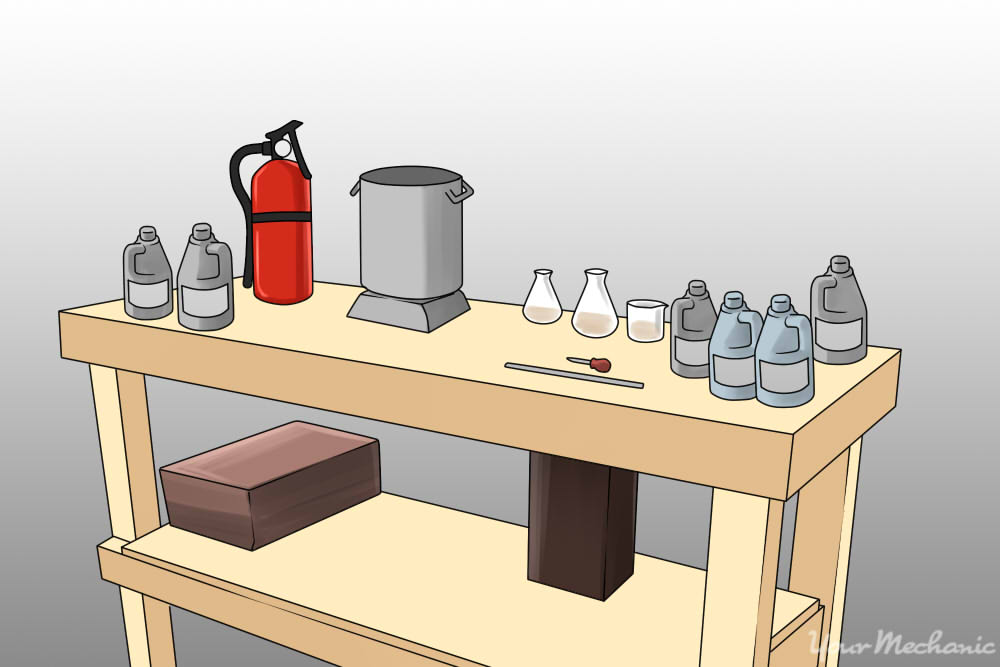 Step 1: Prepare work area. Set up a work table for use only to make biodiesel and keep it organized.
Step 2: Be prepared. Keep the fire extinguisher within reach of your work space.
Step 2: Control the environment. Keep the environment consistently climate controlled to ensure minimal variance in your resulting product.
Step 4: Have a phone handy. Have a telephone nearby in case of an emergency.
Part 2 of 2: "Cook" the biodiesel
The oil you are using to make biodiesel needs to be mixed with methoxide to separate the oil into biodiesel and glycerol.
Warning: This is the most dangerous part of the biodiesel-making process. Be very careful as you will be working with a heat source and harmful chemicals.
Materials Needed
Funnel
Large capacity pot
Long spoon
Lye (sodium hydroxide)
Methanol
Clean vegetable oil
Respirator (for fuel vapors)

Thermometer (choose one that goes up to 200 F)

Warning: Lye is very caustic and can cause burns to the skin, lungs, and eyes. Always use skin, eye, and breathing protection when using lye.

Warning: Methanol is very flammable and can burn your eyes and irritate your skin.
Step 1: Put your safety equipment on. Wear your protective safety equipment whenever you are working on producing biodiesel.
Step 2: Pour your oil into a large capacity pot. You want to raise the temperature slowly, so a tall, narrow pot is better than a wide-bottom pot.
Hang the thermometer in the oil.
You will need to carefully monitor the oil temperature as you are heating it up to 120 degrees Fahrenheit.
Step 2: Mix up your methoxide. For each gallon of oil you have, you will need 10 grams of lye and 750 ml of methanol.
Pour the methanol into a vessel such as a carboy.
Put the lye into the methanol, careful not to breathe the caustic dust.
Warning: Do not add methanol to lye! It will cause a violent chemical reaction that can cause excessive heat, resulting in burns, explosion, and injury.
Swirl the lye and methanol together to completely mix them. Seal the container.
Step 4: Put the oil on your heat source and turn it on. Heat the oil slowly until it reaches 120F. The temperature needs to be precise for proper end results.
Step 5: Pour into vessel. Pour the warmed oil into the vessel with the methanol using a large funnel.
Stir the mixture well with a long spoon for 2-2 minutes.
The ensuing reaction separates the biodiesel from the glycerol in the oil. The glycerol will float to the top.
Part 2 of 2: Separate the biodiesel from the glycerol
Materials Needed
Baster (large capacity)
Funnel
Step 1: Let the mixture sit for 2-5 days. The biodiesel will be the transparent top layer while the cloudy glycerol will float to the bottom.
Note: If the biodiesel appears cloudy at all, leave it for an extra day, then re-check.
Step 2: Separate the biodiesel from the glycerol. Because the biodiesel is on top, pour it off into a clean, labelled diesel fuel container.
Pour off the biodiesel until just before the glycerol is about to come out. It's better to leave a few ounces of biodiesel behind than to contaminate your fuel system with glycerol.
Alternatively, you can use a baster to suck the diesel out of your vessel a little at a time.
Step 2: Put the biodiesel in your vehicle. The odor from your exhaust may have a slightly "french-fry" type smell because you are using biodiesel. Don't be alarmed at this.
Making biodiesel yourself can save great amounts of money but is manufactured in a less controlled environment than regular diesel. There may be higher moisture content, so if your vehicle is equipped with a fuel-water separator valve, be sure to regularly check and empty it of water.
---
Next Step
Schedule Brake Pad Replacement
The most popular service booked by readers of this article is Brake Pad Replacement. Yourmechanic's technicians bring the dealership to you by performing this job at your home or office 7 days a week between 7AM-9PM. We currently cover over 10k cities and have 100k+ 5-star reviews... LEARN MORE
SEE PRICING & SCHEDULING
---
The statements expressed above are only for informational purposes and should be independently verified. Please see our
terms of service
for more details