There's no time of the year like summer. And there's no time better to own a car than when the sun comes out and the summer months roll around.
For some people, summer is the time for road trips, beach getaways, and driving backroads just for the heck of it. For others, it's the time to let the top down and turn the tunes up. And for still others, it's the busy time of the year, when kids and their friends need chauffeuring to sports games, movies, and day trips. Whatever you use your car for, it's important to make sure that it's completely ready for the summer.
Part 1 of 3: Get the car ready for the sunny days
Step 1: Purchase a sun shade. Buy a sun shade for your vehicle.
Bright sun can easily damage the interior of your car. The strength of the summer sun can fade the color of your dashboard and your front seats. This not only hurts the aesthetic of your interior, but can also greatly diminish the resale value of your car.
To protect against this sun damage, purchase a sun shade, and keep it in your car at all times. Unfold the sun shade anytime you're parked in direct sunlight.
Tip: When driving in the summer, try to park your car in the shade as much as is possible. Also crack your windows slightly when you leave your car in a hot environment.
Step 2: Check your air conditioning. Make sure your air conditioning is running well.
Chances are, you'll need to be using your air conditioner a fair amount during the summer, which means you should make sure it's working well. Even if your air conditioner appears to be working, it may not be working at full speed, which could be a problem during the hottest days of the summer.
Before the heat comes, have your air conditioner inspected by a reputable mechanic, such as one from YourMechanic.
Part 2 of 3: Get the car safe before the summer driving
Step 1: Check your tires Check to make sure your tires are in good shape.
By the time summer rolls around, your tires may be in poor shape. Driving in adverse road conditions during the winter, or driving with chains on, can sometimes cause unnatural wear and tear on your tires. You also may have winter tires, and may be switching back to your summer tires.
Be sure to give your tires a visual inspection, to make sure they're in good shape. If they're not, purchase some quality tires before hitting the road this summer.
Tip: While checking your tires for wear and tear, make sure that they are properly inflated as well.
Step 2: Check your brakes. Make sure your brakes are in good pads.
It's common for your brake pads to get worn out during the winter. This occurs for a number of reasons, mainly that there's more traffic, a greater disparity between the resting temperature of the brakes and the operating temperature, and because you're more likely to ride your brakes in adverse weather conditions.
When the summer comes, it's a good idea to inspect your brake pads to make sure they're in working condition. If you feel comfortable, you can check the pads yourself, or you can hire a trustworthy mechanic to perform a brake inspection.
Step 3: Get a comprehensive inspection. Get a comprehensive inspection for your vehicle.
While brakes and tires are the most important elements of your car to have inspected summer, comprehensive safety inspection is also a good idea.
As you're likely to drive your car more in the summer, you want to make sure that your oil is clean, your fluid levels are all sufficient, and all the electrical components of your car are operating properly.
Part 3 of 3: Get your car fun for the summer
Step 1: Wash and detail your car. Get your car washed and thoroughly detailed.
Whether you have a second hand sedan with a bunch of miles, or a hot new convertible, you should get your car looking good for the summer.
Take your vehicle to a trusted auto detailer, and have it washed, waxed, and detailed, so it looks, feels, and smells like new.
Tip: The start of summer is also the best time to go through your car and clean it out.
Step 2: Add some fun to the interior. Add a little fun personality to the cabin of your car.
Since it's summer, you'll likely have a lot of people in your car, so it's a good time to put a touch of your personality inside it.
Add a fun air freshener to your car, and maybe even some new seat covers. Stock your glove compartment with good CDs and you'll be ready for the summer.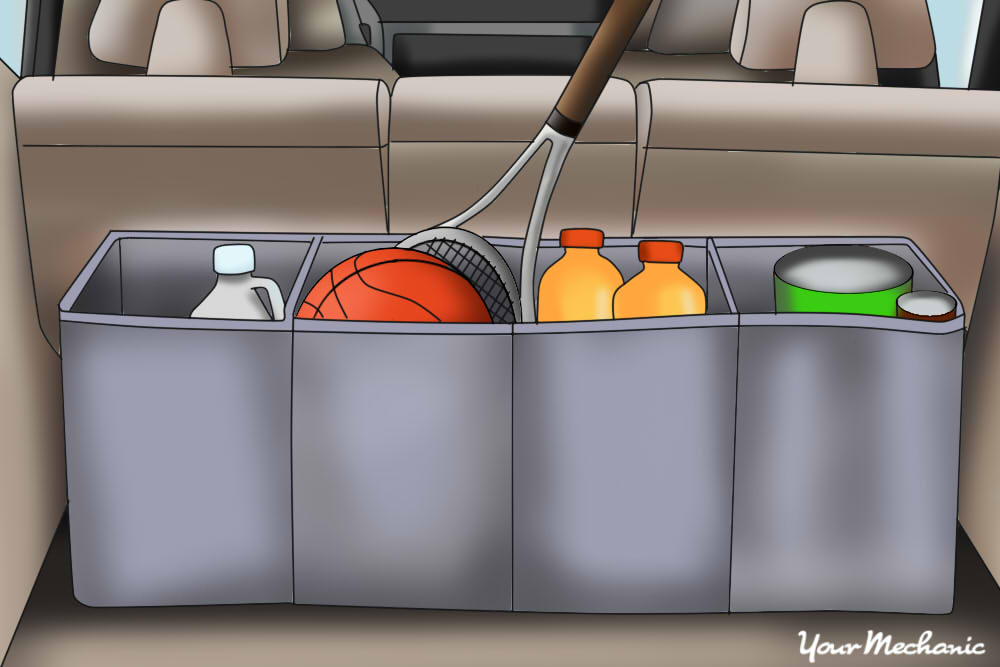 Step 3: Keep some summer essentials. Stock your trunk with summer essentials.
When the summer comes, it's a good time to keep some essentials in your trunk; you never know when you might need them.
Put some water bottles or sports drinks in the trunk, along with some sun block. If you're going to spend the summer driving around your kids, fill the trunk with spare clothes, snacks, and maybe some emergency toys.
Tip: It's a good idea to always keep a spare pair of sunglasses in your car during the summer. Sunglasses not only protect your eyes, but can be an important safety measure when you are driving in bright conditions.
With just a few preparations, you can have your vehicle ready for whatever the summer throws at you. Summer is the best time of the year, so you want to make sure that your car is never holding you back from enjoying it to the fullest. Have one of YourMechanic's certified technicians inspect your battery and get it replaced if it is not holding a charge or giving you problems on a regular basis and be sure to have routine maintenance performed to keep your car in top shape.
---
The statements expressed above are only for informational purposes and should be independently verified. Please see our
terms of service
for more details