Driving a vehicle with a standard or manual transmission smoothly takes hours of experience behind the wheel. Rowing through the gears manually can feel much more driver-centric, as does pressing the clutch to shift gears.
You might think you're pretty good at driving a standard transmission vehicle, but do you know how to double-clutch downshift? Very few drivers do. It's a method used by race car drivers for crisp shifts that optimize acceleration and deceleration and wears the transmission components less. Double-clutch downshifting is also a good way to downshift if your manual transmission's synchronizers are in less than peak condition.
Part 1 of 2: Clutch to shift out of gear
The first part of double-clutching to downshift is to take your standard transmission out of gear.
Step 1: Press in the clutch pedal. This disengages your transmission so you can move your gear shifter.
Press the clutch pedal in all the way to the floor with your left foot in a firm, fast motion.
Step 2: While pressing the clutch pedal, release the accelerator. This prevents your engine speed from racing unexpectedly.
Step 3: Move the shifter from your current gear into neutral. Pull the shifter into the middle position.
Your transmission is no longer in gear.
Step 4: Release the clutch pedal all the way. Easing the pressure on your left foot will let the clutch pedal spring to the top of its travel.
You're now ready to shift into a lower gear.
Part 2 of 2: Clutch to shift into gear
Step 1: Rev the engine speed. If you're shifting to a gear one position below the gear you were just in, rev up around 1,000 RPMs from the current engine speed.
You can also skip gears when downshifting, like from fifth gear to third gear. If that's the case, rev the engine up even more, around 2,000 to 2,500 RPM.
You're trying to approximate what the engine speed would be if you were traveling at your current speed in your destination gear.
This takes practice and an awareness of your car's operation. It takes time to learn.
Step 2: Press the clutch all the way in. Press the pedal to the floor with your left foot quickly.
This is the second clutch press in the sequence, which is where "double-clutching" gets its name.
Step 3: Downshift into your desired gear. Slide the shifter firmly into place in the lower gear you've selected.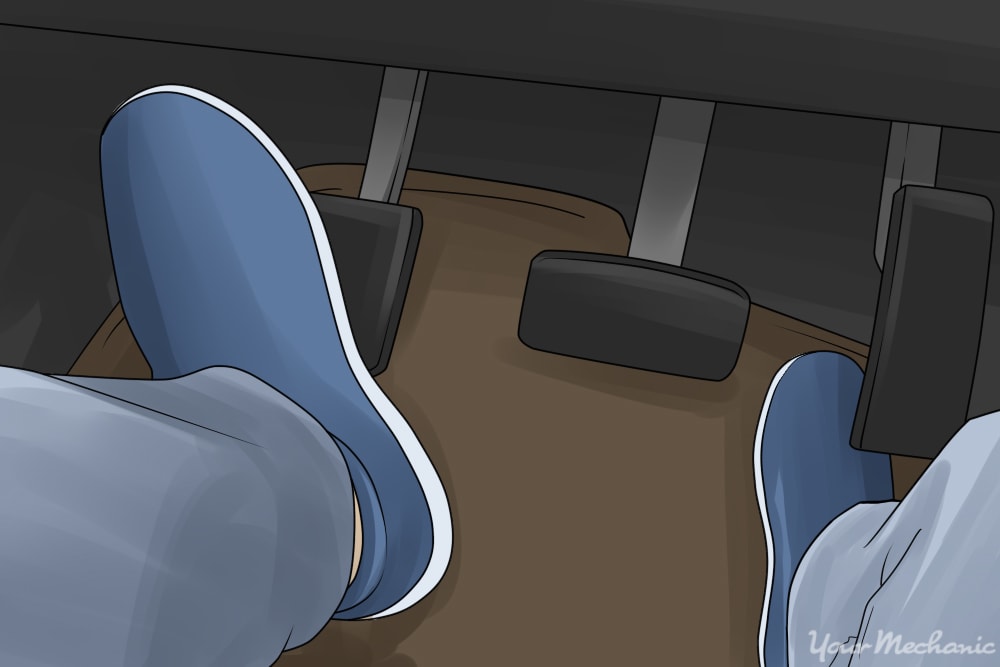 Step 4: Release the clutch pedal. "Dump" the clutch pedal by quickly lifting your left foot up.
Because you've approximately matched the engine speed with your desired gear, you shouldn't notice a dramatic deceleration or acceleration when you release the clutch.
If your engine speed is quite different from where it should be, you may find the shift is quite harsh. Learn from it and adjust your engine speed appropriately for your next attempt at a double-clutch downshift.
You can use the double-clutch downshift method either to decelerate with less stress on your gearbox or to crisply downshift for hard acceleration in a lower gear. Learning to drive your vehicle using precision methods such as double-clutching can cause increased wear on components. You may need to have your clutch inspected or your transmission fluid changed more regularly, which one of YourMechanic's technicians can do for you.
---
The statements expressed above are only for informational purposes and should be independently verified. Please see our
terms of service
for more details