Compasses are useful tools for navigating through new areas, traveling, or just making sure that you're headed in the right direction. A directional compass in your car can be a really helpful tool for finding a destination, and it's important to know how to buy one that will suit your needs.
For cars, there are specific types of compasses available and there are also several factors to keep in mind when purchasing the right type of compass for your vehicle. Depending on the quality of the compass, the price range can vary greatly. Follow the steps below to ensure that you choose the right compass.
Part 1 of 4: Determine your budget
The cost of a new car compass can range from around a few dollars to a few hundred dollars. It's important to know how much you want to spend before you buy a compass. That way, you can research the different types of compasses available in your price range.
Step 1: Set your budget. Determine how much you'd like to spend on a compass. The best method is to give yourself a price range with a minimum and maximum rather than one fixed amount. Having a minimum amount and maximum amount will keep you safely within your budget.
Tip: It's good to know how often you'll be using your compass and for what purpose. Cheaper, lower end compasses may be more affordable but less reliable. However, an expensive compass may not be necessary if you won't be relying on it on a regular basis.
Part 2 of 4: Decide how you want your compass fit to your car
There are different styles of compasses which will fit into your car in different ways. Some cars will already have a digital compass installed, but if you're purchasing one for your car, then you'll have to decide between a compass that either mounts on the dashboard or is installed in a rearview mirror.
Tip: Before purchasing your compass, be sure to identify the spot on your dashboard where you want your compass. It should be easy to see without being a distraction from driving safely or obscuring your view of the road.

Step 1: Choose between digital and bubble. If you want your compass mounted on your dashboard, then you'll be choosing between digital compasses (require batteries or plugs into cigarette lighter) and the more traditional looking bubble-floating-in-waters style of compass. Typically, these are mounted in one of three ways:
Velcro
Suction cup

Screws

Tip: Bubble compasses need flat surfaces in order to work correctly and should be leveled to ensure that they produce accurate readings.
Step 2: Decide if you want a rearview mirror compass. If you'd prefer a compass installed in your rearview mirror, you need to purchase the entire mirror which already includes the digital compass. These compasses are powered by the car battery. The compass reading is typically displayed in the corner of the rearview mirror.
Part 3 of 4: Understand the calibration features of the compass
A compass will need to be calibrated in order to give you an accurate reading. Be sure that you know where your compass will be mounted because this can affect the calibration due to its proximity to the car's metal.
Step 1: Calibrate the compass. A compass needs to be calibrated to its environment so that it can compensate for any interference with reading the earth's magnetic fields. Metals, batteries, car movement, radio signals and magnets may affect sensors in a compass. Research the type of compass you're purchasing or speak directly to the salesperson regarding options for calibrating your compass.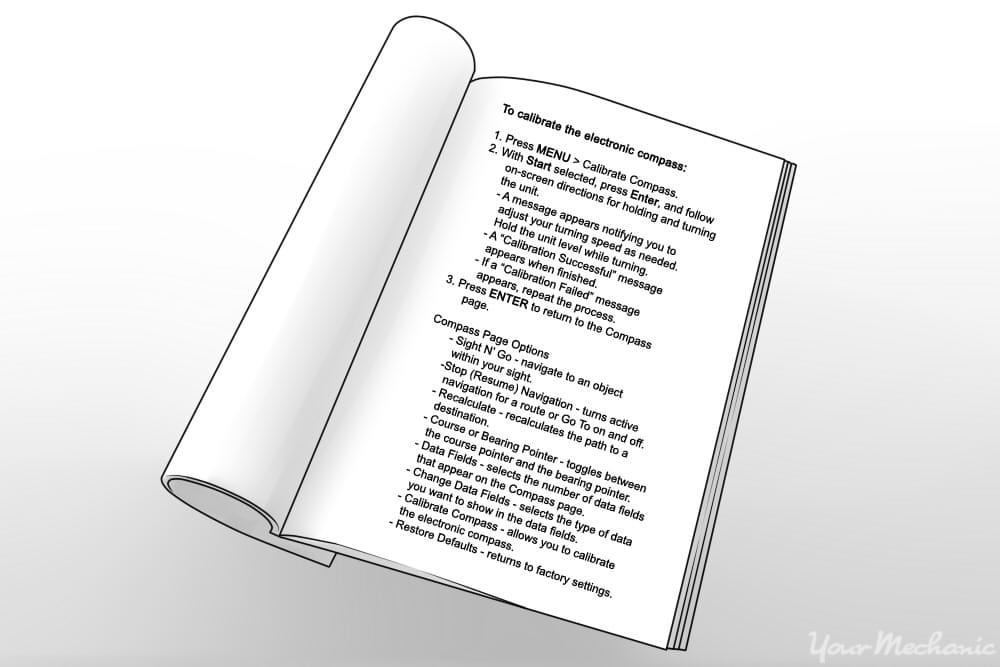 Tip: Read the user manual for your compass before calibrating your compass. Most compasses require completing two or three complete circles with the compass in calibration mode. It's important to calibrate your car compass while the car is running.
Part 4 of 4: Purchase your compass
The main thing to remember when you're buying a compass is to look for one that's made specifically for cars. Whether you're buying a compass that sits on your dashboard or one that's part of your rearview mirror, look carefully at the reviews if you're buying online. Some of the best online retailers for car compasses include:
If you prefer to go to an auto parts store and look at compasses before you decide which one to buy, some of the best stores to check out include:
Take the time to find an employee and ask him or her any questions you have about the compass you want. Make certain it will work with your car and that it meets all your requirements.
---
The statements expressed above are only for informational purposes and should be independently verified. Please see our
terms of service
for more details