Take a look in your cabinets and you'll discover cleaning supplies just waiting to be used on your car. When you use ingredients from around the house, cleaning the inside and outside of your vehicle is straightforward. They are less expensive and safe to use on many materials. Follow these Parts for a sparkling interior and exterior.
Part 1 of 7: Wet down the car exterior
Materials Needed
Baking soda
Bucket
Garden hose
Step 1: Rinse your car. Begin by rinsing your car thoroughly with a hose. This breaks up dry dirt and debris. Use a soft sponge to scrub the exterior gently to prevent any dirt from scratching or damaging the paint.
Step 2: Create mixture. Mix one cup of baking soda to one gallon of hot water. This mixture helps remove grime from your car without being too harsh.
Part 2 of 7: Clean the exterior
Materials Needed
Brush (stiff-bristles)
Bucket
Soap
Sponge
Water
Step 1: Create mixture. To clean the entire exterior, combine ¼ cup of soap with one gallon of hot water.
Make sure the soap has a base of vegetable oil. Do not use dishwashing soap as it can damage the finish of your car.
Use a sponge to wash the exterior and a stiff-bristled brush for the tires and wheels.
Part 3 of 7: Rinse the exterior
Materials Needed
Spray bottle
Vinegar
Water
Step 1: Rinse. Rinse all ingredients off your car with cold water and a hose.
Step 2: Spray exterior. Mix vinegar and water with a ratio of 3:1 into a spray bottle. Spray the exterior of your car and wipe it with newspaper. Your car will dry without streaks and shine.
Part 4 of 7: Clean the windows
Materials Needed
Alcohol
Spray bottle
Vinegar
Water
Step 1: Create mixture. Make a window cleaner of one cup of water, one-half cup of vinegar and one-fourth cup of alcohol. Mix and put in a spray bottle.
Step 2: Spray and dry. Spray window solution onto windows and use newspaper to dry. Save this task for last to remove any other cleaners that might have accidentally gotten on the glass.
Step 3: Remove bugs. Use plain vinegar to remove bug splatter.
Part 5 of 7: Clean the interior
Step 1: Wipe. Wipe down the interior with a clean damp cloth. Use it on the dash, center console and other areas.
The following chart details which products work on the different areas in the cabin of the car: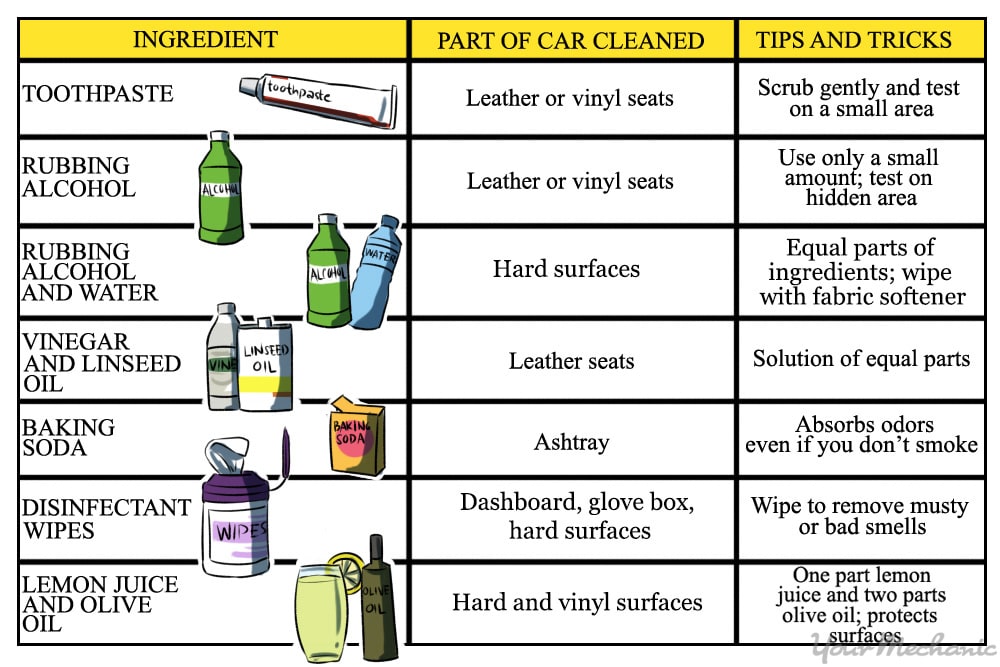 Part 6 of 7: Treat difficult stains
Treat stains on the car with special products that remove it without hurting the exterior. The ingredient used depends on the type of stain.
Tip: Use a soft cloth that won't be abrasive to your car's paint. For tight areas, use a dust mop which works on the roof and other places.
Part 7 of 7: Clean upholstery
Materials Needed
Brush
Cornstarch
Dish soap
Dryer sheets
Onion
Vacuum
Water
Wet cloth
Step 1: Vacuum. Vacuum your upholstery to get rid of dirt.
Step 2: Sprinkle and wait. Sprinkle cornstarch on any stains and leave it to work for half an hour.
Step 3: Vacuum. Vacuum up the cornstarch.
Step 4: Create paste. Mix the cornstarch with a small amount of water if the stain is still there. Spread the paste on the stain and allow it to dry. It will then be easy to vacuum up.
Step 5: Spray mixture and blot. Another option is to mix equal parts water and vinegar and put it in a spray bottle. Spray it on a stain and allow it to soak for a few minutes. Blot it with a cloth. If that doesn't work, scrub gently.
Step 6: Treat grass stains. Treat grass stains with equal parts rubbing alcohol, vinegar and warm water. Rub on the stain and wash the area with water.
Step 7: Treat cigarette burns. Place a raw onion on a scorch mark from a cigarette. While it won't repair the damage, the acid from the onion will absorb into the fabric and make it less noticeable.
Step 8: Treat heavy-duty stains. Mix one cup of dish soap with one cup of club soda and one cup of white vinegar and spray on heavy-duty stains. Use a brush to work it into the stain.
Tip: Place dryer sheets under floor mats, in storage pockets and under the seats to freshen the air.
---
The statements expressed above are only for informational purposes and should be independently verified. Please see our
terms of service
for more details