There are dozens of oil change and auto maintenance chains across the country – from Speedee to Pep Boys. So how do you choose which one is right for you? And is there a difference between the dozens of brands? Whether your concern is price, location or services, there's an oil change and service provider who'll suit your car's – and your wallet's – needs. Before getting your oil changed, it's important to know the basics so you can make sure you get the best deal, and pick the oil that will keep your car running well.
How do I know when my car needs an oil change?
There are several signs that your car needs an oil change. The most obvious clue that many drivers defer to is the check engine or oil change lights that show up when your car needs oil or other maintenance. Waiting for the light to go off can be a dangerous approach to timing oil changes because a light often indicates that your oil is extremely low. When oil is low enough for your car's sensor to go off, that can indicate that your oil reservoir has a leak. More commonly, depleted oil levels means that engine parts aren't getting a steady supply of lubrication and beginning to scrape against each other, which can lead to engine damage or failure if oil isn't changed. Best practice for oil changes is mileage or time-based oil change service, which may be every 3 to 6 depending on whether you opt for conventional or synthetic oil. That way, your oil will stay fresh at all times and won't get so dirty that your sensors go off. You can instantly check your car's oil change and maintenance calendar here.
How can I tell if my mechanic is charging too much for an oil change?
Pricing is truly variable depending on vehicle make, model and mileage. A generic brand conventional oil can run as low as $35, while a high mileage, synthetic oil can cost as much as $125, according to KBB.
The benefits of using a premium oil include better vehicle performance and longer intervals in between oil changes, as synthetic oils last around 6 months, compared to conventional oils which last 3 months.
A good rule of thumb when shopping for the best bargain for your dollar is to browse for instant price quotes so you know approximately how much your oil should cost. You can use YourMechanic's instant quote tool to learn about the type of oil your car requires and the exact cost of an oil change in your zip code for your car's make, model, year and engine type. Just keep in mind that YourMechanic.com's mechanics come to your door directly and don't have to pay the overhead cost of leasing an auto shop, so YourMechanic's pricing may be a bit lower than the average shop.
What is a mobile oil change?
Anyone who's owned a car has probably gotten an standard oil change from a shop at some point, and is familiar with how it works: you pop into an oil change shop or dealership, and you either wait for up to an hour at the shop or come back later to pick up your car.
At a shop, you'll probably deal with a service advisor whose job is to upsell, and you'll never meet a mechanic. At shops, oil changes are usually performed by mechanics with less than 3 years of experience, as shops have a lot of overhead and can't afford to pay experienced mechanics to do smaller jobs like oil changes. That can lead to misdiagnosing other car issues and oil changes with missed steps, especially when national oil change chains aim to hire inexpensive labor in order to increase profits.
50 point vehicle report after each appointment, mechanics carefully inspect customers' vehicles at every appointment.
How do I find an oil change near me?
You can find an oil change near you by doing a quick google search using your city or zip code. If you're looking for a deal, you can also look up specials and coupons in your local paper, search for coupons on deal sites, or by checking big name oil change chains' sites directly. For a complete guide to new coupons for oil changes, check out our guide here.
What are the best oil change providers?
There are probably at least five oil change providers within a mile of your home right now, so it can be overwhelming to pick the best oil change shop near you without knowing more about each chain. Here's our easy guide to national oil change chains in the U.S.
AAMCO
AAMCO handles myriad services as simple as wiper blade replacements and oil change, to complete engine repairs. The brand's trademarked Power Purge® and Power Purge® Plus Transmission Flush services include comprehensive transmission maintenance services that are designed to replace old, degraded transmission fluids with fresh fluids to help extend transmission life. Power Purge includes an exchange of the old fluid from transmission systems using AAMCo's state of the art and patented Power Purge equipment. The franchise is in 2,000 locations across the country and is partnered with Pep Boys under ICAHN.
Pep Boys
Pep Boys was acquired by ICAHN as well, like AAMCO. Pep Boys continues to offer a full service shop for oil changes, auto repair and maintenance throughout locations nationwide. The brand began in 1921, when four friends started "Pep" in Philadelphia. When a police officer who was fond of the shop kept recommending that people get their cars serviced by "the boy at Pep," the iconic name "Pep Boys" was born. A century later, the brand is in nearly 1,000 locations nationwide.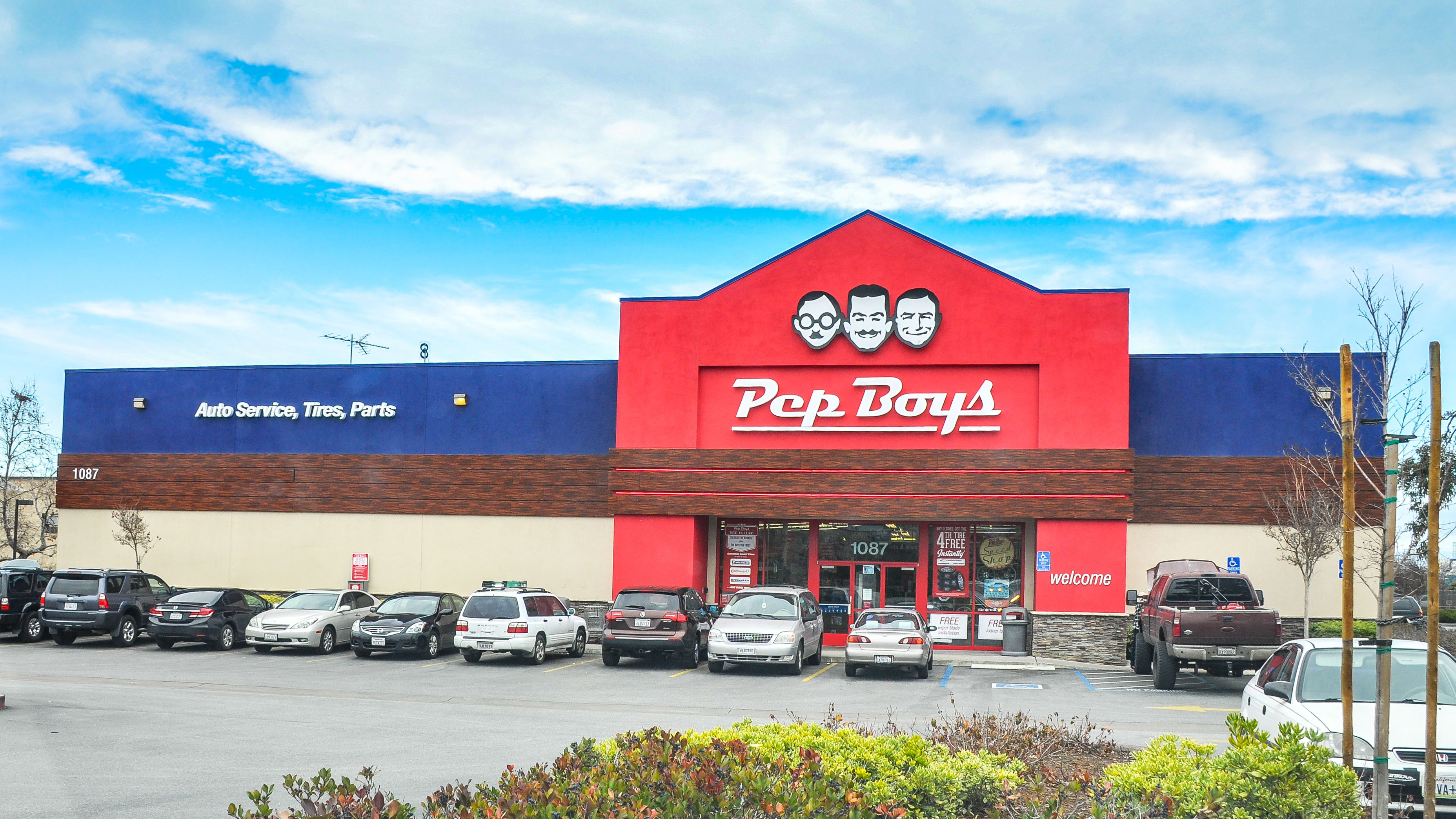 Grease Monkey Auto
Grease Monkey started its franchise in 1978, with headquarters in Denver, Colorado. The brand is currently in dozens of cities across the Midwest and South, and has over 300 facilities in the U.S. and globally, including Mexico, China, Colombia and Saudi Arabia. The franchise serves 2 million customers each year and is known for their oil change expertise, and myriad additional services such as tire rotations, wheel balancing, and state inspections.
Valvoline
Valvoline is a global supplier of automotive oils and services. The New York Stock Exchange-traded company currently franchises roughly 1,400 quick-lube locations. Valvoline's oils are ranked highly, as their site notes, they're the number-3 most popular car motor oil brand in the DIY market. The brand's standouts include Valvoline High Mileage with MaxLife technology motor oil for engines over 75,000 miles; Valvoline Advanced Full Synthetic motor oil; and Valvoline Premium Blue heavy-duty motor oil. Valvoline's service centers offer services for radiator and cooling systems, brake fluids, transmission systems, wiper blades, filters, tire rotations, batteries, belts, steering, transmission, and oil changes, of course.
Speedee Oil Change & Auto Service
SpeeDee Oil is run by local operators and was founded in 1980. The quick lube chain promises pricing lower than dealerships, and a 17-point inspection after every oil change. Speedee offers a free top-off service for the 3 months or 3,000 miles following any oil change or tune-up service. Roughly a decade ago, SpeeDee Oil began offering customers a variety of additional tune up and repair auto services, and was recently acquired by Grease Monkey International LLC.
Midas
Midas, named after the king who was able to turn everything he touched into gold, opened in April 1956, and has built a behemoth franchise across every state in the U.S. The brand also lends its Midas touch to DIY fans and car owners, with videos instructing customers how to perform proper tire changes to how to install car seats. While Midas is known for oil changes, the brand also offers brakes, belts, and dozens of standard auto repairs.
Meineke
Meineke provides full service car care for preventative auto maintenance and emergency repair work nationwide. The franchise has been operating since 1972, with local car experts operating and owning each of its 900 locations. The Meineke has built a reputation for reliable oil changes and parts replacements such as headlights, fuel pumps and belts.
Precision Tune Auto Care
Precision Tune Auto Care has been in business for four decades across the U.S. They offer dozens of services, performed by technicians who are trained to become auto care experts and can become ASE-certified after hands-on proficiency training provided by their internal Precision University. Precision Tune Auto Care offers a one-stop shop for factory scheduled maintenance service and repairs for autos, SUVs, MiniVans, and Hybrids, and are known for their lifetime brake warranty and a 12 month/12,000 mile warranty at all of their locations.
Express Oil & Tire Engineers
Express Oil & Tire Engineers is best known for their 10 minute oil changes and specialties such as well-priced quality tire rotations, balancing, and repairs. Hundreds of shops are located across the South and Mid-West, and online appointments are easily made through their site.
Jiffy Lube
The nationwide franchise is in 2,000 service centers across the country. The famed quick lube provider is known for oil changes for as low as $19.99 through various coupons and promotions. Jiffy Lube advertisements promise quality, fast oil changes at affordable prices, as well as dozens of standard services such as exterior and glass repair, fluids, filters, and inspections.
Walmart
Global retailer, Walmart, offers auto care service at many of its retail U.S. locations. Walmart offers battery replacements, tire services, and affordable oil changes like their basic Pit Crew Oil change for conventional oil, as well as more premium synthetic oil changes like their Power and Performance oil change, which comes with some extras, including an interior vacuum and exterior windshield cleaning.
Firestone
While known best for tires, Firestone also offers a myriad of services and substantial coupons each month, including $15 off of synthetic oil changes. The brand also offers a unique, free academy for the public that adult and teen car owners how to make sure their vehicle is safe and well maintained with tips on how to check a vehicle's fluid levels, including washer fluid, brake fluid, engine oil, antifreeze, transmission fluid and power steering fluid.
Take Five Oil Change
Take Five has 500 locations in 18 states across the U.S. The brand is known for its 12 minute oil changes, and has developed a unique drive-through oil change service, in addition to standard services like coolants, windshield wipers, seasonal tire changes, and a signature formula that prevents exterior body rust by pushing out moisture while soaking the vehicle in Take Five's signature formula.
---
The statements expressed above are only for informational purposes and should be independently verified. Please see our
terms of service
for more details