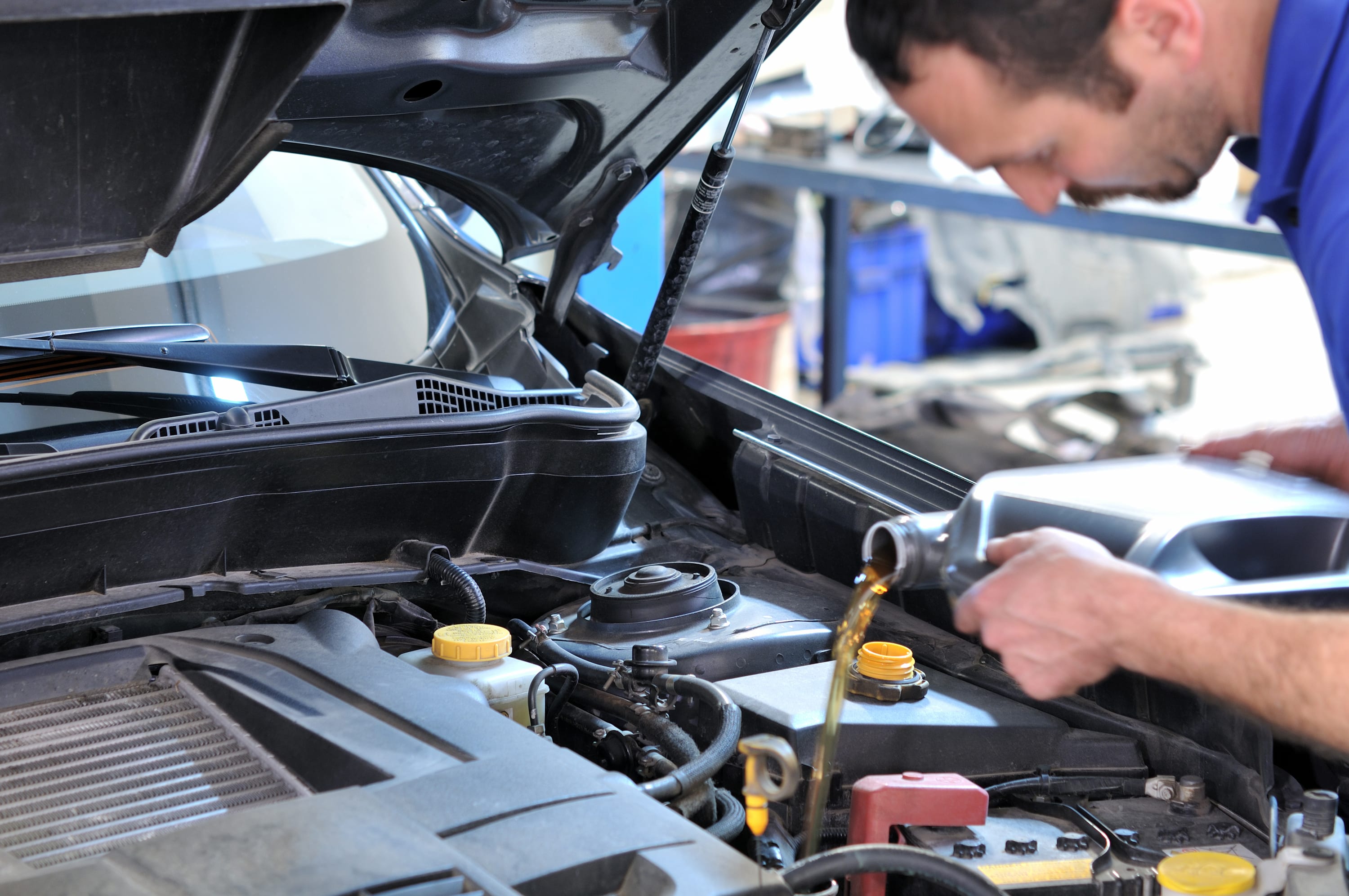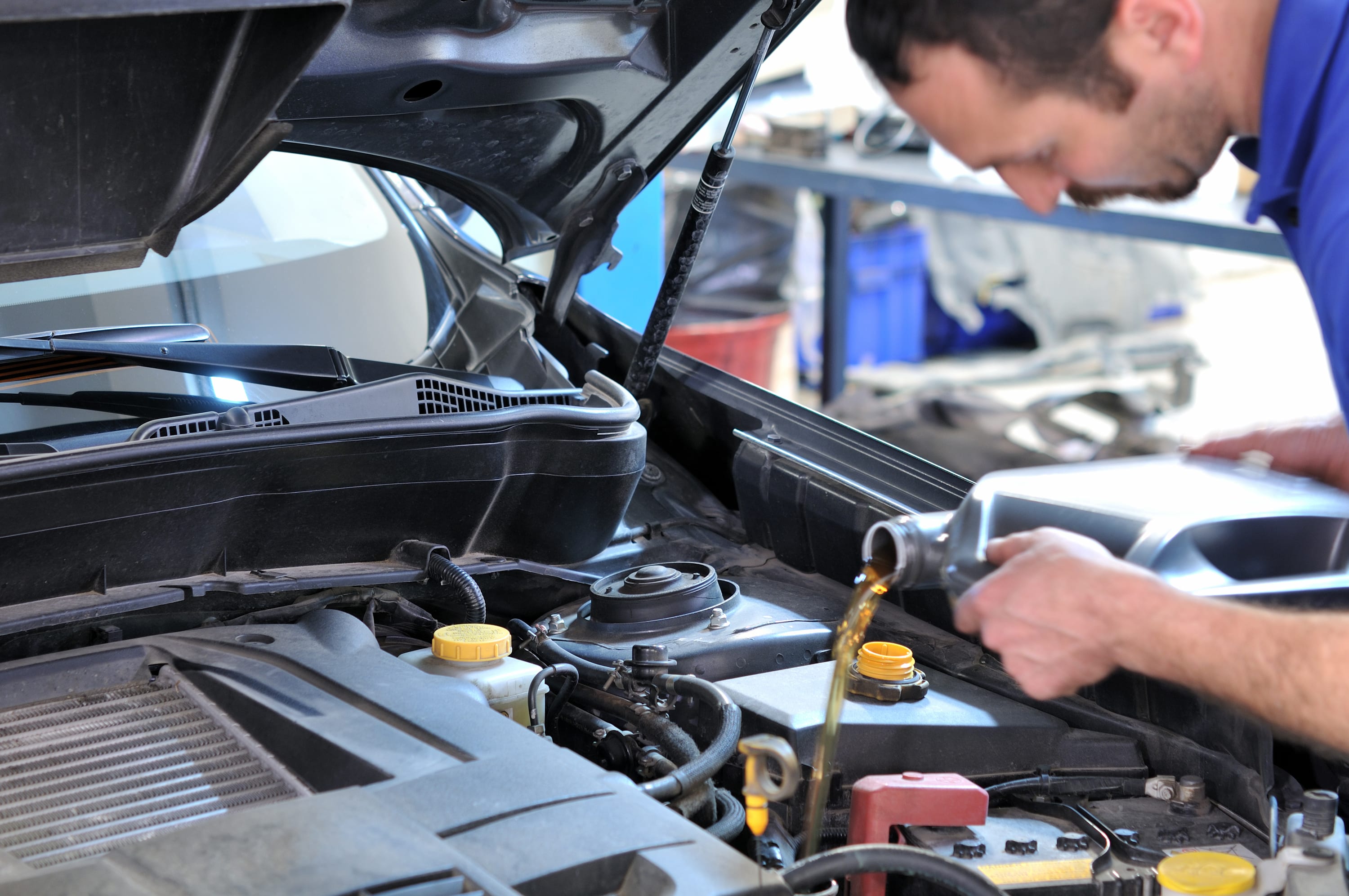 Today's consumer has grown accustomed to ordering nearly every imaginable service to their homes – from thousands of cuisines to dog grooming. Yet when it comes to maintaining your vehicle, the image of an oil change signal can cast a bleak shadow on a car owner's day, knowing it will end in a time-consuming hassle that can take hours out of your day. Auto maintenance is one of the final frontiers when it comes to on-demand service. Over the past decade, independent mechanics and YourMechanic has enabled customers to safely order oil changes directly to their home driveways and offices. Here are 10 reasons that car owners are skipping quick lube changes and repair shop, and opting from oil changes at home instead:
1. LOWER COST
With no overhead for costly garage leases, companies that offer mobile oil changes at home are able to offer a more competitive price than garages, while maintaining skill and parts quality, using premium vendors such as Mobil 1 for oil changes.
2. QUALITY MOTOR OIL & PARTS
Mobile mechanics come prepared to perform an oil change using the exact kind of oil required by your OEM's vehicle guidelines, which ensures that your engine will perform at its optimal potential. While some shops and quick lube chains may deliver on low price and speed, they can sometimes cut costs on oil quality as they store oil in bulk and won't always opt for the precise oil that your engine needs. All of the equipment necessary to complete services are provided by YourMechanic, which customers can review in an itemized digital receipt and dashboard for each appointment. YourMechanic uses premium oil, such as Mobil 1, and always selects the best oil type for your vehicle. At the end of your oil change, your mobile mechanic will also haul away your oil and used filters, disposing of them in accordance with state law.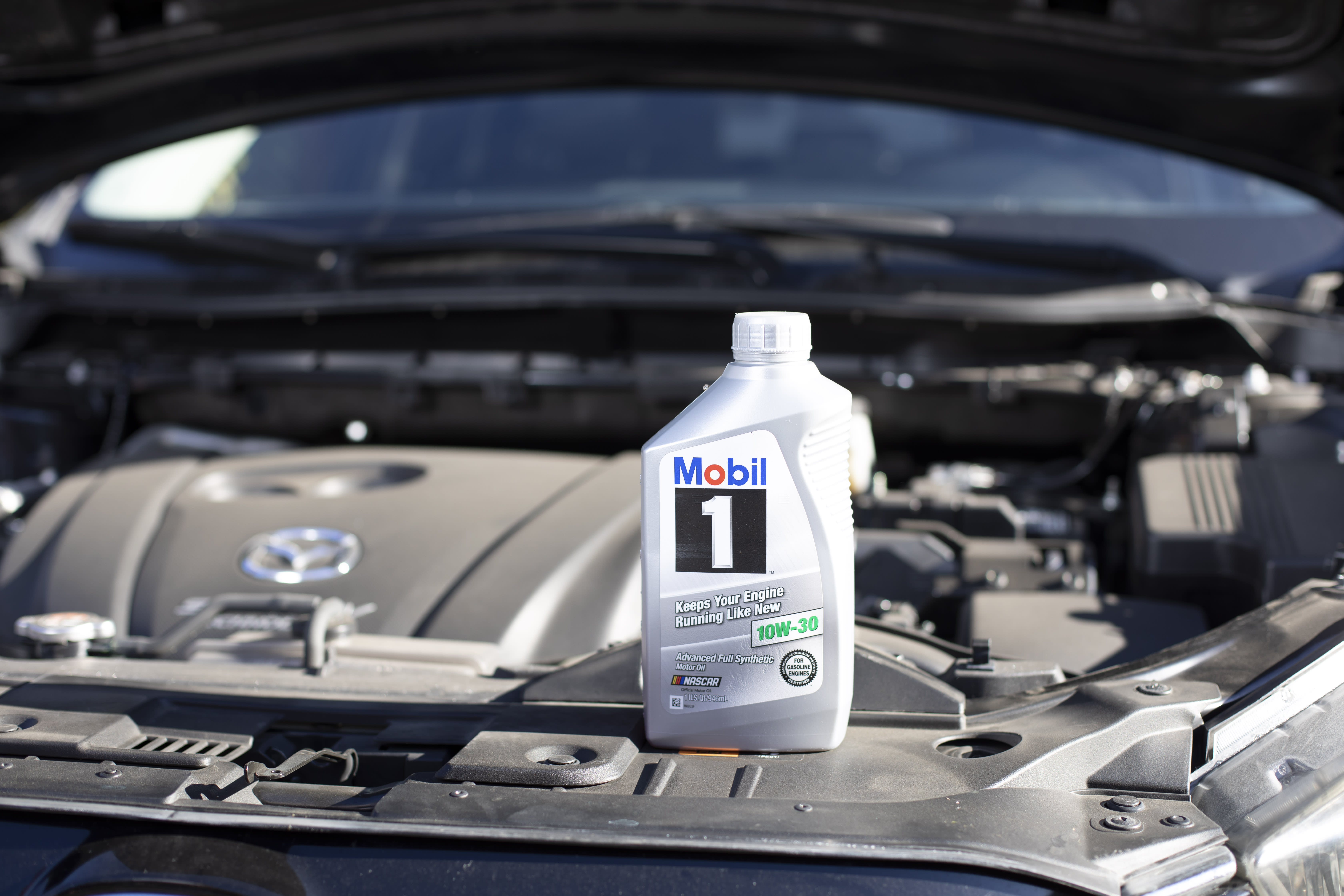 3. FREE SERVICE GUARANTEE
All of our oil changes are backed by a 12-month / 12,000 mile warranty on services performed by YourMechanic with our parts. YourMechanic gives customers the option to provide their own parts and supplies if they choose to, however, this option will nullify the warranty as we won't be able to inspect the parts you've provided.
4. TRANSPARENT PRICING & SERVICE
YourMechanic's pricing is upfront and transparent. In fact, customers can get an instant price quote within less than a minute online, even before they book an appointment or enter their email. During the actual appointment, customers can personally talk to their mobile mechanic and watch them fix their car, unlike in most shops, where they'll only deal with a service manager responsible for sales. Learn how to check if your oil is dirty and any other issues to watch out for, right from a professional mechanic in your driveway! With mobile repairs, you'll deal directly with your mechanic who can teach you about your car and help you keep it running better. You'll also receive multiple detailed images and reports explaining all services, so you have a track record of the work performed.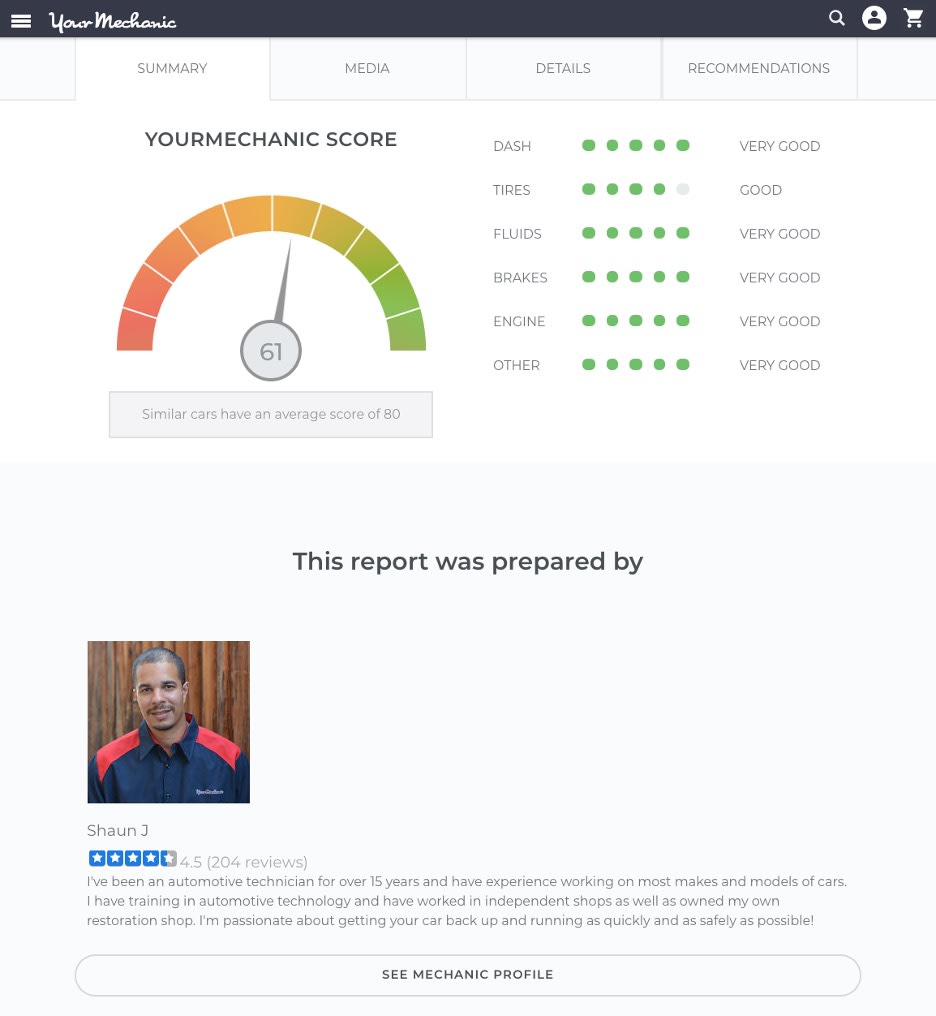 5. GREATER CONVENIENCE
When using a mobile mechanic for your vehicle's oil change, the convenience is unmatched. Imagine removing the hassle of driving to a shop, finding someone to pick you up and drive you back when it is done, as well as avoiding the wait itself. When using a mobile mechanic you're able to have your oil changed from your favorite spot on the couch or as you're finishing up for the day in the office. Our mechanics are available seven days a week – making the need to time off of work a thing of the past.
6. ONLINE BOOKING
Booking with YourMechanic is as easy as ordering dinner. We offer our appointments to be booked online or by phone with one of our customer service representatives. You can see the mechanic's profile, pick the time and date, and learn about the type of oil that your mechanic will use on your vehicle.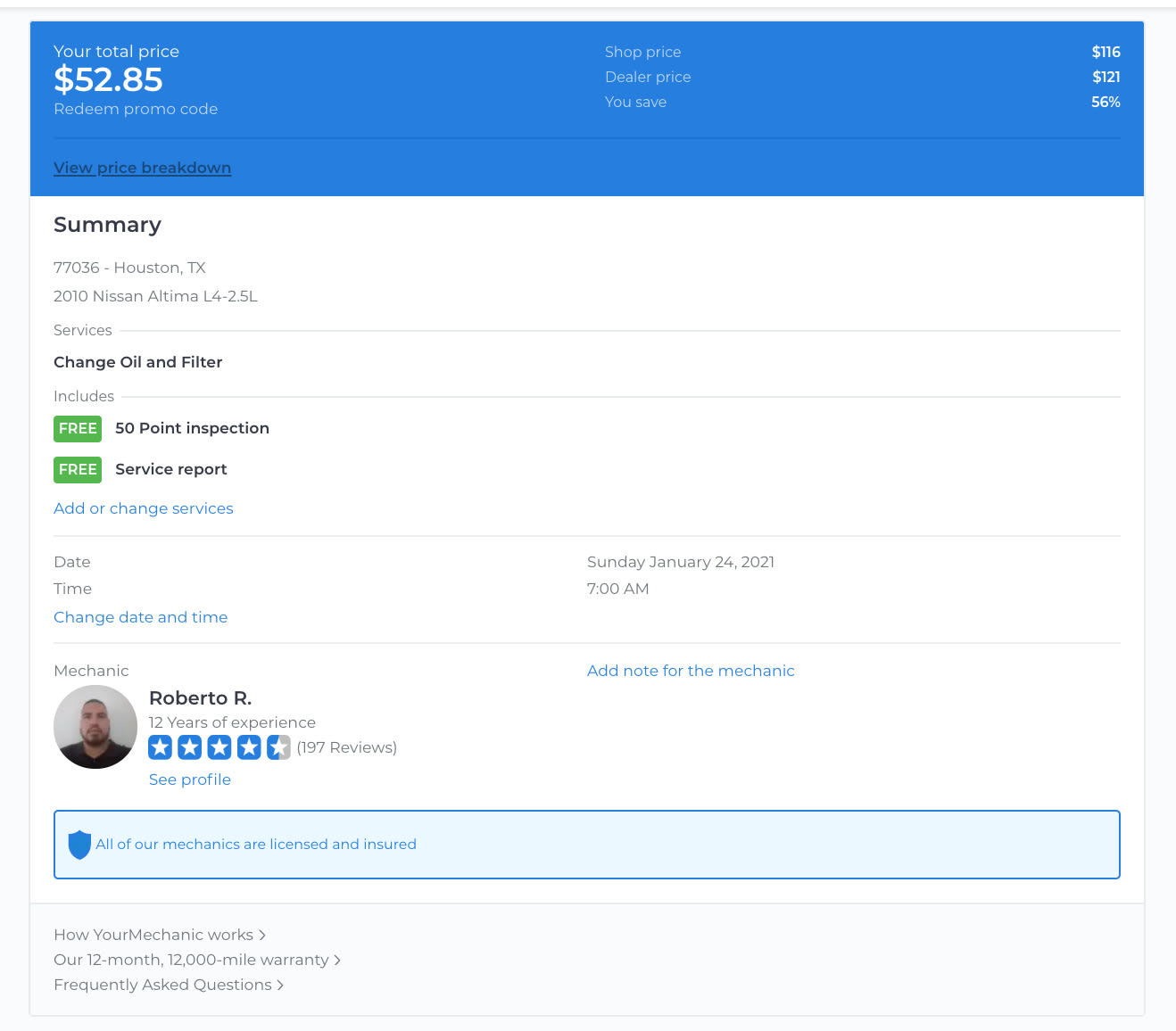 7. DON'T LOSE YOUR CAR FOR HOURS
With garages, customers not only have to drive to and from the shops, or waste time waiting around while their car is serviced, they can also lose their vehicles for days while they're being serviced. With a mobile oil change, customers lose their cars for an hour at most, not a whole afternoon or day.
8. CONTACTLESS OIL CHANGES
Like every industry that's evolving to meet customer demand, mobile repair professionals are taking safety precautions to keep communities safe during the pandemic. As shelter-in-place laws have auto care as a necessary service throughout the entire pandemic, mobile repair has taken measures to keep mechanics and customers safe by following state regulated guidelines to ensure the safety of our customers and mechanics.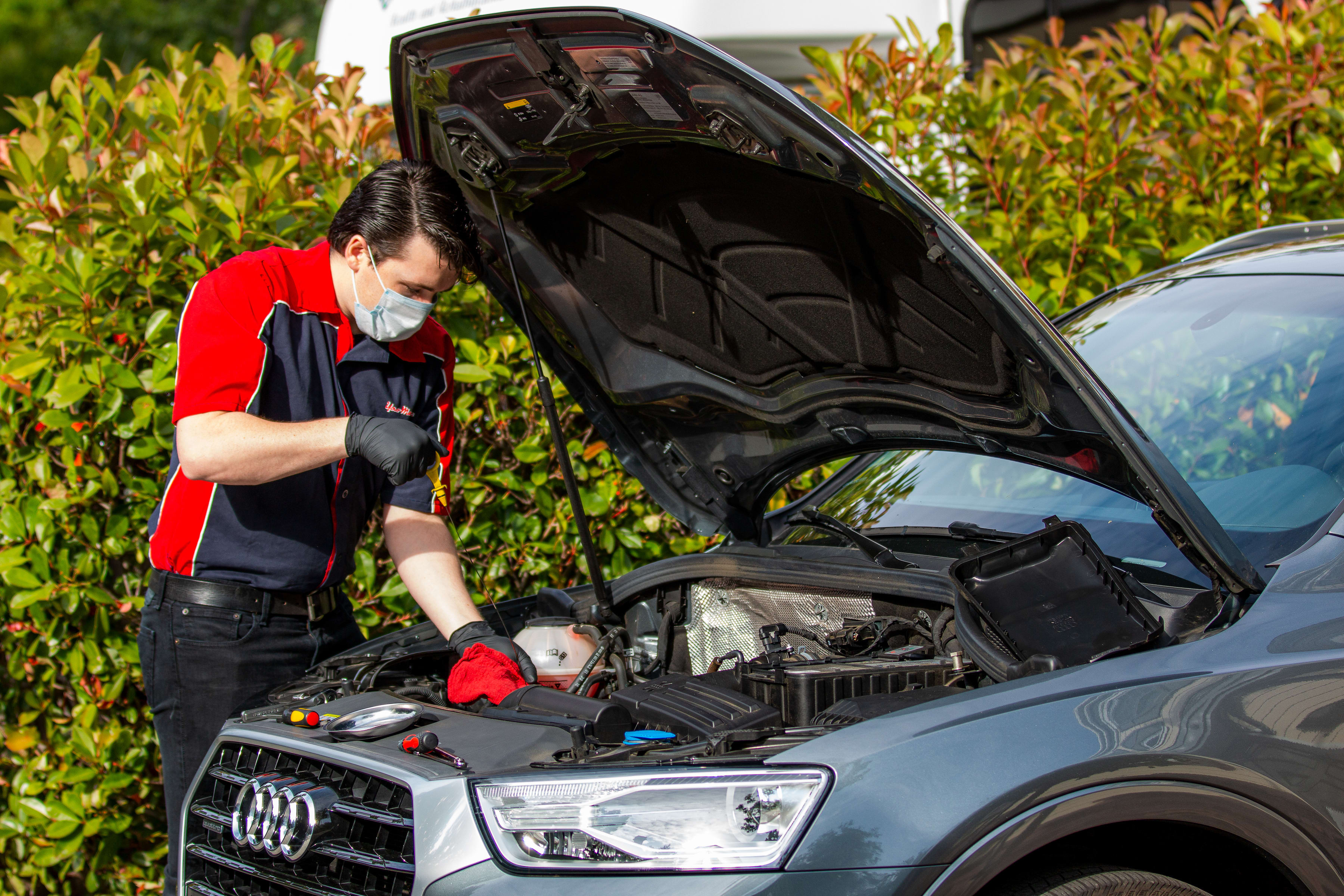 9. LESS TIME WASTED WAITING
Using a mobile mechanic essentially takes the wait entirely out of the oil change process. You will not waste any time while your mechanic works on your car in your driveway. Scheduling online takes around one minute. You'll avoid the drive to and from the shop, and you can avoid the auto shop waiting room, as your car's oil is changed right in your driveway.
10. TOP NOTCH MECHANIC SKILLS
Mobile mechanics' skill sets tend to be advanced, as they're essentially running their own business and personally need to be able to diagnose and repair any of the 600 services offered to consumers directly at home, while performing oil changes. This is comparable to going to a doctor's checkup, ensuring that all of your car's vital's are good, with a free 50 point inspection report at the end of each oil change. At YourMechanic our standards and skills assessments are rigorous, and mechanics who work with us have an average of 15 years experience. It's one of the many reasons why millions of repeat customers trust YourMechanic to deliver quality oil changes every time.
---
Next Step
Schedule Oil Change
The most popular service booked by readers of this article is Oil Change. YourMechanic's technicians bring the dealership to you by performing this job at your home or office 7-days a week between 7AM-9PM. We currently cover over 2,000 cities and have 100k+ 5-star reviews... LEARN MORE
SEE PRICING & SCHEDULING
---
The statements expressed above are only for informational purposes and should be independently verified. Please see our
terms of service
for more details