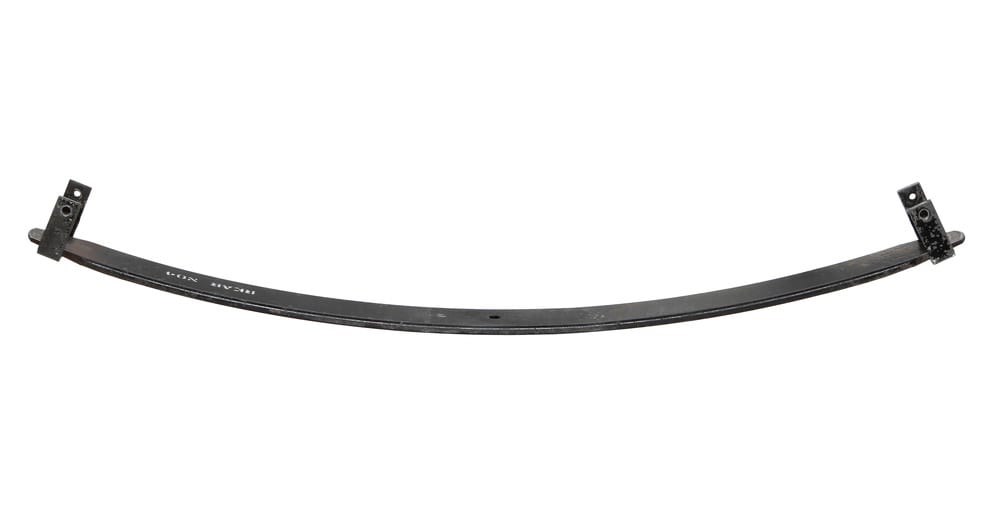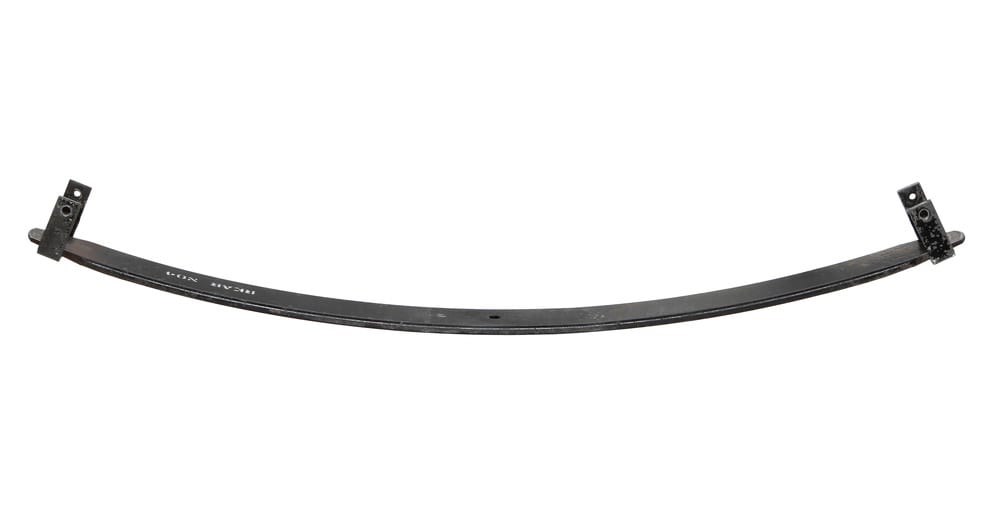 A leaf spring is a component of some vehicles' suspension systems. Specifically, a leaf spring is composed of several (or occasionally just one) thin strips of metal, called leaves, arranged on top of each other to form a single curved piece. The bending of the leaves and the friction between them as they slide slightly over each other while bending, absorbs the vehicle's weight as well as any bumps. Most leaf springs are curved (these are often called elliptical springs); the curvature helps the spring absorb impact.
The three major functions of any vehicle's suspension are to:
Support the vehicle

Absorb impacts from bumps, potholes, and other road irregularities

Allow the vehicle to turn in response to the driver's inputs. (The steering system can be considered part of the suspension, or its own system, but either way the suspension has to allow for movement of the wheels as the vehicle turns).
Springs in general, and leaf springs in particular, help perform the first two of these functions: they support the weight of the vehicle while absorbing bumps.
A leaf spring is usually attached to the body or frame of the vehicle at each end, while the wheel or axle assembly is fixed to the middle of the spring. Usually each spring extends in the same direction as the vehicle, one on each side, with attachment points at the front and rear; a few suspension designs feature a single leaf spring attached at each side (a "transverse" spring).
The purpose of leaf springs
Leaf springs are relatively simple to make and have been used on carts and carriages since long before cars and trucks came into existence. Many of the first cars, including the Ford Model T, employed leaf springs. Leaf springs are appropriate for spreading heavy loads over a large area (because they are attached to the vehicle at the ends, which may be several feet apart) and for suspension designs that incorporate a "solid" axle rather than independent suspension for each wheel, which was common on cars up through the 1970s and is still the norm on heavy vehicles such as trucks.
These factors render leaf springs appropriate for trucks and other heavy vehicles but less so for cars, as such designs tend to have undesirable effects on a vehicle's handling. As independent (as opposed to solid axle) rear suspensions have become increasingly common on cars, leaf springs are now found primarily on trucks, vans, SUVs, and trailers.
Maintenance of leaf springs
If your vehicle features leaf springs, do you need to worry about them? Probably not, unless they're quite old. Multi-leaf springs occasionally get "sticky" as dirt works its way in between the leaves; the effect can be to make the ride slightly stiffer, but this is rarely a significant problem. The attachment points will need to be checked periodically and lubricated in some cases (check your owner's manual), and you'll want your mechanic to check for broken leaves.
If you drive a classic car you may notice that its body seems to sit too low over the wheels; this sagging is usually due to the leaf springs' having bent slightly over time, and the solution is to have them replaced.
---
The statements expressed above are only for informational purposes and should be independently verified. Please see our
terms of service
for more details