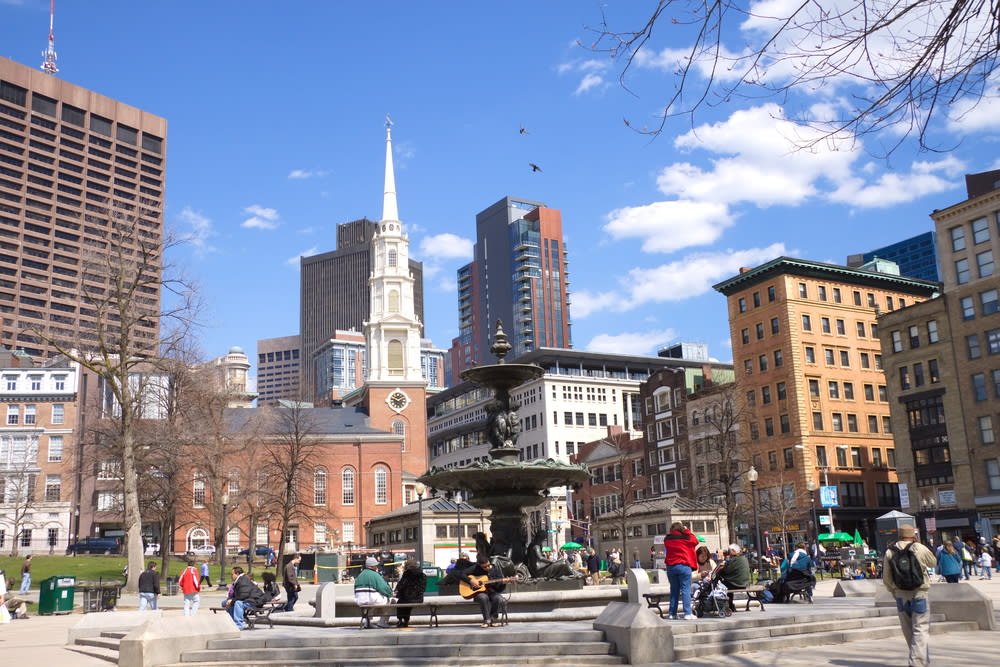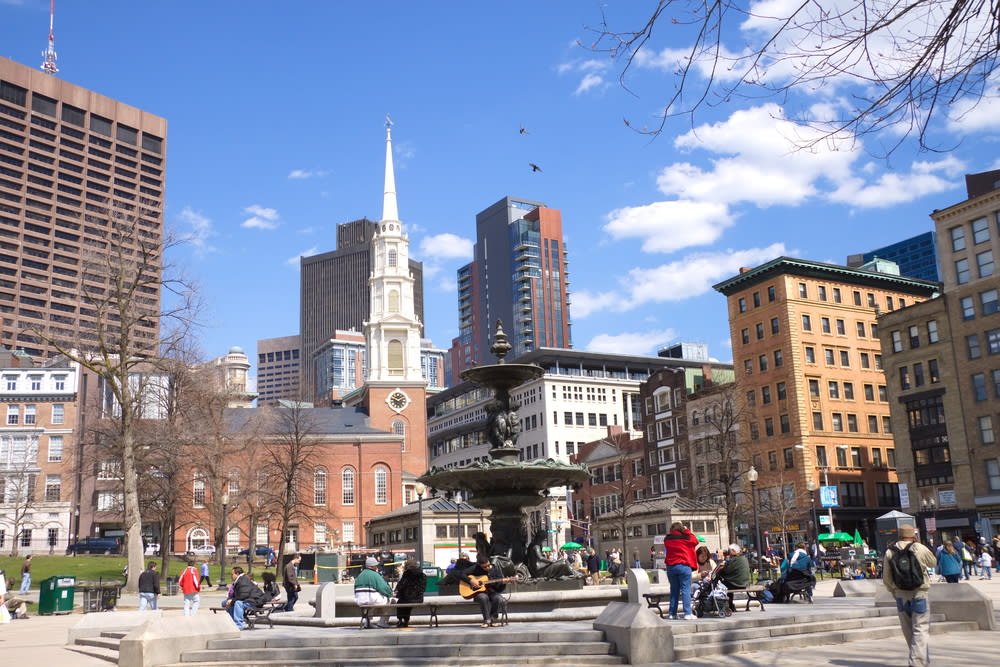 One day you get into work and there's a note on your desk. The boss needs to see you. What in the world did you do wrong?
The answer is: nothing. She needs you to head to Boston to visit some high level clients in the metro area. You'll be in Bean Town for a week. The clients are in the city, and along Route 128.
You think, "Huh, maybe when I'm in Boston I'll be able to grab some of its famous seafood, or a hockey game at the new Garden. Maybe I'll even walk down Newbury street, which is the Boston equivalent of Rodeo Drive. There's always something to do in The Hub."
If your trip to Boston (or any eastern city) is between late October and mid-November, the weather becomes a factor. Some days are frosty cold, and other days are fabulously warm. Take clothes that roll-up nicely in your suitcase, but can be layered to keep you warm. Remember, no white shoes or lemonade after Labor Day in New England.
Figure out the best way to get around the city you're visiting
Since your trip will take you all over the Boston Metro area, it's best to rent a car. Relying on a car service can get pricey, and a cab doesn't make much sense given the distances you're trying to cover. Renting a car, also, gives you an added perk.
While you're in Boston in autumn you can head north on I-93 toward New Hampshire for some leaf peeping. Peeping is where you get in the car and drive north until the leaves are so vibrant you couldn't imagine that such colors existed. That small stretch of road with colors you've never experienced before is called peak. You'll never be able to describe it to friends or family so don't even try. Just enjoy it. For that excursion you'll want a jacket and some mittens because if you head too far north you could run into snow.
Go where the natives go
If you really want to treat yourself to something special, head west to Vermont, drive over some red covered bridges, get a few bottles of Vermont maple syrup, and enjoy miles and miles of trees. If you're an ice cream junkie, Ben & Jerry's is based in South Burlington, and they offer tours of their factory.
Not all business trips will have as much history, nor an opportunity to see a beautiful countryside like New England's. For a good majority of business trips you'll drive to a hotel, to the office, and back. But if you look hard enough you can find something interesting in any location.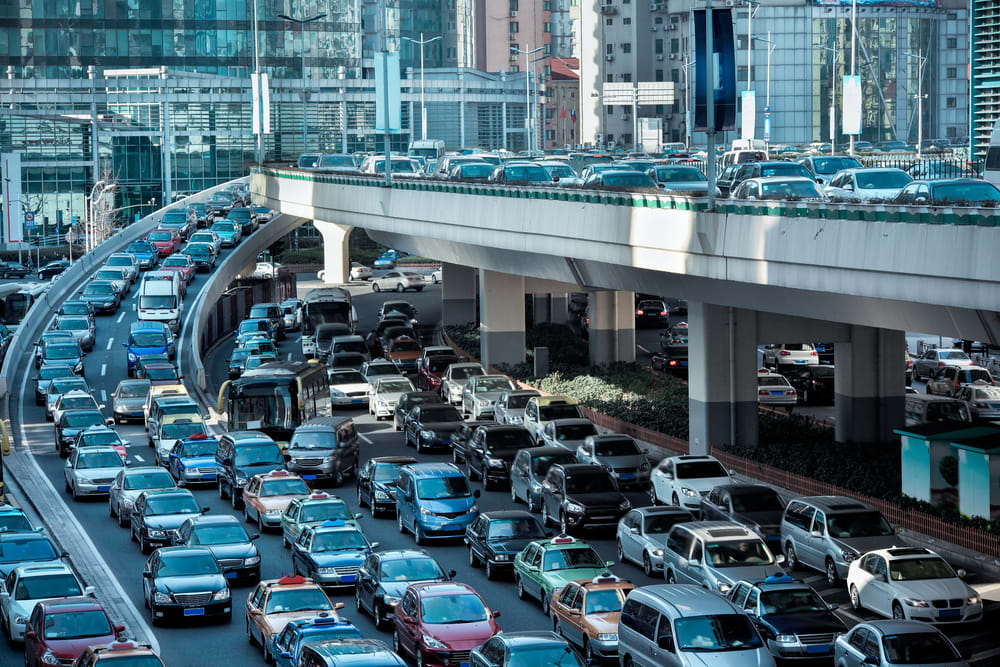 Road trips can be a lot of fun - exploring new states and cities, and discovering hidden gems like local restaurants or small attractions. But some cities in the United States are notoriously difficult to get around by car. These cities can cause out-of-towners stress because driving in a new city scares them and they don't know their way around.
Here are ten of the most stressful cities for driving, so you can at least be mentally prepared if your road trip brings you through them.
1. Atlanta, Georgia
Maybe you're not keen on peaches, but in Atlanta you have to learn to like them. The capitol of the South boasts 71 streets with some form of the word "PeachTree" in it - and that's just in the downtown area.
For example, if you want to go from the downtown Hyatt Regency to the Marriott Marquis, you exit the Hyatt on Peachtree Street NE and head to Peachtree Center Avenue NE. Total distance between the hotels? Maybe 20 yards: they're across the street from each other.
"Meet me on Peachtree Street" takes on a whole new meaning in Atlanta. Locals know what they're talking about. You, as an out-of-towner, could end up in the 'burbs - and, yes, you'd still be on Peachtree Street.
Atlanta has traffic all day long. The city is encircled by a giant highway ring that is packed by those who want to beat the traffic to and from work. There's a tunnel under Atlanta's financial center that is so dimly lit, all traffic comes to a crawl. If you're from out of town and traffic comes to a near crawl around you for no apparent reason, you just may be approaching the tunnel.
On the bright side, Southern charm and hospitality extends to the highway as well as the on and off ramps. People entering the highway who drive through the equivalent of blocks and blocks of cars to get ahead are, nevertheless, let into traffic because it's the polite thing to do. You can probably imagine how this would go over in New York.
2. Austin, Texas
Every single person living in a major US city who's tired of high real estate prices, traffic, and packed cookie-cutter communities thinks about moving to Austin. Okay, that's a slight exaggeration - not everyone thinks about Austin - but for many years, Austin has topped the list of the fastest growing cities in the U.S. In 2014, the city grew at a rate of nearly three percent.
Austin has a number of high-rises that house a new wave of high-tech companies. There are walkable neighborhoods packed with trendy restaurants, live entertainment, music, and bars. That's the good news. The bad news is, in order to get to any of these places you need a car, and the city has grown faster than its infrastructure could keep up. The result? Miserable traffic and a 30.3% chance of getting into an accident.
3. Boston, Massachusetts
What can you say about a city whose main north-south road is lined with statues dedicated to Thoreau, Emerson, Longfellow, Poe, and other great poets and authors throughout history? What can you say about a city that boasts Walden Pond (yes, that Walden Pond), and Thoreau's house?
Boston is unique and so are its drivers. They're prone to fits of rage and verbal abuse, they're ill-mannered - and if you don't become one of them, you could have a really miserable driving experience.
Pedestrians have no rights, so if you stop for a jaywalker, expect to get honked at. Exits onto or off of major highways aren't always marketed. It's something you learn by living there. Two-way streets barely have enough room for one-way traffic, so someone has to back up. Rotaries come with instructions for visitors - don't look, just go. And if you drive in Boston long enough, you learn how to cut through alleys to avoid traffic.
Many streets are missing signs, so your colleagues may tell you to look for the Dunkin' Donuts, which is down the street from the Citgo station and the package store. Turn right at Stop & Shop and you're there. That's how you get directions.
Double parking is an acceptable exercise, and the breakdown lane on the highway is considered an extra lane during rush hour. As they warn you in the "other" England, look right before you exit.
Finally, don't feel bad if you're confused by some street names. They can be a little weird: Stub Toe Lane, Bacon Slip, and Wits End Road, for example.
4. Dallas, Texas
If everything is bigger in Texas, so are the traffic problems in Dallas. Speed signs are merely suggestions. If you find yourself driving in a 60-mph zone, you can expect most of those around you to be doing 80 or 90 (assuming that traffic will allow). People tailgate on high-speed merges, which can cause anxiety even if you know where you're going.
Dallas has the third worst drivers overall in the U.S., and has finished in the bottom 20 in every driving category for years. Dallas drivers are known amongst others and themselves to be inattentive drivers: they're texting addicts, they drive under the influence, and don't use hands-free headsets when talking on the phone.
5. Detroit, Michigan
Detroit is really good at making cars. Detroit isn't so good at making parking lots. How bad, you ask? In the downtown area there are .38 parking lots for every 1,000 cars - so if you're thinking about commuting to work, you might want to leave early...like maybe the day before.
Maybe, you think, parking on the street is a better idea than trying to find a spot in a lot. If you're a true native of Detroit, forget it. Everyone is bad at parallel parking. Detroit natives who see someone trying to parallel park on a narrow street will back up and turn around. They don't want to get caught in a one-car traffic jam.
People drive in the left lane on the highway going slower than traffic on the right, and won't move over. But they will speed up to prevent you from merging. This left-right dance includes on-ramps. Detroit drivers don't allow other drivers to merge onto the highway just because it's courteous.
6. Houston, Texas
Houstonians tend to swerve. That's what you need to know: they swerve. It doesn't help that they also tend to reach for their cell phones, text, or operate their on-board entertainment console, and cause traffic back-ups. They swerve and the car's lane departure alerts go off. Get used to it if you ride with a local.
The good news is that when traffic gets moving again, the lane departure alert stops chirping because Houstonians stop swerving. In open traffic, they tailgate and the front collision alert starts. Houstonians get into 31 percent more accidents than drivers from other cities.
7. Los Angeles, California
The traffic in Los Angeles is well-known throughout the U.S. and perhaps the world. The freeway system was designed in 1947, and construction began in the 1950s. By 2004, 61 percent - or a mere 15 freeways - of the originally planned freeway network was built.
Meanwhile, the number of people in Southern California has swelled to 22 million people. Only 15 freeways serve those 22 million people. You might say we're crazy counting only 15 freeways - there have to be more. We didn't double count the freeways that have two or three names. For example the 405 and the San Diego Freeway are the same thing. The 101 and Ventura Freeway are the same. The nomenclature often causes confusion among out-of-towners.
The unintended consequence of halting the freeway construction projects after 15 highways is that Southern Californians spend more time sitting in their cars than drivers in any other city in the U.S. The city's horrible traffic jams (on the surface streets, too) can cause you to spend hours per day in your car.
As an example, a nine-mile morning commute from Laurel Canyon, in the Hollywood Hills, to Santa Monica can take an hour with traffic.
8. New York City, New York
Manhattan is a small island, only 13.4 miles long and 2.3 miles wide. Yet nearly four million people live and work in the borough during the week. Manhattan has more than 170,000 people per square mile. And at some point, all of those people need to go somewhere. They use subways, walk, ride their bike, and many of them hop in a cab. But most New Yorkers aren't driving their own cars around.
Why not drive your own car? Well, some garages charge more than $550 per space - and that doesn't take into account that the garage may not be near where you work or live. It's expensive to have a car in New York.
New York's famous yellow cabs are the quickest and easiest way to get around if you're not using public transportation or walking. Every, all day, the streets are choked with traffic. Road closures, visiting dignitaries, and large-scale conventions bring traffic to a crawl.
A word to the wise: it's really difficult to find a cab after 5 pm because that's the time for the shift change. Even worse is trying to find a cab in the evening after dinner or a show. That might be a good time to learn the subway system.
9. Washington, D.C.
Washington is also a small city, at a mere 68 square miles (well, seven miles of the district is water, so let's call it 61 square miles). Nearly 700,000 people work in the district, of which nearly 200,000 commute from Maryland and Virginia. If that sounds like a recipe for gridlock, it is.
Washington, D.C. is organized in a grid like a lot of US cities. However, Washington added a little spice to its "grid." Instead of the streets running north-south and east-west, D.C. streets run diagonally, and every so often there's a rotary to make sure you're paying attention. Rotaries can take you off into another direction if you're not aware. Some of the streets are numbered, other streets begin with a letter, and then for good measure, some streets are named after a state.
And if all that weren't enough to confuse you, each street has a suffix after its name (such as NW for Northwest or SE for Southeast), so you'll know which quadrant of the city you're in. If you're a bit confused by all of this, that's why Washington made the list.
10. Chicago, Illinois
Driving in Chicago is stressful, even during the best of times. With typical traffic within the Chicago area peaking almost nonstop between the hours of 6 a.m. and 6 p.m., you would be hard pressed to find the optimum driving time within the city. City traffic does ease off after the evening rush hour. It then picks back up again beginning at about 5 a.m. the next morning. Traffic volume in Chicago does go down over the weekend, but not by much, as the people driving to work during the week switch to those getting away for the weekend or running errands during their off time.
High traffic areas in Chicago include downtown Chicago, especially on The Loop or the various expressways. The major arteries that cut through Chicago include the Eisenhower (I-290), the Tri-State (I-294), the Stevenson (I-55), the Bishop Ford (I-94), and The Kennedy (I-90). The Bishop Ford, especially, has many traffic choke points, so you will need to plan an alternate route to avoid this interstate.
Options instead of driving in Chicago include taking the train, especially if you live in the suburbs. While it will cost you to park when you take the train, the time saved, up to 1-1/2 hours a day, more than makes up for any out-of-pocket expense.
Traffic in Chicago is worst on Monday mornings and Friday evenings. With everybody either trying to get into the city on Monday or out of the city for the weekend on Friday, learning alternate routes to use other than the expressways can save you a lot of time. In addition, learning where all of the bottlenecks are allows you to avoid them during times of high-traffic volume.
Parking is another issue that Chicago drivers need to keep in mind. Within the city limits, parking is at a premium, and you can expect to pay a costly price. Downtown is the most expensive, with parking getting cheaper the further away from downtown that you get. You might have a hard time if you are expecting to find a parking spot on the street near your destination. Your best bet is to find a parking garage near where you need to be, though most only offer daily rates at best. Hotel parking does offer the option of in and out parking, though these tend to be more expensive than normal parking.
Despite the headaches you may get from driving in these ten cities, if you're passing through, you may find that the trip isn't all stress and traffic. Not every city you visit will offer a ton of things to do, but every city has something going on. If you do a little homework, and you're willing to give up a night of email and go exploring, there's a good chance you can soak up some local flavor.
And if you happen to end up as one of the unlucky drivers who gets into an accident in one of these cities, YourMechanic will be there to help you get back on the road as quickly as possible.
---
The statements expressed above are only for informational purposes and should be independently verified. Please see our
terms of service
for more details