DVD systems and other entertainment options in a vehicle, such as a car or minivan, provide passengers with a way to spend time on the road between destinations. One of the main components of a mobile DVD system is the monitor. A popular option in many newer vehicles is an in-car DVD system that features dual monitors. This allows more than one passenger to watch the programming of their choice or play games. Or, the system can act as a navigation system when installed in the front console. By following some simple instructions, you too can find the perfect dual monitor DVD system for your vehicle.
Method 1 of 1: Selecting a dual monitor DVD system
Materials Needed
Desktop computer or laptop
Paper and pencil
To select the best dual monitor DVD system for your needs, just follow a few simple steps. These steps include choosing the type of system you want, searching for and purchasing the system online or at local retail stores, and having it installed once you buy it.
Step 1: Determine what you want. First, you need to determine the type of system you want. Look for screens with touchscreen controls for ease of use, allowing you to listen to music, watch videos, or play games, all with the touch of the screen.
If you want the screen to remain out of the way when not in use, look for DVD players with retractable screens.
When purchasing any DVD systems, make sure the system and monitors fit within the available space in your vehicle. When it comes to monitors, you must decide if you want to place them in the back of the front seats or overhead, depending on space constraints.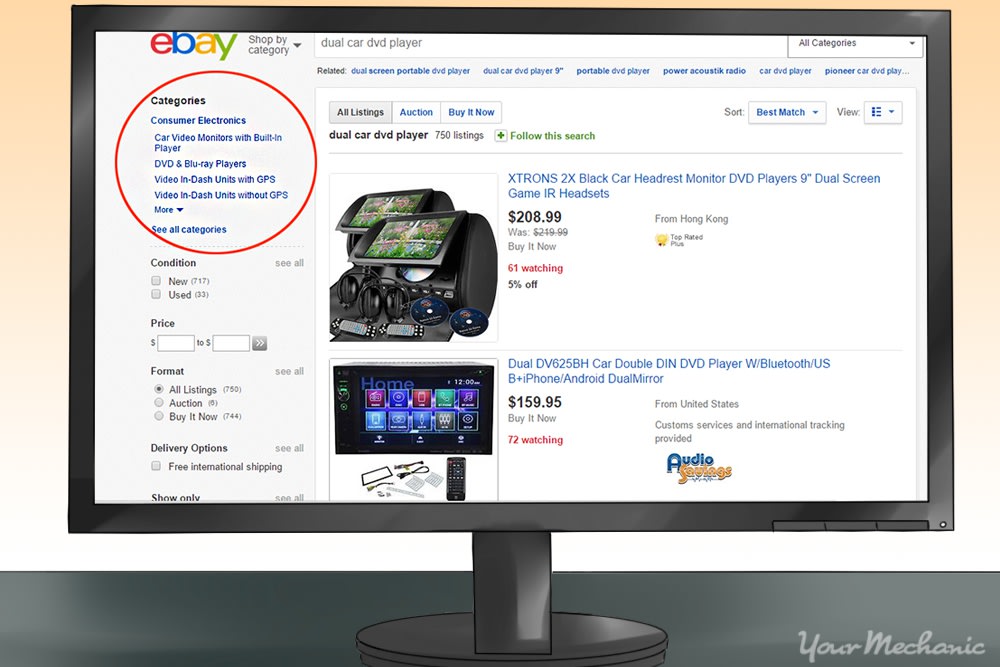 Step 2: Search websites. Search various websites for the dual monitor DVD system you are interested in buying. This can include manufacturer websites, retail websites, or auction sites, such as eBay, eBid, and Webstore, among others.
You can can visit your local electronics stores to search for a dual monitor DVD system. Visiting in-store does give you the option of asking a sales clerk any questions you have about the system.
Step 3: Consider your wants. While searching for the system, keep an eye out for the features you want.
Some of the more popular features include a built-in navigation aid for front console monitors, the ability to play video games, surround sound, satellite TV, and the ability to hook up additional forms of media players, such as a VCR, to your current DVD system.
Cost and space available might prohibit the features you can afford, especially when you are on a budget, so remember to keep those things in mind when searching.
Step 4: Compare prices. Once you have found a few dual monitor DVD systems you are interested in, compare prices.
You probably should compare the price difference between base models without any features, and then perform a comparison with the features you want added. This should help you make a decision about which model best fits your budget and which features, if any, you can afford.
Tip: You also need to consider the cost of installation when shopping. Many brick and mortar stores include the cost of installation in the purchase price, while online vendors and private parties do not.
Step 5: Make the purchase. After you have decided upon which dual monitor DVD system is right for your vehicle and also fits within your budget, it is time to make a purchase.
If buying in-store, it is simply a matter of paying for the item and taking it home, or having it installed.
When buying online, you have to pay for the product, wait for it to arrive through the mail, and then find someone to install it.
Step 6: Install the system. Installation, as mentioned, depends in large part on where you purchased the item. Physical stores in your area usually have a tech department that handles installation of electronic equipment bought in-store.
Online purchases require you to find a shop that specializes in aftermarket installations.
Another option is to install the system yourself if you have the proper tools and knowledge to do so.
A dual monitor DVD system can entertain the passengers in your vehicle while traveling around town or on an extended trip. Knowing what type of system and features you want beforehand can help you choose the right system for you. When having a dual monitor DVD system installed, consider using the services of an experienced installer to make sure the task is done correctly.
---
The statements expressed above are only for informational purposes and should be independently verified. Please see our
terms of service
for more details