The convenience and transportable nature of a portable car video system makes it perfect for families on the go. Whether your kids like watching their favorite movies or cartoons, portable car video systems can keep your family members occupied on long or short trips, and you can even take them with you when attending appointments, going out to eat with family and friends, or at home when you are all done for the day.
Finding the right portable car video system is important, and by keeping certain factors in mind, like your budget, narrowing down the features you want, and knowing where to shop, you can find the perfect system to entertain you and your family.
Part 1 of 3: Determine your budget
Before running off to the electronics store or looking online for a portable car video system, you need to consider how much money you have to spend. Portable systems can range in price from the highly affordable to the more expensive end of the spectrum. Better yet, many portable car video systems are way cheaper than the installed versions.
Step 1: Determine your budget. First, determine how much money you want to spend by figuring out a budget.
Price ranges can vary for a portable DVD player with a 5-to-10-inch screen. Also, if an installation kit is not included, expect to spend more money for that. Most car video systems are priced according to the features they offer.
Part 2 of 3: Determine the features you want
Another consideration when choosing the right portable car video system are features. Features run the gamut from the ability to act as a video game system to having dual screens or the option of satellite TV. Just remember that the more and varied features a system offers, the more you can expect it to cost.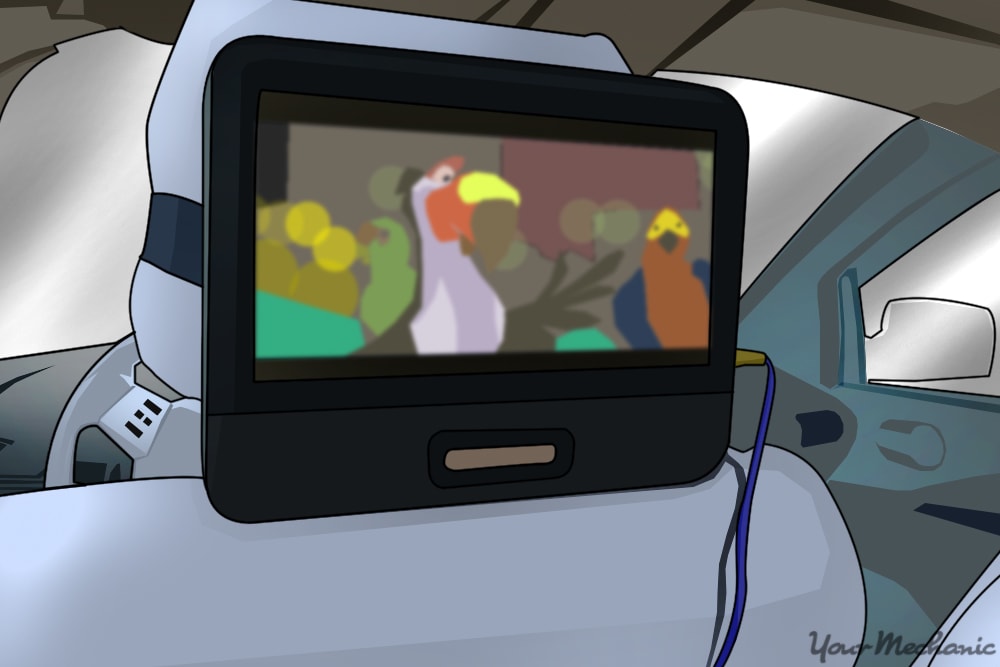 Step 1: Consider where the device will be. Determine where you want to install the device.
Most portable car video system TV screens strap to the back of either one or both forward vehicle headrests. Make sure this is a viable option in your vehicle before shopping.
Step 2: Examine common features. When purchasing a portable car video system, keep in mind that many offer a variety of common features.
Some common features include dual screens, DVD player, GPS, iPod dock, USB port, and video game systems.
Step 3: Look at your audio options. The audio system is another area of concern when choosing a portable car video system.
Many systems use wireless FM modulators to beam the signal directly to an unused FM frequency on your car radio. If you want to limit the audio to just the backseat viewers, consider getting headphones so that you don't have to listen to countless hours of children's programming. Headphones are almost a necessity on long trips.
Wireless headphones are another option, especially with dual monitors, as this allows viewers to watch videos separately on their own monitors.
Step 4: Satellite television. Another feature that some portable players offer is the ability to watch satellite TV.
You need a satellite TV tuner installed in your vehicle in addition to the portable car video system in order to watch programming.
Tip: When looking to buy a portable player, keep in mind all that you want to do with it, such as watch movies, listen to music, play games, or watch satellite TV, and purchase a system with the appropriate number of audio video inputs. You might also need a power inverter to operate some components, such as a video game system, so make sure you keep this factor in mind as well.
Part 3 of 3: Shop for a portable car video system
After you have decided on what features you want in a portable car video system, it is time to find one that fits within your budget and has all of the features you want. You have a few options when shopping, including checking online, at retail stores in your area, and through local classified ads.
Step 1: Check online. A great place to find portable car video systems is through a variety of online sites.
Some of the more popular sites where you can find portable car video systems include Best Buy.com, Walmart.com, and Amazon.com, among other sites.
Step 2: Check local retail stores. You can also visit retailers in your area to find portable car video systems.
Electronic stores, such as Frye's and Best Buy, make a great place to find portable car video systems.
Tip: You should also try to time your purchase of a portable car video system to when such systems are on sale. You can do this by monitoring sales papers or by shopping during times of the year when electronic goods are discounted, such as on Black Friday.
Step 3: Check the classifieds. Another source to check is the classifieds in the local newspaper, where you can find ads from individuals looking to sell used portable car video systems.
Make sure to check the item to make sure it works properly before paying the seller. In addition, when meeting someone selling items through the classifieds, either take a friend with you or meet the seller in a public area. You should always take safety precautions when meeting a stranger online, even if they seem safe!
Entertain your passengers, whether traveling a short distance or cross country, with a portable car video system in your vehicle. Luckily, you don't have to break the bank to do so, with many affordable options available. If you have questions about installation, make sure to Ask a Mechanic, who can help provide vital answers for the process, and if you notice your car's battery dipping in performance, have one of YourMechanic's certified technicians perform an inspection.
---
Next Step
Schedule Battery will not hold a charge Inspection
The most popular service booked by readers of this article is Battery will not hold a charge Inspection. Once the problem has been diagnosed, you will be provided with an upfront quote for the recommended fix and receive $20.00 off as a credit towards the repair. YourMechanic's technicians bring the dealership to you by performing this job at your home or office 7-days a week between 7AM-9PM. We currently cover over 2,000 cities and have 100k+ 5-star reviews... LEARN MORE
SEE PRICING & SCHEDULING
---
The statements expressed above are only for informational purposes and should be independently verified. Please see our
terms of service
for more details