Maintaining, protecting, and keeping your tires, especially new tires, in good shape helps extend their lifecycle in most circumstances. Proper tire care saves you money in the long run because you don't need to replace them as often.
There are a few steps you can take to help keep your tires in great shape and lasting longer, including installing new tires when your old ones wear out, maintaining your tires once installed, and keeping them from cracking.
Method 1 of 3: Install new tires
The best way to make sure you always have good tires on your vehicle is to install new ones once the old tires wear out. You can attempt to keep your tires in the best shape possible, but eventually they do wear out and need replacements.
Step 1: Buy quality tires. In addition to purchasing quality tires from a reliable brand, make sure the tires you purchase are appropriate to the season. If you experience inclement weather in the winter season, you should consider buying snow or all-season tires.
Inspect any tires before you purchase them, looking for any imperfections, including nicks, cuts, or holes. If buying reconditioned or used tires, thoroughly check the tires for wear and damage.
Step 2: Pay attention to tire mileage. Keep in mind the mileage expected of your tires.
When buying new tires, pay attention to the mileage they are good for. Better quality, and thus more expensive tires, tend to last more miles than cheaper versions.
Step 3: Replace all worn tires. When you do need to replace your tires, make sure you replace all four tires at once.
With properly rotated tires, you should see even wear across all four of the tires on your vehicle.
Tip: Sometimes you can get away with replacing just the two rear tires. In this case, it is better to place the new tires on the rear axle. The rear tires play a large part in gripping the road when it is wet and can provide better overall handling. In any case, if your tires are worn to a point where grip is an issue, you should replace them.
Method 2 of 3: Protect your tires
Material Needed
Protecting your tires is a great way to make sure they last a long time. Tires degrade for a number of reasons, including exposure to the sun, elements, and harsh chemicals. Rash driving can also affect the condition of your tires, with bad driving habits leading to cracked and damaged sidewalls, and tread.
Step 1: Drive carefully. Driving a car too fast or braking harshly can lead to tires overheating, causing the sidewalls to weaken and potentially fail. Driving like a maniac and slamming on the brakes can also make small cracks in a tire worse and even cause new ones.
Practice safe-driving practices and try to keep the tires from rubbing on the curb.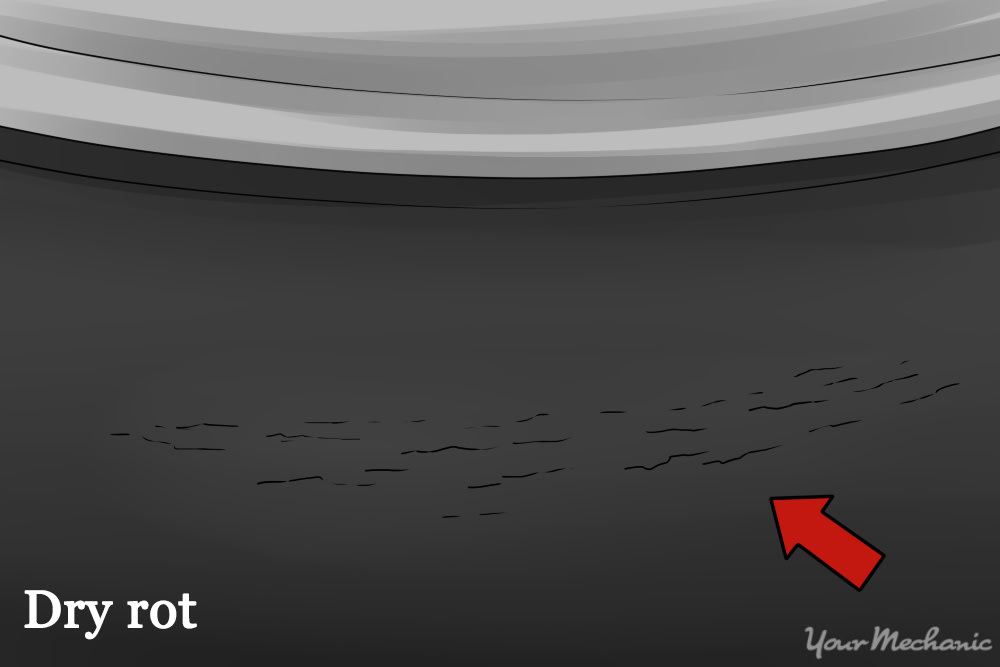 Step 2: Avoid dry rot. Dry rot happens when a vehicle is allowed to sit too long without driving it, especially during the winter.
One way to avoid dry rot is to drive the vehicle at least once a month or more. This heats up the tires and keeps the rubber from drying out too much.
If you expect to have the vehicle sit for an extended period of time, consider investing in a car cover or wheel covers to keep harmful UV rays from damaging your vehicle's tires.
Step 3: Clean your tires. Keeping your tires clean and free of dirt and debris can make them last longer.
Start by washing your wheels with mild soap and water. You can also scrub your tires with a soft-bristled brush to remove stuck-on grime and dirt. Finish by rinsing your tires off with water.
Step 4: Apply protectant. Another way to protect your vehicle's tires, whether you plan on driving or letting it sit, is to apply a protectant.
A protectant, such as 303 Protectant, is a water-based chemical used to provide UV protection to rubber, plastic, and vinyl. Furthermore, this protectant keeps the tire from cracking and suffering from dry rot.
Method 3 of 3: Maintain your tires
Material Needed
In addition to replacing worn tires and applying protectant to your tires, you also need to perform other maintenance on your tires to keep them in the best shape possible. Proper tire maintenance includes making sure your tires are inflated to the proper levels, getting the alignment checked occasionally, and rotating your tires after the number of miles recommended by the manufacturer.
Step 1: Check the air pressure. At least once a month check, or have someone check, the air pressure in your tires.
To check the tire pressure, remove the valve stem cover and place the end of the gauge over the top of the valve stem. The air pressure in the tire pushes the PSI indicator out of the bottom of the gauge, indicating the pressure in the tire.
Make sure all the tires are inflated to the recommended air pressure. You can find this information in your vehicle's user manual, on the inside of the door frame, or at the manufacturer's website.
Tip: You can also find the maximum inflation level on the tire, which is different from the manufacturer's recommended level.
Step 2: Check for tire wear. Over time, the tire tread tends to wear down, leading to less grip and traction.
Check tire tread wear on a monthly basis, usually when you are making sure they are properly inflated. Look for tread wear indicator bars at regular intervals around the tire. When these bars are flush with the surface of the tread, consider replacing the tires.
If you notice uneven tread wear, have your tires checked by an expert mechanic, such as one from YourMechanic, as this could indicate an alignment problem.
Step 3: Check the wheel alignment. Get the wheel alignment checked yearly, unless you suspect a problem.
An improperly aligned car can have uneven wearing of the tire tread. This, in turn, can lead to the vehicle pulling to one side while driving and can even result in tire failure.
Step 4: Get the tires rotated. To promote even wear of the tire treads over time, get the tires rotated on a regular basis.
You can find the recommended interval for tire rotation in your vehicle's user manual. Most vehicle manufacturer's recommend getting your tires rotated every 7,500 miles or every six months.
When having your tires rotated, you must follow a certain pattern depending on whether your vehicle is a rear- or front-wheel-drive. The standard patterns include:
Rearward cross: The typical tire rotation pattern used with rear- and front-wheel-drive vehicles. In this pattern, the front tires are moved to the rear and switched from left-to-right and right-to-left, and the rear tires are moved forward but kept on the same side.

X-Pattern: The x-pattern is used for rear-, four-, and front-wheel-drive vehicles. In this pattern, the front wheels are moved to the rear and switched from one side to the other. The rear wheels are also moved to the front and their side switched.

Forward cross: This pattern is used exclusively with front-wheel-drive vehicles. In this pattern, the front wheels are moved to the rear and stay on the same side. The rear wheels are moved to the front and are switched from one side to the other.

Warning: Keep in mind, if your vehicle is equipped with directional tires, the standard rotation does not apply and can even lead to improper tire function when driving on the road. Make sure to inform the person performing the rotation that you have directional tires so they can implement the proper rotation patterns.
Maintaining and protecting your tires are the best ways to make your tires last longer. When they do wear out, look for quality, long-lasting tires to replace them with. One of the best, and easiest, ways to make your tires last is by rotating them on a regular basis.
If you need help with a tire rotation, call one of the expert mechanics from YourMechanic to do the job for you.
---
The statements expressed above are only for informational purposes and should be independently verified. Please see our
terms of service
for more details