The Austin Healey is a small British roadster that has a very large following among collectors. The cars are made up of just a handful of parts, and are a great choice for those just venturing into the world of classic cars. The simple construction and minimal design allows for quick and straightforward repairs, assuming you can find the right parts.
Why pick an Austin Healey over any other small convertible sports car? Well, unlike the more high-end or obscure sports cars of its day, the Healey was produced by the thousands. Thanks to those production numbers, there are a lot of surviving examples and scrapped cars that can be used as donors.
As with any vintage car, finding a good one to own and fix up yourself can be daunting and frustrating. But if you do your research and take the time to really inspect potential purchases, then you can join the ranks of enthusiastic Austin Healey owners.
Part 1 of 3: Know what you are looking for
Step 1: Understand the types of classic Austin Healey models. The Austin Healey had a long and successful production run, meaning that over time the car changed both its looks and its performance.
Ultimately, before hunting for the perfect car, you need to decide if you're looking for a Big Healey or a Healey Sprite. "Big Healey" means either the Austin Healey 100, 100-6, or 3000. Healey Sprites were smaller and looked noticeably different.
Step 2: Research the Austin Big Healey. You should investigate the different types of Big Healeys, taking note of the different characteristics of each.
If you are looking for a Big Healey, then have a look a look at the table below that spells out a few things you should know:
Step 3: Research the Austin Healey Sprite. Have a look at the types and varieties of the Austin Healey Sprite, and be sure to pay careful attention to how they differ.
If you are in the market for the more compact Austin Healey Sprite, then here are a few details to keep in mind during your search: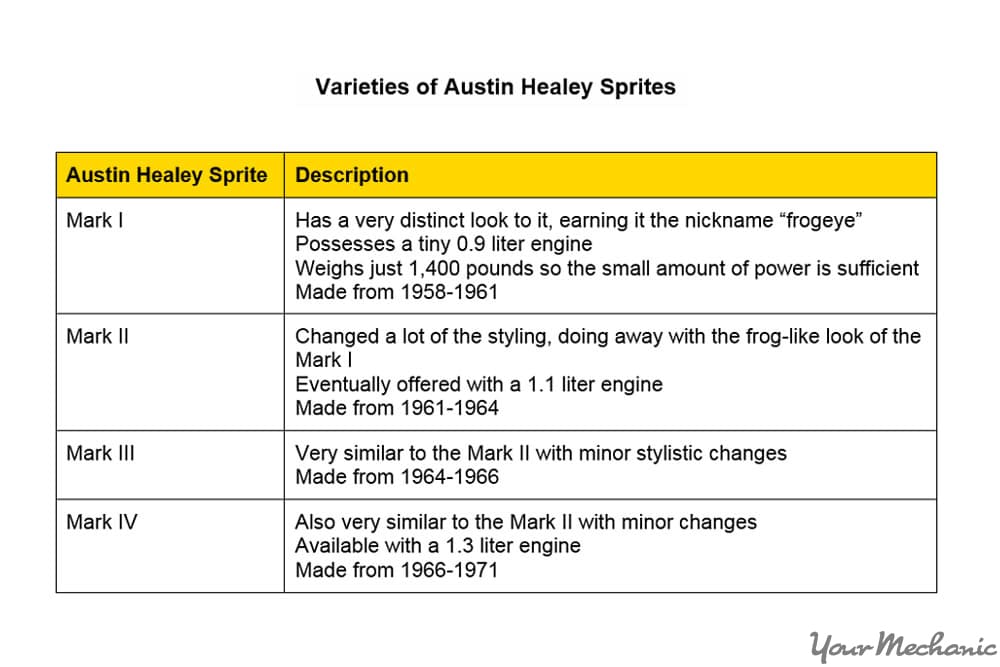 Part 2 of 3: Find the right car
Step 1: Search car forums. The best way to both find out more about the various models and cars for sale is to go onto online forums dedicated to Austin Healey models.
Read as much as you can online, and reach out to other enthusiasts to find out the best way to get a reliable classic car.
Tip: You would be wise to spend a little extra time and effort sifting through enthusiast forums - you never know what vehicles will be for sale.
Step 2: Check online listings: If you can't find any cars when surfing online forums, then you should check eBay to see what a reasonable asking price is for that specific car.
This will also give you somewhat of an idea as to how rare the model you're looking for is and how difficult it may be to find one.
Tip: You can purchase cars directly through eBay, but bear in mind that classic cars can be extremely temperamental and that inspecting a car in person is very important.
Step 3: Contact antique car dealerships: If all else fails, look through classified ads and call up any antique car dealerships around you to see if they have any in stock at a reasonable price.
Step 4: Read reviews. Once you know a bit about the Austin Healey you want, check reviews online to give you an extra sense of what it is like to own one and any common issues.
Be sure to network with other enthusiasts as well to get suggestions or advice they may have concerning the car you want.
Part 3 of 3: Purchase the car
Step 1: Decide how to pay. Now that you are ready to buy the car, you should determine whether you will buy it with cash or finance the car.
Step 2: Calculate financing numbers. You can decide to have a larger down payment in exchange for lower rates, or pay less in the beginning but have more in payments each month.
Bankrate has a useful tool to help you make sense of the numbers and calculate payment amounts.
Step 3: Compare lending options. Examine the different lenders and the terms you will get on the loans they offer.
Keep an eye out for penalties or fees associated with early or late payments and choose the one that fits best with your financial situation.
Step 4: Apply for funding. Decide on a lender and apply for funding so you will be able to purchase the car when ready.
Tip: Consider getting pre-approved for a loan so you'll know exactly the amount you can spend prior to arriving at the lot.
Step 5: Take the car for a test drive. Take the car you want for a test drive, being sure to note any unusual sounds or noises.
Step 6: Have the car inspected. Have a certified mechanic perform a pre-purchase inspection to get a professional evaluation of the state of your desired Austin Healey.
Step 7: Negotiate the price. Using any information acquired from your mechanic and pricing of other Austin Healeys in the area, get the best price for your car.
Step 8: Complete any paperwork. Finalize the sale by completing the necessary paperwork and signing all documents.
Step 9: Register at the DMV. Be sure that once the sale is finalized, you register your vehicle at the DMV, a process which varies depending on the state.
At the end of the day, Austin Healey's are gaining more fans and followers than ever before. Luckily, there are plenty to go around, thanks to Healey producing thousands of the vehicle in its heyday. These vehicles are attractive and fun for both the novice and the experienced enthusiast and will certainly become one of your most prized possessions. Remember, before you buy the Austin Healey, have one of our certified mechanics perform a pre-purchase inspection to make sure the car is in good condition.
---
Next Step
Schedule Pre-purchase Car Inspection
The most popular service booked by readers of this article is Pre-purchase Car Inspection. YourMechanic's technicians bring the dealership to you by performing this job at your home or office 7-days a week between 7AM-9PM. We currently cover over 2,000 cities and have 100k+ 5-star reviews... LEARN MORE
SEE PRICING & SCHEDULING
---
The statements expressed above are only for informational purposes and should be independently verified. Please see our
terms of service
for more details