Summer can be a brutal season for anything that moves. While all it takes for us to cool down is a cold drink and an air conditioner, your car requires a bit more attention in order to stay operational. That means paying attention primarily to how the car is functioning, and looking for small changes that can add up to big problems if left ignored. But preventing expensive repairs caused by heat damage can be easy and painless, as long as you know what to look for.
Part 1 of 1: Keeping your car cool in the summer
Step 1: Check your cabin air filters. One of the most obvious components to look out for in order to keep your car cool is your air conditioning.
Extended use often means a buildup of dust and other particles on your air conditioner's filters, which can lead to airflow blockage.
The cabin air filter is likely located behind or underneath your vehicle's glove box.
Usually, a quick removal and wipedown of the filter will clear up any airflow problems, as long as the filter itself is in good condition. If this doesn't suffice, replace the filter as soon as possible.
Step 2: Pay attention to A/C temperature. If the air conditioner isn't blowing as cold as before - especially if the air filter is clean - there may be a component issue.
Have a mechanic, such as one from YourMechanic, check your refrigerant level to ensure that it's at the correct level.
Your air conditioner can be affected by any number of problems that cannot be fixed with a quick and easy solution, and should be checked out and remedied as quickly as possible by a professional.
Step 3: Check your battery. When the days start getting hotter, more stress is placed on your battery than on a day with average temperatures.
Heat is unavoidable, but vibration can also contribute to the breakdown of your battery, so check before summer arrives to ensure that it's as secure as possible.
All connections should also be free of rust and corrosion, which can be exacerbated by heat and further damage the battery.
If the battery is still fairly new, as in less than three years old, you shouldn't have to worry about testing it for longevity, but any batteries older than that should be checked out so you know how much time the battery has left.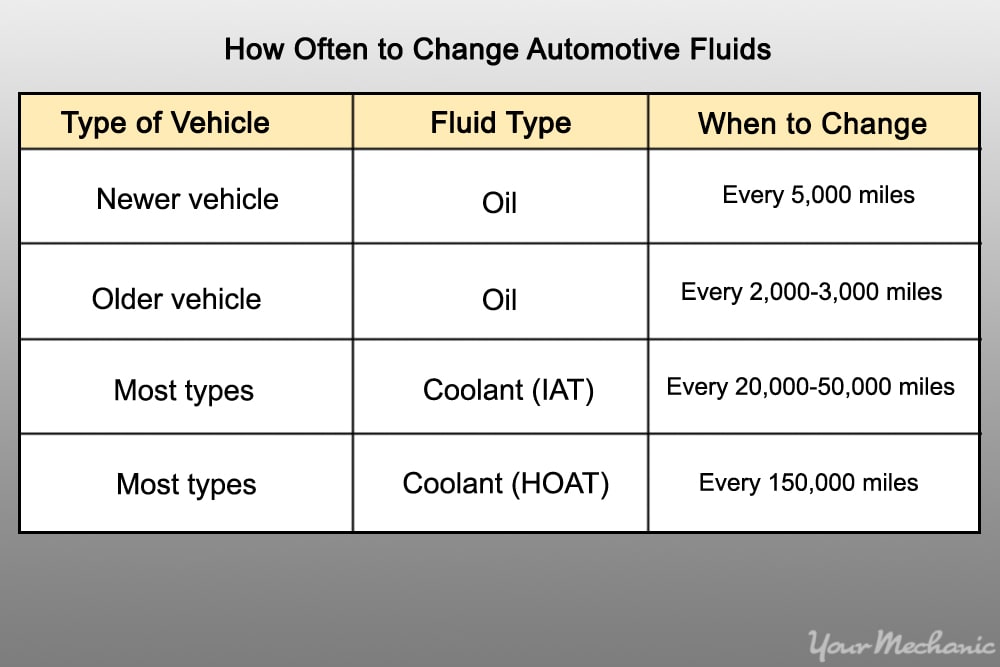 Step 4: Don't skip oil changes. Your car's lubrication systems are designed to allow the metal components to move together smoothly while reducing heat-creating friction, which can badly damage or even destroy your engine.
While newer cars can generally get away with going up to 5,000 miles before their next oil change, older cars should stick to 2,000-3,000 miles between changes. Check your oil level often, and if it is low, top it off - or if it's black, change it completely.
Step 5: Check your coolant. Coolant, true to its name, is responsible for whisking heat away from your engine, which prevents damage to the parts.
Coolant is not like oil in the sense that it needs to be frequently changed. You can expect to let a few years to pass between most coolant changes.
How long you can wait before changing your coolant depends on the brand and your driving conditions. Expect your previous coolant fill to last you anywhere from 20,000 - 50,000 miles.
Check the manufacturer's information on the label of the coolant you use, or consult a mechanic, to know when it is time to change your coolant.
Step 6: Check each of your tires. Heat expands air trapped in tires, which can accumulate by driving as well as weather.
Overinflated tires in the summer months can result in a higher instance of flats, but they should also not be under inflated.
Check each of your tires' pressure when the car is cold and hasn't been driven for several hours for the most accurate results.
Deflate or inflate your tires according to the PSI recommendations set by the tire's manufacturer. These recommendations can typically be found on a sticker located inside the driver's side door.
Summer is meant to be a season of fun and relaxation, and nothing wrecks that quite like an overheated car on the side of the road in the middle of a road trip. By keeping these suggestions in mind, your car will bear the brunt of summer heat much more efficiently - and best of all, none of these are particularly expensive or time-consuming to deal with, as long as you remain diligent.
However, if you do experience any car overheating trouble, you should look to have your vehicle inspected as soon as possible to prevent engine damage. In this case, the mechanics at YourMechanic can come to your home or office to diagnose your overheating issue and make any needed repairs to make sure your car is good to drive.
---
The statements expressed above are only for informational purposes and should be independently verified. Please see our
terms of service
for more details