Buying a car is the second-largest purchase most people make aside from buying a house. Naturally, with such an expensive transaction, it can be easy to neglect details of the sale or get wrapped up in the emotion and later have buyer's remorse.
It's also just as emotional to sell a car. Whether the car has been good to you or has been problematic, you've formed an emotional attachment to your vehicle. Seeing it leave your driveway for the last time can be difficult, or you may be relieved just to see it gone no matter the selling price.
People buy and sell cars for a number of reasons including:
Life circumstances have changed, such as adding a child to the family
Job requirements have altered
The need for additional comfort for long-distance traveling
The car is aging with increasing repair costs
A new, more desirable model is available
Whether you need to upsize, downsize, or just want something new, usually you have to sell your old car before you can buy a new one. Here's how you can make that happen.
Privately selling your car is often the best way to get the most money for it. Sellers need to put in a bit of time and effort to achieve the highest sale price for their car and at times the hassle of certifying your car, advertising it for sale, meeting buyers, negotiating a sale, and completing the paperwork can be a bit much. If that's the case, you may want to consider trading your car in on a new or used one from a dealership.
Method 1 of 3: Sell your car yourself
Step 1: Determine your car's value using online tools. Visit sites such as Kelley Blue Book to find your car's average sale value based on its current mileage, condition, and options.
Enter your vehicle's particulars into the selection boxes to find an average value. This price is based on what similar cars in your area have sold for.
Note: Be objective about your vehicle's condition. It's easy to convince yourself that your vehicle is in better condition than it actually is. Have an honest friend give you their advice on your car's condition.
Step 2: Have your vehicle appraised by a car dealer. Some car dealerships may be willing to give you an appraisal on your car for no charge, assuming you may return to them for your new vehicle purchase.
Step 3: Have your car certified. Each state has individual requirements for titling and registering vehicles. Have your state safety inspection performed and a current emissions inspection performed if it's required in your state or county.
Selling your vehicle certified and ready for the next owner to title will get you the most money out of your car's sale and makes your car more desirable.
Selling your car with a failed or expired safety inspection will reduce the amount you can expect to get from your sale as the buyer immediately knows they will need to spend money on repairs.
Step 4: Advertise your car for sale.
Use social media to post your vehicle for sale and have your friends share the post.

Place an ad on Craigslist, AutoTrader.com, and other online venues to make your car visible to the largest audience.
Post clear pictures of the exterior and interior.
Give a clear explanation of all the options your car has along with identifying any flaws the buyer should expect to see.
Tip: Advertise a price about 5-10% higher than you hope to get. This leaves room for negotiation on price.
Provide easy contact methods such as email, text, and phone calls.
Step 5: Respond to potential buyers. Most online-savvy car buyers inquire about 5 to 10 vehicle ads every day so a quick response is crucial.
Expect the most responses within a few hours of posting the ad, so be available for calls, texts and emails, along with potential showings.
Meet with potential buyers, prepared to complete the sale once you receive an offer at or above your expected sale price.
Step 6: Complete a bill of sale.
Fill out a bill of sale for your car complete with the Vehicle Identification Number, year, make, model, current mileage, and sale price. You can download one from the DMV site.
Both the buyer and seller should have their contact information on the bill of sale along with their signatures.
Step 7: Accept payment for your car. Only accept certified payment options such as a cashier's check, bank draft, cash, or money order. Other methods of payment can be subject to fraudulent activity, leaving you without a car or the money for it.
Step 8: Transfer your car's title to the new owner.
Each state's requirements are a little different, so visit your DMV or check online to ensure the correct method in your state.
Warning: Don't transfer the title to the new owner until complete payment has been received for your car.
Method 2 of 3: Trade your car into the car dealer
Trading in your car can be the most hassle-free method of selling it as you don't have to certify it or deal with the trouble of advertising it, meeting buyers, or negotiating a sale. You won't receive the same amount of money for your car by trading it in as you would with a private sale, but the transaction will be completed quickly and easily.
Step 1: Identify the type of car you would like to purchase.
Trading in your car works only if you are buying another vehicle from the dealer you are trading in to.
Step 2: Research you car's value. Research your car's value on sites such as Kelley Blue Book so you are aware of what price you should expect to receive for your trade-in.
Note: The trade-in price will be about 20% lower than if you sold your car privately.
Step 3: Compile your vehicle's service records and paperwork. When you can prove your vehicle's complete service history, the dealer can be assured the vehicle they are taking in on trade is well cared for and a good investment.
Step 4: Negotiate a price with the dealer. Negotiating your trade value is typically done as part of the negotiation process when you purchase a new vehicle. This step ties together with Method 3 that follows.
Step 5: Accept a fair offer. Accept the trade-in value for your vehicle only if you believe it is fair and in line with your expectations.
If you don't think the offer is fair, leave the dealership and visit another one with the same car you want to purchase.
Method 3 of 3: Buy a new vehicle
You have seemingly endless options when it comes to buying your next vehicle. You can buy either a new or used vehicle, you can buy through a private sale or a dealership, and there are countless makes, models, and options you can select.
Step 1: Decide if you are buying privately or through a dealership. If you are buying a car through a private sale, you will quite likely have to sell your current vehicle privately.
If you decide to purchase through a private sale, always request a vehicle inspection report and a VIN check before completing the deal.
You can only buy a new vehicle through a dealership, while used cars you can purchase either from a private sale or a dealer.
If you are going to buy through a dealership, you can trade in your vehicle. You also have the added security of warranties, dealership reputation, and thorough vehicle inspections.
Warning: Private sales can be less expensive though there is a higher risk of encountering a shady transaction.
Step 2: Decide on the model of vehicle you wish to purchase.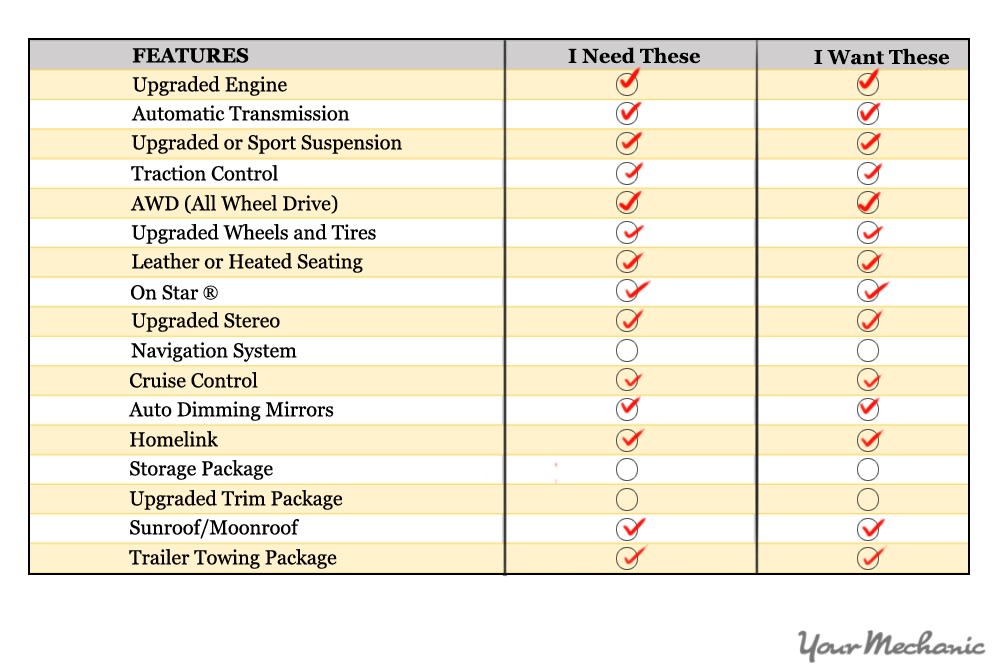 List your needs and wants including the options that you can live without and those that are nice to have but not absolutely necessary.
Search online listings and print ads for the vehicle you want to buy.
Select 5 to 10 cars to inspect and test drive in person.
Step 3: See the cars for yourself. Arrange with the sellers to look over and test drive the vehicles.
Check over all the vehicle selections you've narrowed down before making a purchase decision, whether from a dealership or a private sale.
Step 4: Pick the car that suits you. Make a decision on which vehicle best fits your needs.
Negotiate the best price for your choice of vehicle.
If you are purchasing from a dealership and want to trade in your old car, negotiate the best price possible for your trade in as well.
Step 5: Complete the sale with the seller. Whether you are buying from a dealer or privately, complete a signed bill of sale as an agreement to purchase the vehicle.
Step 6: Arrange financing with the seller. If you are purchasing privately, pay the seller in full with a secure method of payment such as a bank draft or money order. You can use cash if you want, though carrying a large sum of money can be unnerving.
If you are purchasing from a dealership, you can use either financing you've secured on your own or the dealer's financial services.
It can be beneficial to use the dealer's financing options for lower interest rates or cash rebates.
---
The statements expressed above are only for informational purposes and should be independently verified. Please see our
terms of service
for more details