We all dream of owning a sports car, but life gets in the way. Some of us have families, some of us have pets, and all of us need to make that occasional drive with a ton of cargo. Whatever the case, sometimes a sports car simply won't cut it. Still, there's a driving enthusiast in all of us, and most of the cars available today feel more like an appliance than anything approaching fun. If your lifestyle won't allow for a low-slung coupe in the garage, here are ten practical and usable cars that will still make you smile from behind the wheel.
2016 Ford Fiesta ST
MSRP: $20,345
Living in an urban environment can make driving tough. Your car needs to fit into tight parking spaces, and has to have enough power to zip through gaps in backed-up traffic. If this sounds like your daily drive, the Ford Fiesta ST might be for you. Its tiny 98" wheelbase can squeeze into the smallest of parking spaces, but with four doors and a hatchback it's fairly spacious and practical too. Under the hood a turbocharged 1.6 liter four cylinder produces 197 horsepower and 202 lb-ft of torque, which is really more than a car this size is justified in having (but we aren't complaining). The Fiesta ST is a popular option in autocross competitions, where handling and grip are rewarded over outright speed. With sport-tuned suspension, a torque vectoring system, six-speed manual transmission, and optional Recaro bucket seats, the Fiesta ST represents a sensible and inexpensive daily driver that's still ready for a racecourse.
2017 Volkswagen Golf GTI
MSRP: $25,595
If you've ever heard someone talk about a "hot hatch," they were probably talking about the Volkswagen Golf GTI – and if they weren't, whatever car they were talking about was probably built to compete with it. For decades, the GTI has offered enthusiasts driving engagement with the reliability and practicality that make a great daily driver. Its hatchback shape offers solid space for cargo, and the turbocharged 2.0 liter four cylinder sips fuel. But that's only if you can resist digging into the gas pedal: with 210 horsepower and 258 lb-ft of torque on tap, the GTI has plenty of punch. Volkswagen highlights this by including a "Performance Monitor" on the dashboard, which shows data like G-forces and turbo boost pressure, as well as an optional adjustable suspension that lets you firm up the ride on the fly. A dual-clutch transmission similar to what you find in high-end sports cars is available, but a good old six-speed manual comes standard. The Volkswagen Golf GTI continues to define the hot hatch segment by delivering thrills at an approachable price point.
2017 Mazda CX-9
MSRP: $31,520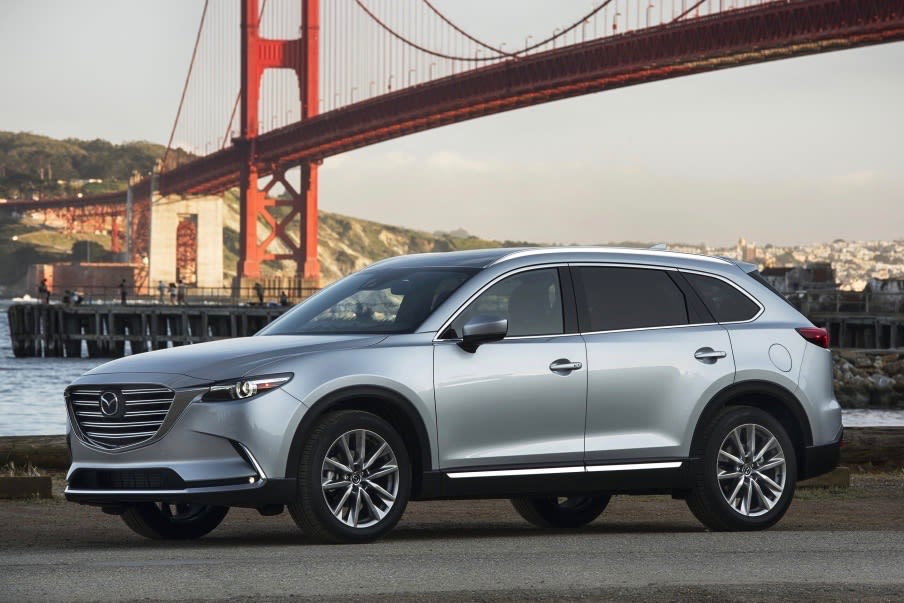 Mazda works hard to add a healthy dose of fun-to-drive dynamics to everything it builds, and that's exemplified in the new CX-9. The SUV's high-tech turbocharged 2.5 liter four cylinder showcases the first application of Mazda's Dynamic Pressure Turbo system, which greatly improves response, and is tuned to deliver maximum torque low in the RPM range so it feels quick in everyday driving conditions. But Mazda didn't forget that the CX-9 is still a big, high-riding SUV: it can accommodate up to seven passengers and their gear, and optional all-wheel drive lets you make the most of any outdoors adventure. It's a good-looking piece of machinery too, with sharp, sculpted lines and optional 20" wheels giving it major head-turning potential. It may not be a genuine sports car, but if you're the type of driver that likes to have fun and needs an SUV, the CX-9 has what you're looking for.
2017 Subaru WRX STI
MSRP: $35,195
Essentially a rally race car for the road, Subaru's WRX STI is right on the edge of being too hardcore to drive daily. It packs a 305 horsepower turbocharged 2.5 liter four cylinder engine – Subaru's trademark "boxer" configuration helps lower the center of gravity for better handling – hooked up to a six-speed manual transmission. A host of aerodynamic features, including a massive rear spoiler bolted to the roomy trunk, help keep the sedan planted as speeds increase. With a sophisticated all-wheel drive system, the WRX STI is ready to take on any road in any weather condition while delivering a blast of turbocharged fun to the driver. These sporty traits, plus Subaru's legendary durability, come together to make the WRX STI a car that's as fun on a race track as it is on the commute to work.
2017 Porsche Macan
MSRP: $47,500
Any car that wears the Porsche badge is bound to be a sporty ride, and that holds true with the new Macan. The car is Porsche's first foray into the crossover segment and combines high-riding SUV capabilities with high-performance driving characteristics. The Macan is available with several different engine options, from a 252 horsepower four-cylinder to a 400 horsepower twin-turbo V6. Whatever engine you choose, it will be coupled to Porsche's highly praised PDK paddle shift transmission and all-wheel drive. Sport-tuned suspension and speed-adaptive steering give the Macan agile handling, and the 17.7 cubic foot luggage compartment is big enough for any grocery run or camping trip. If you're searching for a sports car, but need something that's a practical everyday driver too, the Porsche Macan is one of your best options.
2017 BMW M3
MSRP: $64,000
The BMW M3 has set the benchmark for small sedan performance ever since it was introduced in 1985. It's world-renowned for its combination of everyday livability and track-ready dynamics, plus all the refinement and luxury you would expect from a BMW. The M3 has seen many changes over its lifespan, but the current generation (known as F80 by BMW aficionados) features a twin-turbocharged 3.0 liter six cylinder engine which cranks out an impressive 425 horsepower and 406 lb-ft of torque. The carbon fiber roof, driveshaft, and engine brace reduce weight, and huge six-piston carbon ceramic brakes offer serious stopping power. Whether it's being used for commuting or carving corners on a mountain road, the BMW M3 offers an excellent combination of performance and practicality that makes it one of the best-known sports cars in the world.
2016 Dodge Charger SRT Hellcat
MSRP: $67,645
From the moment it was announced, the Dodge Charger SRT Hellcat affirmed its status as the king of the muscle cars. How? SRT engineers started with the already powerful 6.4 liter HEMI V8 found in other Charger models and bolted a supercharger to the top for a total output of 707 horsepower. This staggering figure makes the Charger SRT Hellcat one of the most powerful cars in the world, and potentially the best horsepower-per-dollar bargain on the market. While the Hellcat shares its body and interior appointments with Charger models that cost tens of thousands of dollars less, it's still a big, comfortable sedan that can easily fit four adults. But this car isn't about refined luxury – it's about smoky burnouts, straight line speed, and carrying on a decades-old tradition of overpowered American muscle cars.
2017 Land Rover Range Rover Sport Supercharged
MSRP: $79,950
The Range Rover Sport Supercharged is one of those rare vehicles that can truly do it all. With extensive wood and leather trim, a panoramic sunroof, and an eight speaker sound system, its spacious, luxurious interior is a great place to be. The supercharged 5.0 liter V8 churns out 510 horsepower and gets the car from zero to 60 in five seconds flat, with 100 miles per hour arriving in a tick over 10 seconds. It's an extremely capable off-road machine as well: permanent four-wheel drive lets it navigate rocky trails, and it can drive through 33" of water without a problem. Adjustable air suspension lets you lower the ride height for better handling, or raise it up for all-terrain performance. When you're shopping for a daily driver, it's important to find something that was built to handle any driving situation. Whatever the conditions, the Range Rover Sport Supercharged can do it all – fast.
2016 Mercedes-AMG E63S Wagon
MSRP: $105,225
If you think station wagons are only good for hauling kids to soccer practice, you need to take a look at the Mercedes-AMG E63S Wagon. This German road missile combines the cargo capacity of a wagon with a mighty 5.5 liter twin-turbo V8 engine that produces 577 horsepower and 590 lb-ft of torque. A sumptuous interior covered in leather, wood, and aluminum is just what you'd expect in a Mercedes, and a safety system including nine air bags keeps occupants secure. For as much space as it has, it's a serious performer too: the widened track increases cornering stability, a limited slip differential helps put the power down, sport-tuned exhaust lets the engine sing, and optional carbon-ceramic brakes are like what you'd find on a dedicated track car. Coupled with an AMG-tuned all-wheel drive system, the E63S Wagon rockets from zero to 60 miles per hour in 3.6 seconds – quick enough to get anyone to soccer practice on time.
2017 Tesla Model S P100D Ludicrous
MSRP: $134,500
The electric car revolution is underway, and Tesla leads the charge. The California brand is proving that electric power is good for more than saving the environment – it's great for supercar-like acceleration too. Case in point: the 2.5 second zero to 60 time posted by their new Model S P100D Ludicrous sedan. This matches the mighty Bugatti Veyron, but the Tesla costs about one tenth as much and is a comfortable family sedan, not a two-seat hypercar. How does it do it? Unlike internal combustion engines, which produce peak power higher higher in the RPM range, the Model S' dual electric motors deliver maximum power from zero RPM – the moment you touch the accelerator, you have over 760 horsepower at your disposal. All this, plus a serene cabin thanks to silent electric motors, seating for up to seven people, and no greenhouse gas emissions make the Model S P100D Ludicrous a fabulous daily driver, as well as one of the most impressive feats of automotive engineering ever conceived.
Most of us spend more time in the car than we'd like to. Sitting in traffic is a major bore, and driving all over town running errands can be tedious. That's why it's important to find a car you love. When whatever you're in has the features to fit your lifestyle and can still give you a thrill on a windy road, you know you'll enjoy the drive for many miles to come.
---
Next Step
Schedule 75 Point Safety Inspection
The most popular service booked by readers of this article is 75 Point Safety Inspection. YourMechanic's technicians bring the dealership to you by performing this job at your home or office 7-days a week between 7AM-9PM. We currently cover over 2,000 cities and have 100k+ 5-star reviews... LEARN MORE
SEE PRICING & SCHEDULING
---
The statements expressed above are only for informational purposes and should be independently verified. Please see our
terms of service
for more details