The Jeep Wrangler is easily the most off-road oriented vehicle you can buy from a dealership.
All Jeep Wranglers come with four-wheel drive and a removable top. Their high ground clearance and short wheelbase allow them to navigate extremely uneven terrain without sustaining damage.
Before you install any kind of lift on your Jeep Wrangler, form a concrete idea of what you want out of this process. Remember that once you modify your stock Jeep, its performance and handling will change.
Many Jeep Wrangler owners make the decision to lift their jeeps via either the body or suspension in order to enhance its off-road capabilities. They often use a combination of the two methods in order to reach the desired lift height.
Due to the large number of Jeep owners and how frequently they modify their Jeeps, the aftermarket is intimidatingly large and varied. Finding out what you need to lift your Jeep can be a daunting prospect. By focusing on certain factors, you can make the lift process much easier and be left with an end product that does exactly what you need it to.
Part 1 of 3: Define your requirements
Materials Needed
Step 1: Decide on your budget. Larger lifts are generally more expensive, and tires in particular get significantly more expensive as the diameter increases. Plan on spending at least a thousand dollars on a small lift and larger tires.
Tip: Take your total budget and subtract at least 20%. The remaining amount is your actual budget for the lift and tires. Plan to have issues pop up that you didn't expect whenever you are adding aftermarket parts to a vehicle.
Step 2: Make a list of the modifications. Write down a list of functions that you need your Jeep to perform such as driving on ice or driving through thick woods. This exercise will help you form a realistic idea of what modifications your Wrangler will need.
Here are some examples of functions and the modifications required for each: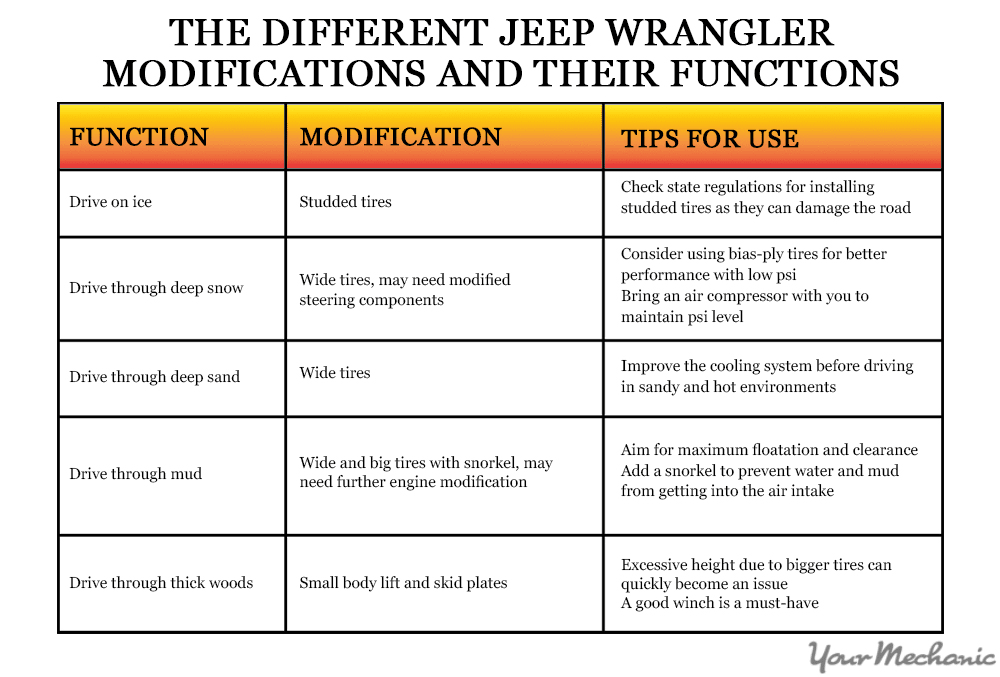 Part 2 of 3: Pick out a tire size
Before deciding on anything else in regard to buying and installing a lift on your Jeep Wrangler, you must decide what size tires you will need. A stock Wrangler can comfortably fit tires up to 30" tires, but beyond that size you will need a lift in order to fit the tires comfortably under the fenders.
Step 1: Determine the type of terrain you will be driving on. Consider the type of terrain on which you will be driving most of the time. Don't focus only on the type of off-road terrain or driving surface that your Wrangler will be driven over. Take some time to reasonably estimate how much time will be spent on the pavement and specifically on the highway or other high-speed roads.
These factors will be the most important when choosing the right tire.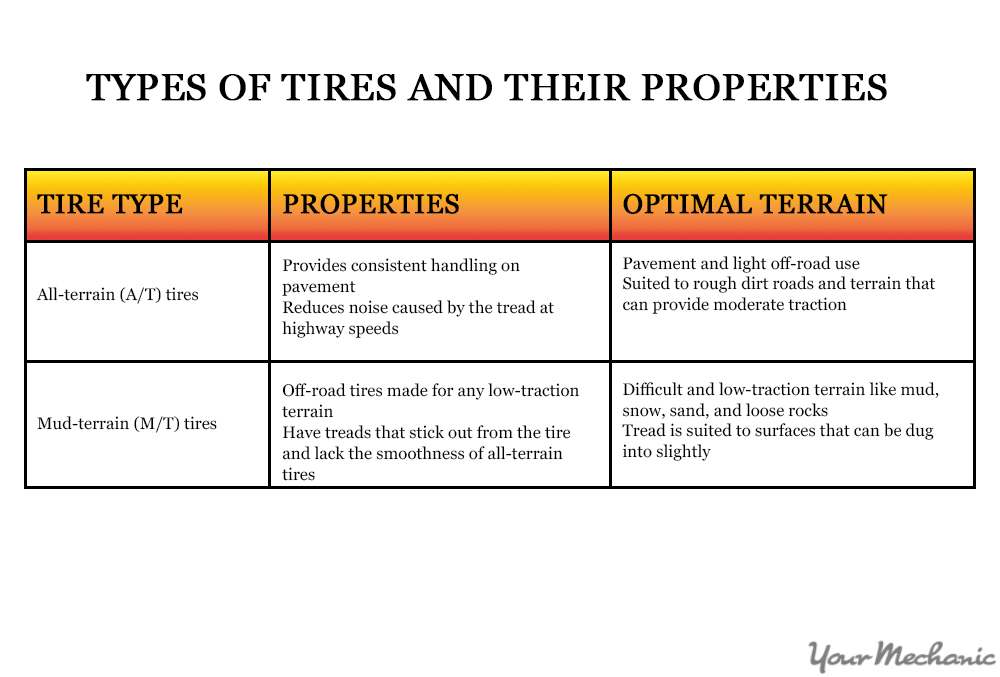 Tip: Though it may be tempting to take the hardcore route and buy aggressive mud-terrain tires, you will need to consider the drawbacks of these tires as well. Road handling and fuel mileage will be greatly affected and the noise caused by the tread is noticeable on the pavement.
Step 2: Decide on a tire size. Once you know what type of tread you will need, it is time to decide what size tires you will be using. This will decide how much you need to ultimately lift your Jeep.
Taller tires increase ground clearance for the axles, but they also raise the vehicle's center of gravity and increase braking distance.
Wider tires have a larger area of contact with the driving surface, providing better traction and floatation, but can also make the steering feel heavier and less responsive.
Step 3: Consider getting multiple sets of tires. Consider buying more than one set of tires to get the best of both worlds. Since hardcore, off-road tires are expensive and impractical on pavement, many off-road enthusiasts buy one set of all-terrain wheels for everyday use and then swap wheels when venturing off-road.
Certain off-road tires, like tires implementing bias-ply construction, have unusual handling characteristics and wear out quickly. Multiple sets can save you money over time if you plan to use your Wrangler on pavement often.
Part 3 of 3: Find the right lift
Once you know what modifications or tires you need to install in your Jeep Wrangler, you can start looking at different lifts.
Note: Professional lift installation is strongly recommended, as the components involved are vital to road handling and safety.
Step 1: Determine the type of lift required. Decide how much you want to lift your Jeep based on the size of the tires you plan on running: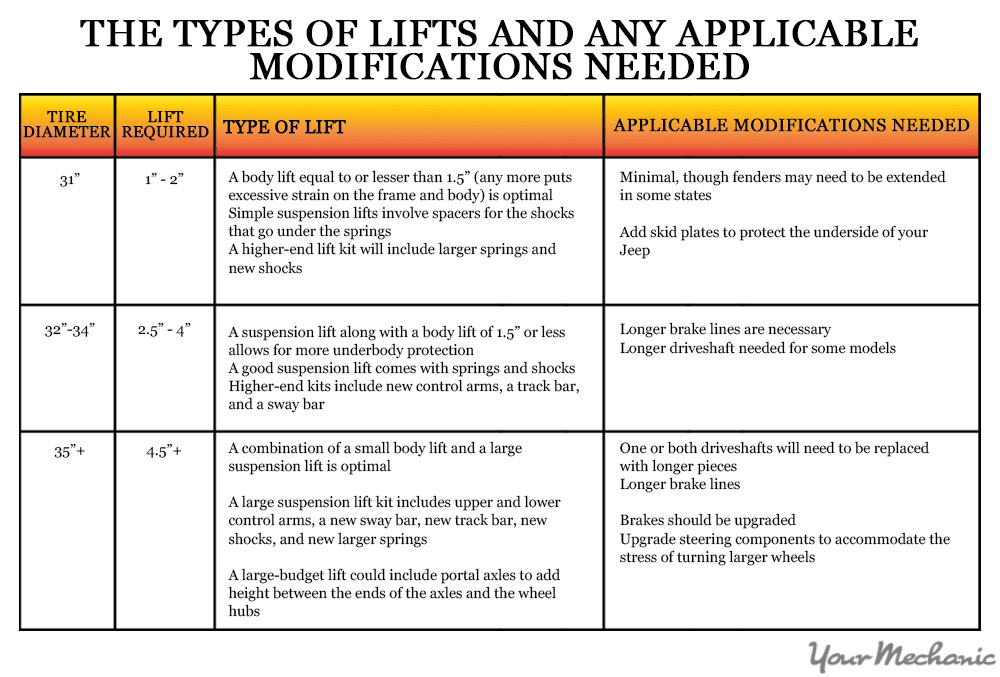 Step 2: Contact a local auto shop. Find a reputed shop that has experience working with Jeeps and let them advise you on getting the kit installed. They may also recommend other modifications or accessories that will help you achieve all the functions you require for your Jeep Wrangler.
While the Jeep Wrangler already comes with significant ground clearance, it's easy to see why off-roading owners have created a huge market for lifting their vehicles.
Once you have determined everything you need to modify, you can check your funds and plan a budget for your Jeep Wrangler modifications. Be sure to get everything professionally checked and get a certified mechanic, such as one from YourMechanic, to perform a safety inspection before you take on some rough terrain. Also, remember to install some off-roading lights on your Jeep Wrangler before hitting the backcountry!
---
Next Step
Schedule 75 Point Safety Inspection
The most popular service booked by readers of this article is 75 Point Safety Inspection. YourMechanic's technicians bring the dealership to you by performing this job at your home or office 7-days a week between 7AM-9PM. We currently cover over 2,000 cities and have 100k+ 5-star reviews... LEARN MORE
SEE PRICING & SCHEDULING
---
The statements expressed above are only for informational purposes and should be independently verified. Please see our
terms of service
for more details