Following the rules of the road, including using your vehicle's various lights in appropriate situations, makes driving safer for you, your passengers, and other drivers. In addition to the headlights, vehicles come equipped with turn signals, brake lights, and hazard lights, all designed to make you more visible on the road.
Legally, your vehicle lights are required to function properly while driving. In order to use your lights properly and avoid any run-ins with police, follow these simple steps to stay safe while driving.
Part 1 of 5: Know your headlights
A vehicle's headlights help driver's see better at night, as well as letting other driver's see you while driving during inclement weather or in low-light conditions. When using a vehicle's headlights, drivers need to know when to use the low and high beams to keep from blinding other drivers.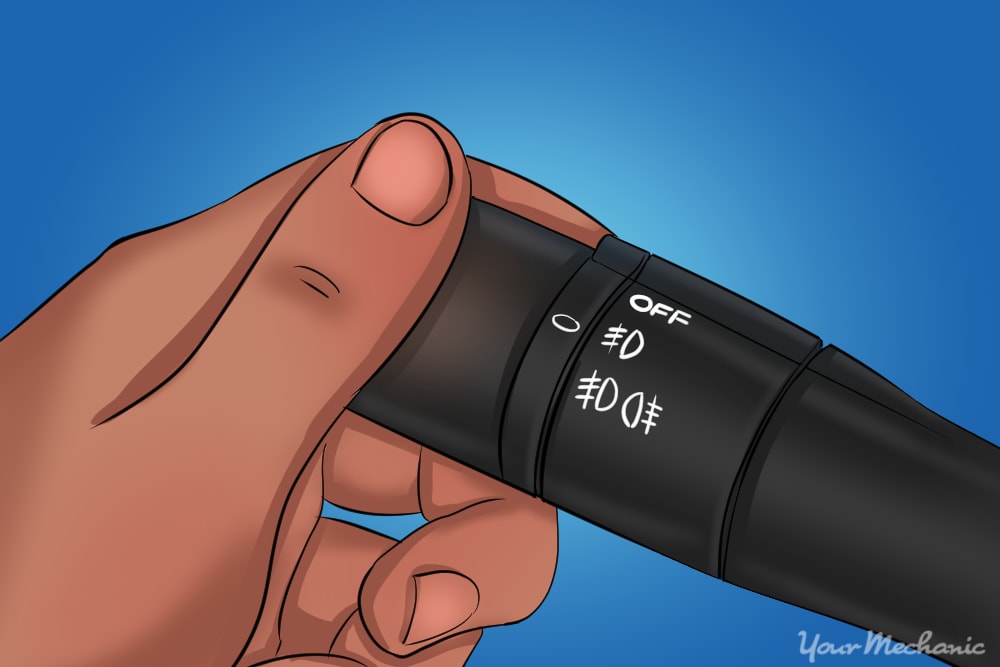 Step 1: Using low beams. The low beams are used in a variety of situations.
Low beams are most commonly used when driving at night or in other low light conditions. Some other situations that drivers use the low beams include when driving in foggy conditions, during periods of inclement weather, and when driving through tunnels.
You can find the switch to turn on the headlights either on the same lever as the turn signal or on the dashboard to the left of the steering column.
Some states require the use of your low beams even during the day to help with visibility when approaching other drivers. Many newer model vehicles also utilize daylight running lights to help with visibility during the daytime.
Non-functioning low beam headlights can lead to getting pulled over by law enforcement. Some of the more common penalties associated with non-functioning headlights range from a verbal warning, a fix-it ticket, or a ticket with fine.
Step 2: Using high beams. Your vehicle is also equipped with high beams, which give you better visibility under certain circumstances.
The high beams are usually activated by pushing forward on the same lever used for the turn signals.
When using your high beams, make sure there are no oncoming motorists or motorists ahead of you. The bright nature of the beams can momentarily blind other drivers.
If you encounter another motorist with their high beams on, look toward the shoulder of the road until they pass, or flip your rearview mirror into the night position if a driver approaches you from behind with their high beams on.
Part 2 of 5: Know your turn signals
A vehicle's turn signals serve a very important function, letting other motorists around you know your intentions on the road. By properly knowing how to operate your turn signals, you can ensure that the drivers around you know when you plan on turning left or right.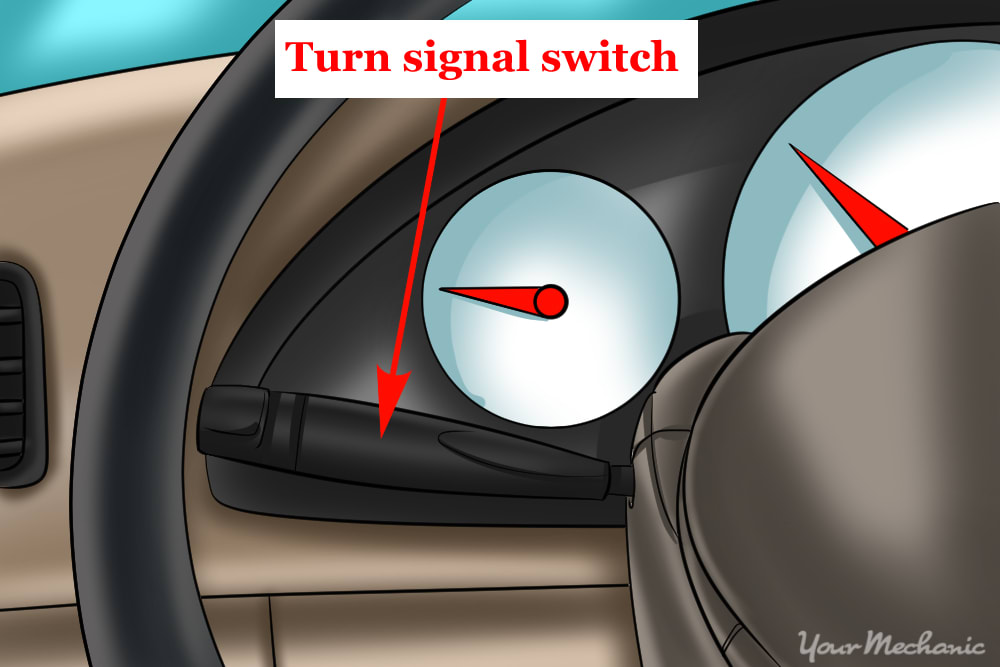 Step 1: Using front turn signals. The front turn signals let oncoming traffic know your intention while driving.
You can find the switch for the turn signals on the steering column. To activate the turn signal, push the lever up for right turns and down for left turns. The turn signal should automatically click off after making your turn.
In some vehicles, a malfunctioning turn signal causes the turn signal to blink faster.
Law enforcement can pull you over for a non-functioning turn signal. Actions include anything from a warning, to a fix-it ticket, to a ticket with fine.
Part 3 of 5: Understand your brake lights
Your vehicle's brake lights are important during the day and night. Not only is driving with non-functioning brake lights dangerous, but you should also expect law enforcement to pull you over and write you a ticket if you are caught with your brake lights not working.
Step 1: Use your brakes during the day. Your brake lights work during the day, activating when you press the brake pedal.
This helps notify other drivers behind you that you are stopping. As long as your brake pedal is depressed, the light should stay on.
Step 2: Use your brakes during the night. Having properly working brake lights at night is even more important.
Visibility is low at night, and even with headlights, it is sometimes difficult to see a stopped car in the darkness. Brake lights are designed to illuminate when a vehicle's headlights are turned on, and they become brighter when the brake pedal is pressed when slowing or stopping.
Step 3: Know your backup lights. Vehicles are also equipped with back-up or reverse lights to indicate that the car is in reverse.
When you put the vehicle in reverse, the back-up lights come on to help illuminate what is behind your vehicle.
Part 4 of 5: Understand your fog lights
Some vehicles come equipped with fog lights to help improve visibility when driving in foggy conditions. If your vehicle is equipped with fog lights, you should learn when to and when not to use them for best visibility.
Step 1: Know when to use your fog lights. Knowing when to use your fog lights is important.
While not required by law, fog light use can greatly increase visibility in foggy conditions.
Warning: Do not use your fog lights when there is no fog present. Fog lights can temporarily blind other drivers.
Part 5 of 5: Hazard lights
The hazard lights on a vehicle are meant to warn other drivers of a hazard. You should use the hazard lights in a variety of situations, including if your vehicle breaks down or there is a hazard on the road ahead.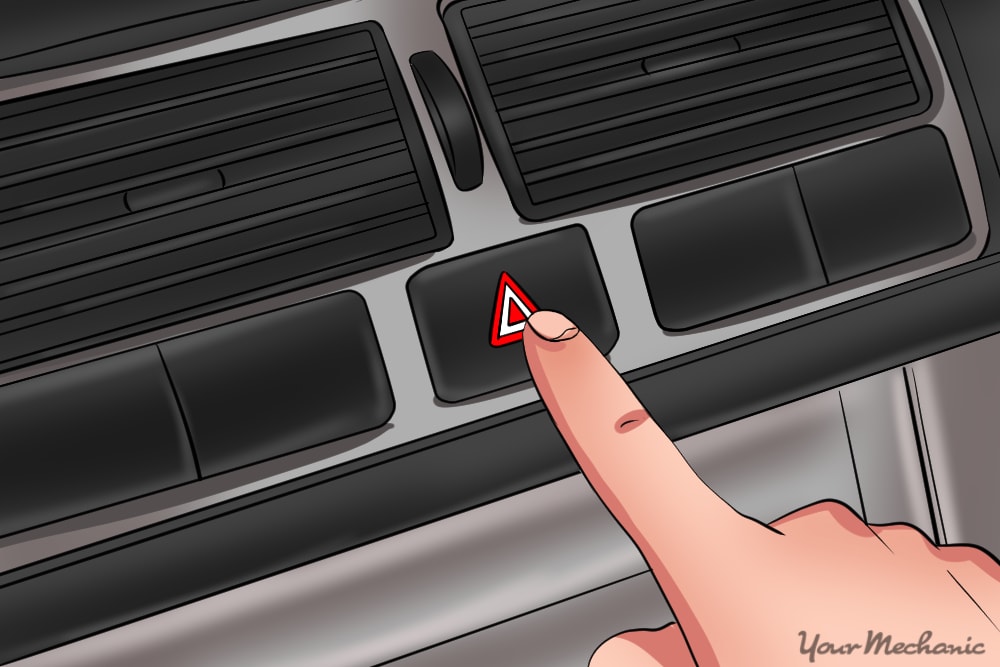 Step 1: Use hazards during a breakdown. The most common use for your hazard lights is to warn other drivers of your vehicle's presence when you break down.
If you suffer a breakdown, attempt to get all the way to the right shoulder if possible. Once there, get over as far as possible off the road. Turn on your hazards to alert other drivers to your presence. The hazard light switch is located on your steering column or somewhere visible on the dashboard.
If you must exit your vehicle, watch for oncoming traffic, and make sure it is clear when exiting your vehicle before opening your door. If available, put out road flares, reflective triangles, or other items to further alert other driver's to your presence.
Step 2: Warn of a hazard ahead. In addition to problems with your own vehicle, you should also use the hazard lights on your vehicle to warn traffic behind you of a hazard on the road ahead.
This could come into play if you come upon a wreck in foggy conditions, for instance. In this case, it is best if you get off of the roadway and turn your hazards on.
Warning: If you come upon a wreck in foggy conditions and must stop, pull your vehicle as far to the right as you can. If it is possible to safely exit your vehicle, get off the roadway on foot, call emergency personnel, and wait for help to arrive.
Knowing how and when to use your vehicle's lights goes a long way toward making you, your passengers, and the motorists around you safer. It is also paramount that you keep your vehicle's lights in proper working order to avoid getting a ticket from law enforcement. If you need a headlight bulb replacement, call on one of YourMechanic's expert mechanics to do the job for you.
---
Next Step
Schedule Headlight Bulb Replacement
The most popular service booked by readers of this article is Headlight Bulb Replacement. YourMechanic's technicians bring the dealership to you by performing this job at your home or office 7-days a week between 7AM-9PM. We currently cover over 2,000 cities and have 100k+ 5-star reviews... LEARN MORE
SEE PRICING & SCHEDULING
---
The statements expressed above are only for informational purposes and should be independently verified. Please see our
terms of service
for more details