Driving is safer than it ever has been before; and yet, you never know what might happen when you are driving. Your car can break down or experience a mechanical failure. You could get in an accident or injure yourself in another way. You could make a mistake and end up running out of gas, or blowing a tire when you're on a remote road in the middle of nowhere.
Because of this possibility, it's important to be prepared for anything that may happen to you while you're in your vehicle. The best way to do this is by creating an emergency kit, so that you are ready for whatever is thrown at you. An emergency kit is easy to put together and doesn't take up much space in your car. Most importantly, it will be there whenever you need it.
Part 1 of 2: Gather all of your emergency kit components
Materials Needed
Blanket
Box (plastic or metal)
Duct tape
Extra oil/ fuel
First aid kit
Flashlight
Food (non-perishable, such as protein or granola bars)
Gloves
Jumper cables
Spare tire
Safety whistle
Matches
Medication (for anyone with prescriptions)
Neosporin
Old cellular phone
Pocket knife
Rain poncho
Water
Step 1: Collect your medical emergency kit items. Within your emergency kit, you'll want to have a first aid kit.
This first aid kit doesn't need to be extensive, but should have some basic components like band-aids, ibuprofen, Neosporin, and tweezers.
Tip: If you or any of your regular passengers have a serious allergy or illness, you should also include some of their medication in your first aid kit.
Step 2: Collect the survival items. There's always a chance that you'll get in a car accident and/or careen off of the road where you may not be found for a while.
To prepare for this, you should have some small, high-protein food items, such as granola bars or jerky sticks, a pack of matches (or a lighter), a safety whistle, and a rain poncho. These things will keep you stable and safe while you wait for help to find you.
You should also keep an old cell phone in your emergency kit. Even if you no longer have the phone activated, it will still be able to dial 911.
Tip: Keep a gallon of water in your trunk at all times for emergency situations
Step 3: Collect the car repair items. The final things that you need to pack in your emergency kit are car repair items.
You should always have a multitool and a pocket knife in your emergency kit, along with a small flashlight, duct tape or electrical tape, gloves, and a compass.
With these tools, you'll be able to make some basic repairs to help keep your car running in the event of an emergency.
Tip: If you have to make a temporary repair, you should always have the issue completely fixed when you return home. After making it back safely, schedule a basic safety inspection with a certified mechanic, such as one from YourMechanic.
Part 2 of 2: Storing your emergency kit
Step 1: Find a plastic or metal box that will hold all of your items. You don't want a box that is too big, but it needs to be big enough to hold all of your emergency kit items.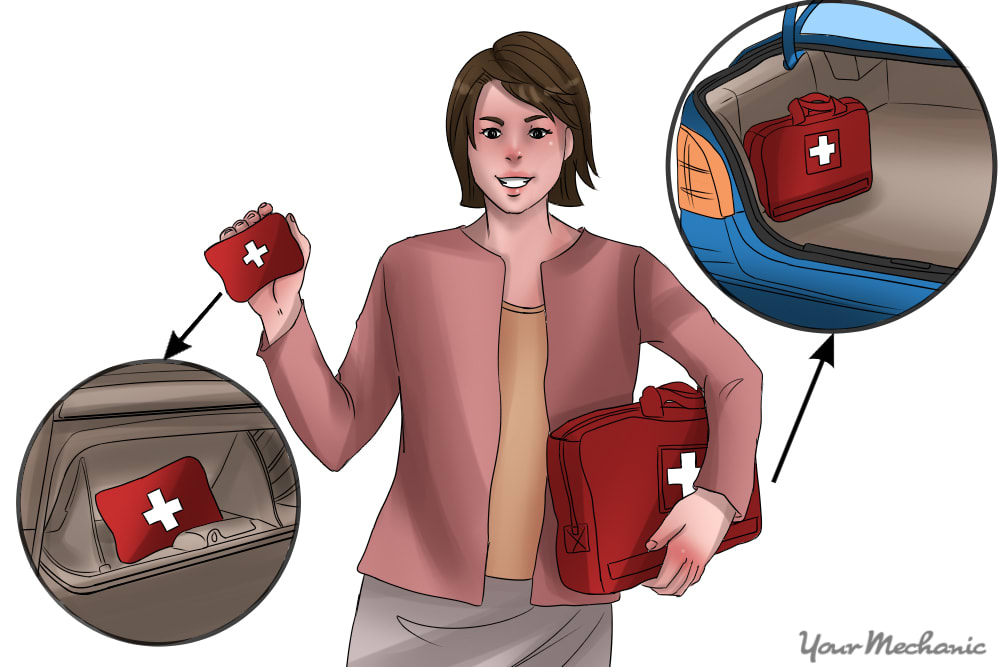 Tip: If you prefer, you can place your first aid items in a small emergency kit in the glove compartment, and place the rest of the emergency kit in the trunk.
Step 2: Store your emergency kit in an easy-to-access location. The best place for an emergency kit is underneath one of the front seats, or on the floor at the rear seats, so that the kit is not in your way but is easy to access in the event of an emergency.
Wherever you store it, make sure that everyone in your car knows exactly where it is.
Step 3: Place the remaining items in your trunk. Other important items that don't fit in your emergency kit should be placed in the trunk.
Jumper cables, a blanket, a spare tire, and extra engine oil are all important things to keep in your car at all times, but they obviously won't fit in a small box with the rest of your emergency kit items. Instead, keep these neatly in your trunk in case you ever need them.
With these emergency kit items, you'll be prepared for almost anything that the road throws at you. Hopefully you never need your emergency kit, but it's always better to be safe than to be sorry.
---
Next Step
Schedule 75 Point Safety Inspection
The most popular service booked by readers of this article is 75 Point Safety Inspection. YourMechanic's technicians bring the dealership to you by performing this job at your home or office 7-days a week between 7AM-9PM. We currently cover over 2,000 cities and have 100k+ 5-star reviews... LEARN MORE
SEE PRICING & SCHEDULING
---
The statements expressed above are only for informational purposes and should be independently verified. Please see our
terms of service
for more details