A sport utility vehicle, or SUV, is a wonderful choice for those who need more cargo space, more passenger seating, or a vehicle capable of more than a typical passenger car. SUVs are commonly able to:
Accommodate from five to eight passengers, depending on configuration
Handle rough terrain or off-road driving
Provide a higher seat position for a better view of the road
Tow a load similar to a truck
One of the major drawbacks to owning an SUV is that larger vehicles use more fuel on average. With an SUV, you can usually expect that you'll achieve fuel ratings better than a pickup truck of a similar size, but usually much worse than a passenger car with the same seating capacity.
There are some manufacturers, however, who have built SUVs with much improved fuel economy.
Among SUVs, there are several different variations:
Compact SUVs
Four-wheel-drive SUVs
Full-size SUVs
Hybrid SUVs
Luxury SUVs
Two-wheel-drive SUVs
In each style of SUV, there are those whose fuel efficiency is better than average. Here's how you can find an SUV that suits your needs with the best fuel efficiency in mind.
Part 1 of 3: Determine what you need your SUV to do for you
How well your SUV performs on fuel efficiency is a moot point if it doesn't meet all of your needs. Determine what your SUV needs to be capable of so you can find the right SUV for you. Below, you'll find a table with many popular makes and models of SUVs, along with their fuel mileage and passenger capacity.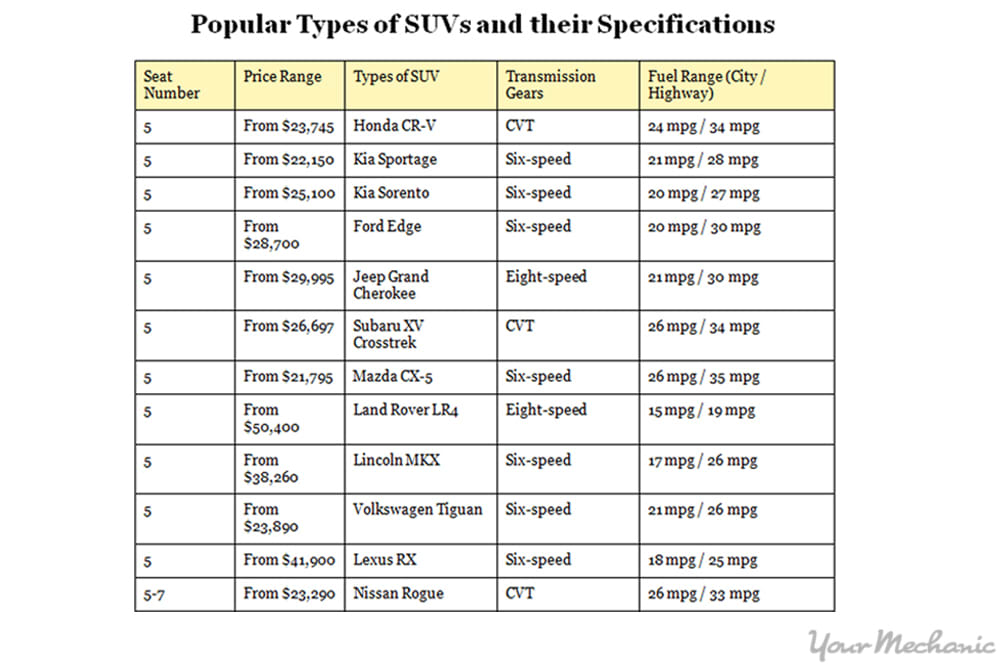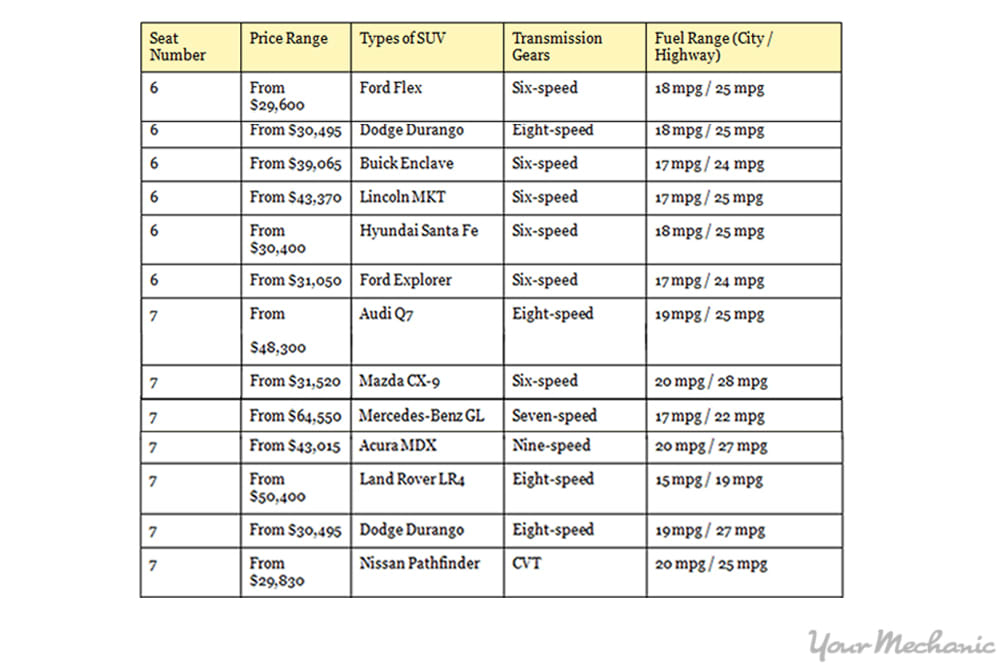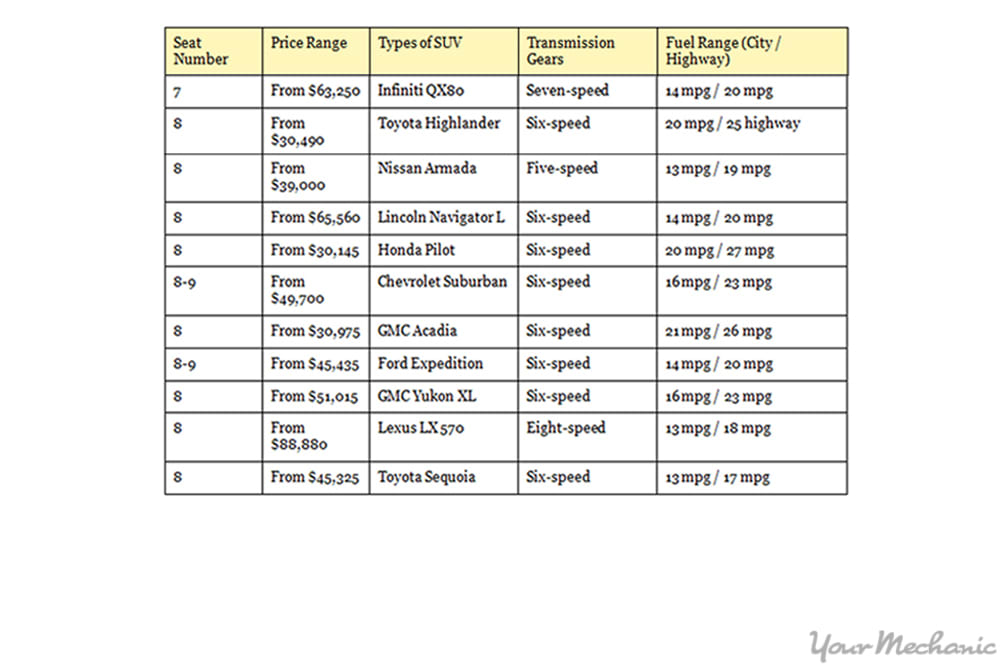 Step 1: Figure out how many people you need to carry. You can't add seats at a later time without buying a different vehicle, so ensure you have enough seats for the maximum number of people you typically carry.
SUVs can seat at least five people normally, though many mid-size or large SUVs can seat seven, eight, or even nine people.
Step 2: Determine how much cargo you'll need to carry. If you drive your vehicle on road trips, account for your ability to pack suitcases, a cooler, or any other supplies you'll need for your trips.
If you use your SUV for carrying a full load of people, your cargo space will be limited because all your seats will be in use.

If you plan on carrying heavy cargo, a mid- or full-size SUV should be considered because it will have a more capable suspension and braking system for hauling loads.
Step 3: Consider your usual driving settings. You'll either be driving on the highway primarily, in the city mostly, or a balanced combination of both.
If you are driving on the highway, look at SUVs with a higher number of transmission gears that can perform better on fuel at higher speeds.

If you drive mostly in the city, look at the smaller engine choices for SUVs that will perform best on fuel on short trips and frequent shifts.
Step 4: Determine your fuel range. Consider alternative fuel options for SUVs, which can include diesel-powered engines and gas-powered/electric hybrid powertrains.
If you have a short commute, you may be able to get the best fuel economy using a hybrid SUV that you can recharge when you get back home at the end of the day.
Tip: Hybrid vehicles can extend your fuel range for long trips also, but achieve the best fuel efficiency on short trips.

Note: Diesel-powered engines are typically more fuel efficient on average than gas-powered engines, but are thousands of dollars more expensive at the initial purchase.
Part 2 of 3: Check online lists for best rated fuel efficient SUVs
It can be overwhelming to find a vehicle that suits your needs. Use online resources that list SUVs with the most fuel efficient ratings to find one that fits your situation.
Step 1: Check lists of fuel efficient SUVs from authoritative sources online. Perform a web search for "fuel efficient SUV" and check the results for current model year SUV lists.
One such authoritative site is Kelley Blue Book who lists the most fuel efficient SUVs of the model year.
Scroll through the list of vehicles and determine if one suits your needs.
Step 2: Search for fuel efficient SUVs in a particular category. The website FuelEconomy.gov is an excellent resource for finding the best vehicles for fuel efficiency.
You can find the most fuel efficient SUVs by clicking on "Find A Car" and then filtering your results by class.
Input your desired model year, vehicle class, and your desired combined fuel rating, then click "Go" to view the results.

If there are no results for your selected criteria, go back and modify your search until you access results.

Results are displayed in a list with the most fuel efficient rated vehicles at the top, and in descending order.
Make a vehicle selection based on the vehicle size, capacity, and type of fuel it uses, and of course its fuel efficiency rating.
Part 3 of 3: Purchase your fuel efficient SUV
Now that you've selected a fuel efficient model you'd like to own, you need to complete the purchase.
Step 1: Locate your desired vehicle for sale. If you are looking at a new vehicle, visit the dealership associated with the car make you've selected.
If you are looking at a used fuel efficient SUV, search online listings on Craigslist and AutoTrader to discover vehicles to look at in your area.
Step 2: Choose a model with the smallest engine choice. In nearly every situation, the smallest engine burns the least amount of fuel.
However, some SUVs may only have one engine option available.
Step 3: Ask about fuel efficiency incentives. Some states or manufacturers have rebates and purchase incentives for fuel efficient models to encourage you to buy a fuel efficient vehicle.
Rebates or incentives can range into the thousands of dollars. Unfortunately, if you are looking at a used vehicle, you won't be eligible for rebates.
Step 4: Make a sales agreement. Negotiate a sale price with the seller for the vehicle you wish to buy and arrange financing or payment for the vehicle.
There are more offerings today than ever before for fuel efficient SUVs. Even luxury and full-size SUVs are offering options like hybrid powertrains and fuel-sipping powertrains that can save you money at the pump and improve your vehicle emissions. Once you know what type of fuel efficient SUV you need based on your driving habits, you should have plenty of great purchase options to choose from. If you are buying a used vehicle, don't forget to have a pre-purchase car inspection done to make sure you are getting your money's worth. Our certified mechanics at YourMechanic will be happy to come out and inspect your prospective SUV purchase before you buy.
---
Next Step
Schedule Pre-purchase Car Inspection
The most popular service booked by readers of this article is Pre-purchase Car Inspection. YourMechanic's technicians bring the dealership to you by performing this job at your home or office 7-days a week between 7AM-9PM. We currently cover over 2,000 cities and have 100k+ 5-star reviews... LEARN MORE
SEE PRICING & SCHEDULING
---
The statements expressed above are only for informational purposes and should be independently verified. Please see our
terms of service
for more details