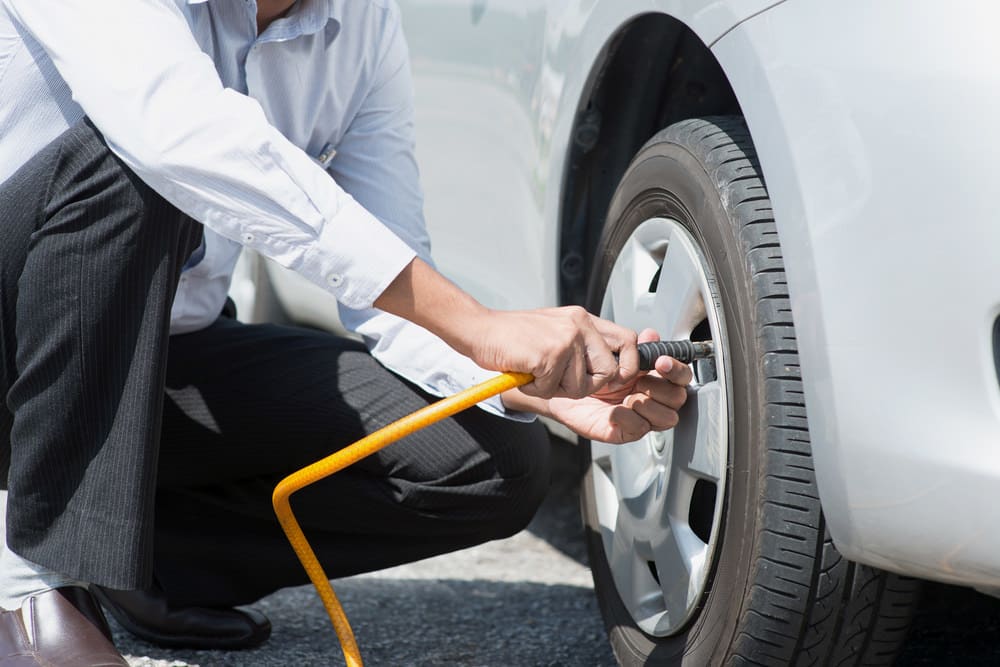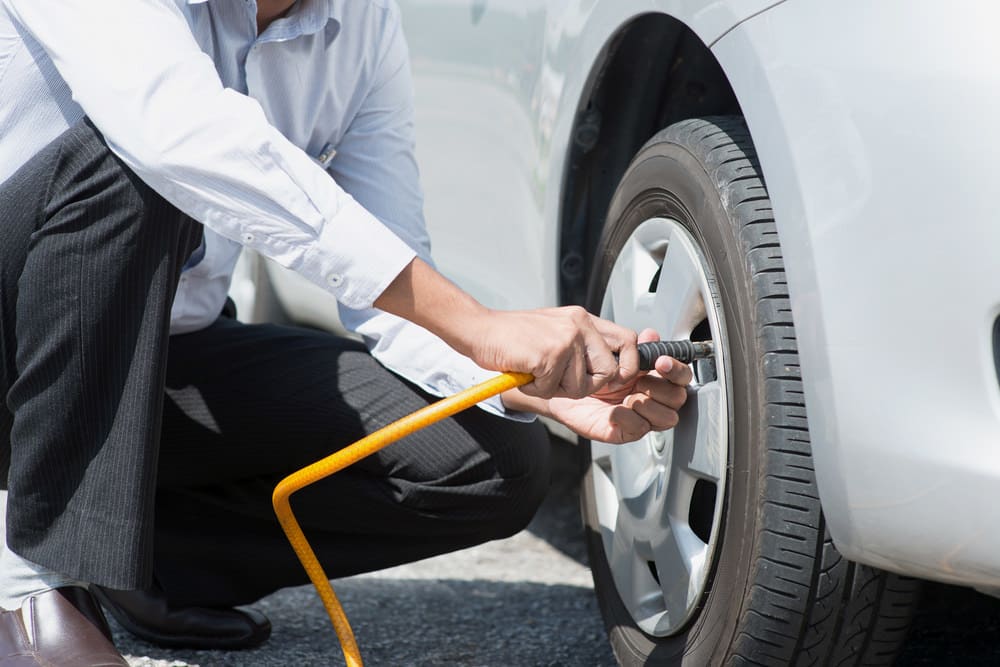 It's easy to take the air pressure in your tires for granted. After all, as long as you get where you need to go without a flat or other problem, you may think there's no reason to overanalyze how you arrived there. That doesn't mean the air in your tires isn't important, however. There are many effects of having low air in your tires, such as your gas mileage suffering, handling becoming more erratic, and your tires will actually heat up, causing the tread to wear out faster. 
Here's the proper way to add air to reap the benefits of properly pressurized tires:
Determine the pressure your tires require. Check the print on the side of the tire you are checking. There should be a number followed by psi (pounds per square inch) or kPa (kilo Pascals). If you live in the United States, pay attention to the number by psi. Those who live in countries utilizing the metric system, however, will normally note the number by kPa.  If you're in doubt, just match the unit on your tire gauge. In the unlikely event that this information is not printed on your tire, look for a sticker on the inside of the driver's door frame with this information or consult your owner's manual.

Remove the cap on the tire's valve stem. Unscrew the cap on the tire's stem by twisting it counterclockwise until it comes off. Place the cap somewhere you can locate it easily, but not on the ground because it could easily roll away and get lost.

Press the indented portion on your tire gauge onto the stem. Don't be surprised if a bit of air escapes as you adjust the gauge to fit firmly on the stem; it will stop once it is in place. 

Read the gauge to see how much pressure is inside your tire. On a standard tire gauge, a stick will pop out of the bottom, and the number where it stops indicates your tire's current pressure. Digital gauges will display a numeral on an LED screen or other form of display. Subtract this number from your desired tire pressure to determine how much air needs to be added. 

Add air until you've reached the desired tire pressure. Most gas stations with air machines require you to deposit coins, but you may luck out and find a place offering free air. Regardless, once the air machine is running, place the nozzle over your tire's valve stem like you did with your tire gauge. After adding a burst of air, check the pressure with your gauge and repeat as needed until the proper pressure has been achieved (within 5 psi or kPa). If you accidentally overfill your tire, simply press your gauge a little off-center onto the valve stem to allow some air to escape, and then check the pressure again. 

Replace the cap on the valve stem. The cap should go back in its proper place on the stem easily by turning it clockwise. Don't worry about replacing the same cap on the tire stem It originally came from; the caps are compatible with all the stems.

Check your other three tires using the steps above. Even if it looks like just one of your tires is low, you should use this opportunity to ensure that all of your tires are inflated suitably at this time. 
As a general rule, you should check your tires on a monthly basis. This is because air can slowly escape even with the cap on the valve stem, and low tire pressure can be dangerous if left unchecked. 
Tip: Your pressure reading will be most accurate when your tires are cool, so perform your maintenance checks when your car has been sitting for a while (e.g., before leaving for work in the morning) or after driving no more than a mile or two to an air station.
---
Next Step
Schedule Car is getting worse gas mileage Inspection
The most popular service booked by readers of this article is Car is getting worse gas mileage Inspection. Once the problem has been diagnosed, you will be provided with an upfront quote for the recommended fix and receive $20.00 off as a credit towards the repair. YourMechanic's technicians bring the dealership to you by performing this job at your home or office 7-days a week between 7AM-9PM. We currently cover over 2,000 cities and have 100k+ 5-star reviews... LEARN MORE
SEE PRICING & SCHEDULING
---
The statements expressed above are only for informational purposes and should be independently verified. Please see our
terms of service
for more details