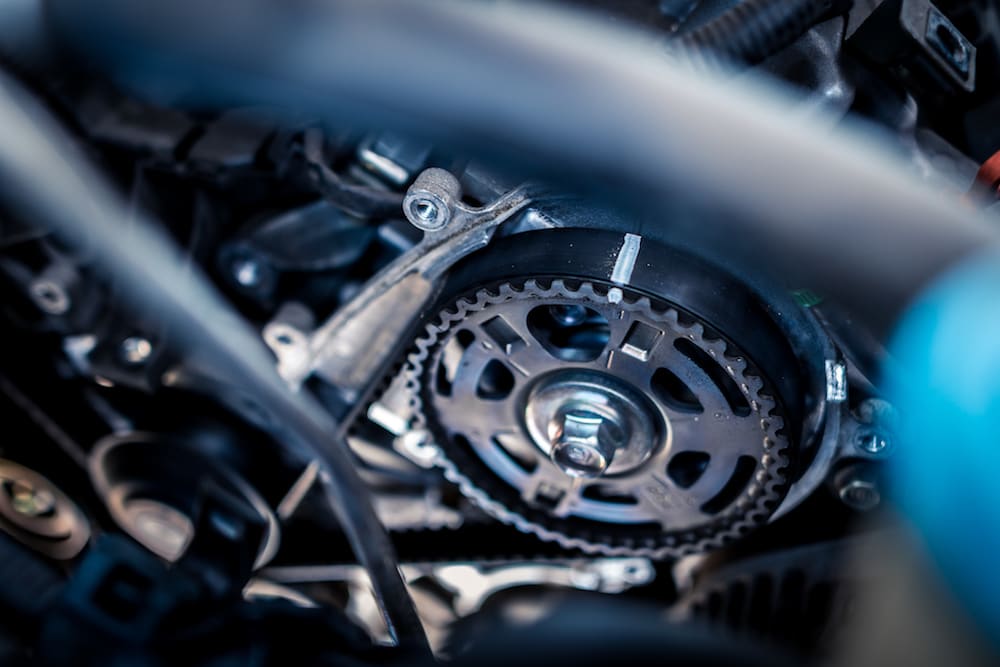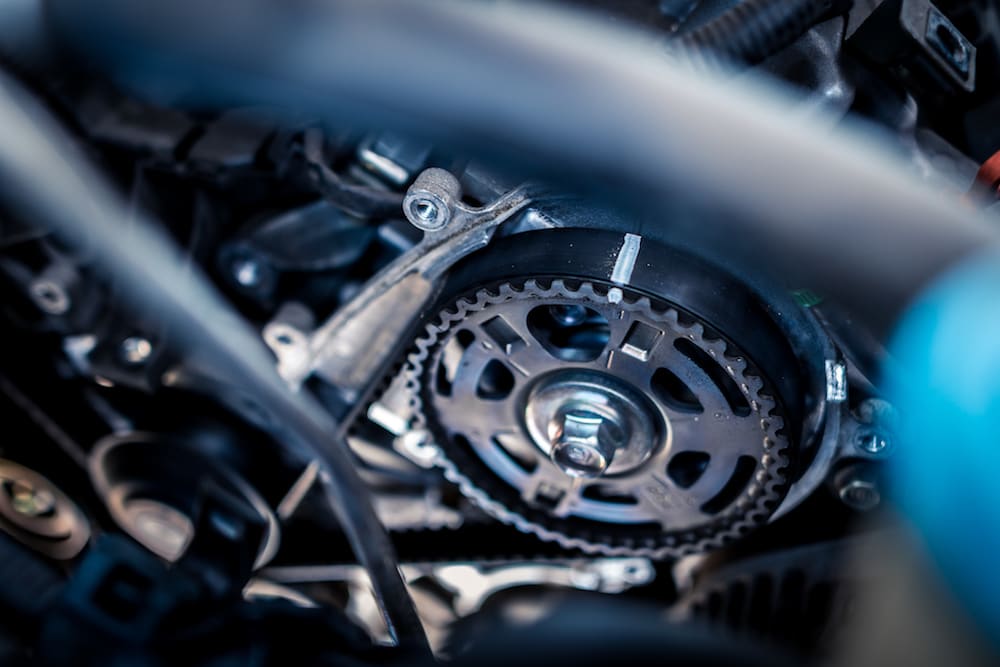 Most cars and light duty trucks have timing belts. The transverse mounted engines, or known as front wheel drive, can be tricky with removing and replacing a timing belt.
There are three types of timing belts
Single overhead cam timing belt
Dual overhead cam timing belt
Dual overhead cam twin head timing belt
Single overhead cam timing belt
Single overhead cam timing belts can be a little tricky to replace. Some vehicles have brackets, pulleys, or cooling hoses in front of the timing cover. Keeping the camshaft and crankshaft in alignment are pretty simple on single overhead design when replacing a timing belt.
Dual overhead cam timing belt
Dual overhead cam timing belts can be tricky as well. Most vehicles today on the market have a cylinder head design that has the valve train enter the combustion chamber at an angle of forty to eighty degrees. This is critical when removing the timing belt due to the alignment of the valve train. When removing a timing belt on a dual overhead camshaft, the two camshafts are preloaded with springs. One camshaft may have a load on shaft resulting the camshaft staying put during the belt removal. However, the other camshaft will not have a load on it and the shaft will turn under spring pressure. This can cause a valve to make contact with a piston allowing the valve to bend.
To prevent a camshaft from rotating when the timing belt is removed a cam lock tool is to be used. a cam lock tool locks between both camshafts and keeps them together from rotating.
Dual overhead cam twin head timing belt
The most complex type of timing belt replacement that can be very tricky to perform is a dual overhead cam twin head timing belt. This type of belt is a single belt that is used on a v configured engine with dual overhead camshaft heads. Most v-6 engines with overhead timing may have this type of belt. When replacing this type of belt it is important to have two cam lock tools for there are two sets of cylinder heads on the engine.
On transverse engines, the timing belt can be tricky to remove for there is limited space to access the belt. Some vehicles it is easier to remove the belt from the top of the engine, but on most vehicles, the wheel and tire assembly must come off along with the inner fender, if it is a bolt on design, to access the lower bolts to the timing cover. Most timing covers are now one piece resulting in removing the harmonic balancer located on the crankshaft.
Some engines will have engine mounts in the way of removing the timing belt and making it difficult to extract the belt. In this case, supporting the engine and keeping it from moving will help aid in removal and installation of the engine mounts, commonly known as dog bones.
Timing belts are to be changed based on the manufacturer's recommendation time frame. It is ok to change a timing belt earlier than normal but not recommended.
Note: If a timing belt has broken off, be sure to check the engine to see if it is an interference or non interference engine. Plus, realign the timing, install a new belt, and perform a leak down test to ensure that the engine is indeed ok for normal operations. YourMechanic has services available to replace your timing belt.
---
Next Step
Schedule Timing Belt Replacement
The most popular service booked by readers of this article is Timing Belt Replacement. YourMechanic's technicians bring the dealership to you by performing this job at your home or office 7-days a week between 7AM-9PM. We currently cover over 2,000 cities and have 100k+ 5-star reviews... LEARN MORE
SEE PRICING & SCHEDULING
---
The statements expressed above are only for informational purposes and should be independently verified. Please see our
terms of service
for more details