A vehicle breaking down is bad enough when you drive close to home - but imagine if your car broke down while you were out on the road far from home. Safely dealing with an out-of-town breakdown requires some preparation. The best way to prepare for out-of-town breakdowns is to take safety tools with you and have someone to call at a moment's notice.
Your best bet is to have a membership to an automotive club such as AAA, or another roadside assistance service provider. But even if you don't have this type of membership, you can handle an out-of-town breakdown by following a few simple steps.
Part 1 of 3: Pull off the road safely
Materials Needed
Flares

Warning triangles

Warning: If you detect a fuel leak or smell fuel fumes, do not light any flares - this could lead to a vehicle fire or even an explosion. If a fuel leak is detected, notify emergency services by calling 911 and move away from the vehicle until help can arrive.
When your vehicle initially suffers a breakdown, the first thing you want to do is get off the roadway. If possible, move your vehicle to the right shoulder as far over as you can. Then, turn on your hazard lights and notify the authorities.If you must exit the vehicle, do so with caution and stay out of the lanes of traffic. You should also have a good roadside emergency kit on hand in your trunk when you break down.
Step 1: Pull over in a safe area. When you notice you are having a breakdown, your first priority is to get off the roadway.
Put on your right turn signal and get over to the right as traffic allows.
When pulling off the roadway to the right, get over as far as you can on the shoulder.
If the situation does not allow you to get over to the right side of the road - such as when your vehicle becomes inoperable while still in a lane of traffic - turn on your hazards, stay seat-belted in your vehicle, and notify the police by calling 911.
Warning: Stay in your vehicle until help arrives. If you must exit the vehicle, do so cautiously. Watch out for other motorists and make sure they see you before you cross any lanes of traffic. If you must exit the car, get off the roadway as soon as possible and stand in a safe area away from the flow of traffic.
Step 2: Alert other motorists. If you are able to get the vehicle safely off the road, your next step is to alert other motorists to your vehicle's presence.
Start by turning on your vehicle's emergency flashers.

Raise your vehicle's hood to let other motorists know why you are pulled over. This is a great way to communicate that you are having a problem, and may result in another motorist stopping to help.

Tie a brightly colored item to your vehicle's antenna or door handle on the side facing the road. Take caution when doing so.

Place road flares or orange reflective triangles. Start at 10 feet from your car, and place the flare or triangle directly behind the left side of the vehicle. Place the second flare or triangle 100 feet back, and lined up with the middle of the bumper.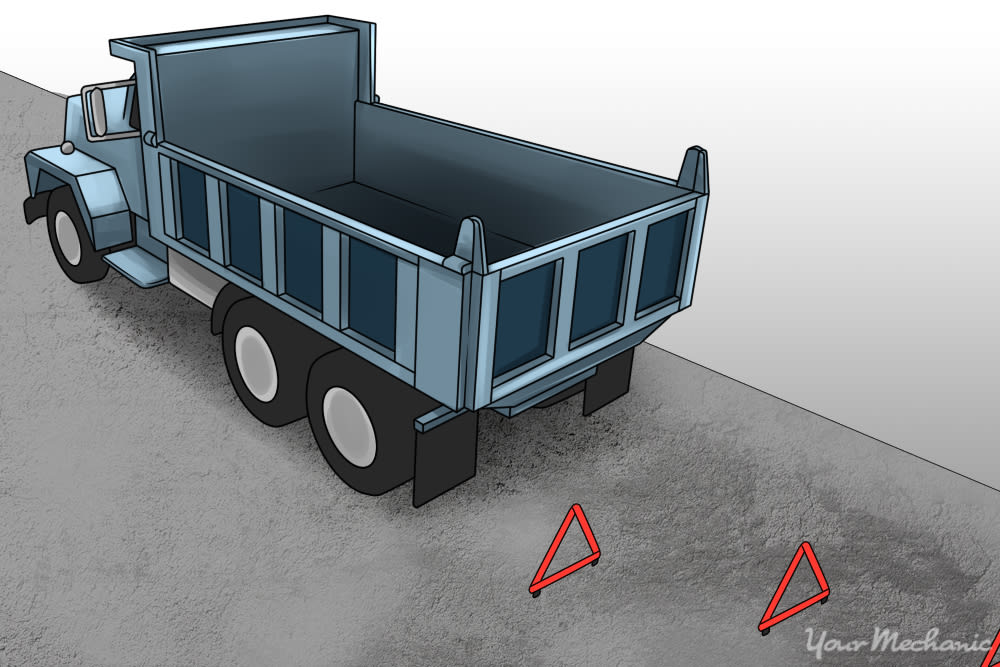 For the third flare or triangle, place it another 100 feet back and even with the vehicle's right side, on an undivided highway. If on a divided highway, instead place the triangle 300 feet back and even with the vehicle's right side. In all cases, use caution when placing flares or reflective triangles, and watch for oncoming traffic.
It is especially important at night or in low visibility conditions to let other passing motorists that your vehicle is present, so that they can slow down and take the necessary precautions.
Step 3: Remain with your vehicle. Once you have notified the appropriate authorities, whether that is the police or roadside assistance, remain with your vehicle.
If you breakdown at night or in conditions of poor visibility, carry a flashlight to alert others to your presence.
In instances where you must abandon the vehicle, make sure to watch for oncoming traffic before proceeding to the right shoulder of the road. Once there, stay safely out of the way of oncoming traffic until help arrives.
Part 2 of 3: Call roadside assistance
After you have your vehicle to the side of the road and have taken the necessary precautions to make other motorists aware that your vehicle is there, it is time to call roadside assistance or a tow truck. If the police are present, they can call a tow truck for you if necessary.
Step 1: Know what to tell roadside assistance. If you are a member of a motorists' club, such as AAA, you need to give them specific information when calling.
In addition to your membership number or insurance information, you also need to give the dispatcher the following:
A phone number where roadside assistance personnel can reach you.

The exact address where your vehicle is located. Barring that, the nearest cross street if on city streets, or exit number if on the freeway or interstate. You can also use the mile marker if you are nowhere near an exit on the freeway or interstate.

The color, make, and model of your vehicle.

The license plate number of your vehicle.

The problem causing the breakdown (if you know). A description of the symptoms might also be helpful if you are not sure about the exact cause of the breakdown.

If there are any special circumstances associated with the breakdown, let the dispatcher know. Some special circumstances include any special medical needs, an alternative fuel or diesel vehicle, or a large number of passengers.

If you have a repair shop in mind when contacting the dispatcher, tell them. Otherwise, you can ask the operator if they have any nearby recommendations as to where they can take your vehicle if needed.
Step 2: Determine your wait time. Once you have given your service provider the information related to your breakdown, ask for an estimated time of arrival.
Situations that might impact arrival time include the remoteness of your location, the time of day or night, and inclement weather.
Warning: If, for any reason, you feel unsafe, notify the operator of the situation and either call 911 or have the operator call 911 for you.
Step 3: Getting help with no roadside assistance. If you don't have roadside assistance, either through a club or through your insurance, you still have some options.
If your phone has Internet capabilities, you can look up the number to the nearest towing company or the non-emergency number for the local police department.
You could also try calling a roadside assistance club. AAA helps even non-members, but expect to pay the entire costs associated with the service call. The common form of accepted payment includes cash and credit cards. Unfortunately, personal checks are seldom accepted as a form of payment.
Part 3 of 3: Once help arrives
Once the roadside assistance service personnel arrive on the scene, you have a few options to choose from to get you back on the road. If the problem is a simple fix, such as running out of gas or a flat tire, the roadside assistance service personnel should have no problem getting you back on the road and on your way. If the problem is more far reaching, such as a mechanical issue, you might have to have your vehicle towed to a repair shop to get it fixed.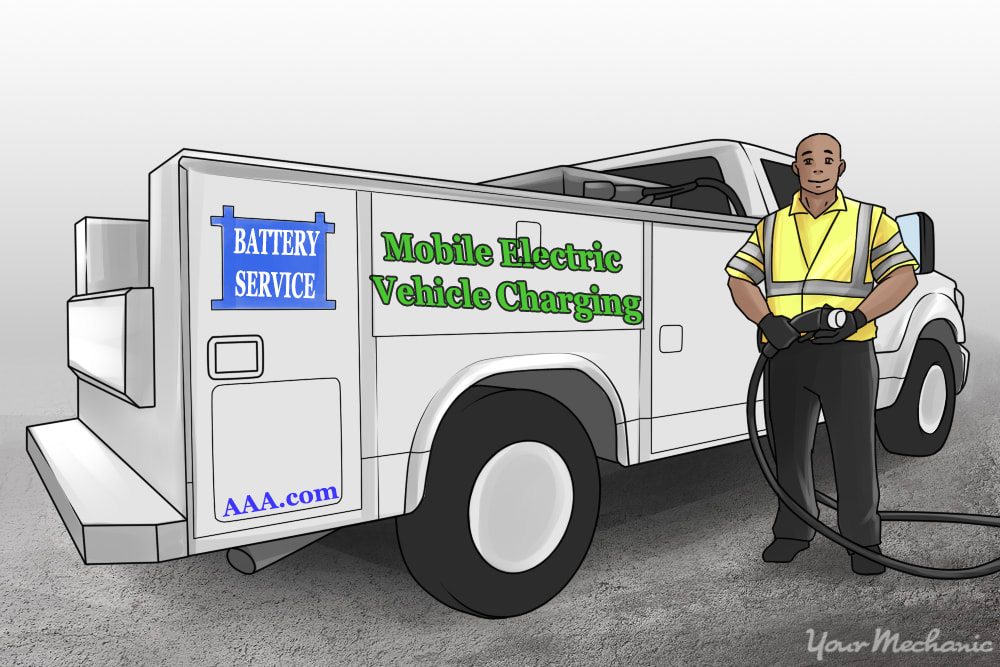 Warning: Always look for identifying markers on the roadside service personnel's vehicle associated with the organization that you have a membership with. You should also ask for identification from the service representative themselves.
Step 1: If necessary, call a tow truck. If your vehicle needs more extensive repairs, you might have no choice but to take it to a local mechanic.
Tip: If you are not sure where you want to take the vehicle to have it looked at and repaired, but you have access to the Internet via your smartphone, you can look up repair shops in your local area while you wait for the tow truck to arrive. In addition, the roadside service personnel might have suggestions on where you can take your vehicle.
Step 2: Talk to the mechanic. Once you have taken your vehicle to a local mechanic, you need to determine the problem, how long it should take to fix, and the cost.
If, for some reason, you cannot reach an agreement with the mechanic on cost or the timeline to fix your vehicle, you always have the option of having it towed to another shop in the area.
Step 3: Get a room or rent a car. If you decide to have the repair shop fix your vehicle, determine whether you need to get a hotel room for the night, or rent a vehicle to use if the repair shop expects to take longer with your vehicle repair.
For a night or two, you might consider renting a local hotel room until the repairs are completed.
If it is expected to take longer than a few days and you have somewhere to be, then you should rent a car to provide you transportation until the repairs are complete. Many insurance plans or service plans have the option of a rental car if your vehicle is out of commission for an extended amount of time.
Getting the help you need if you break down out of town is simple if you have a membership to a motor club, such as AAA, or have roadside assistance as part of your car insurance policy terms. Even lacking such an assistance plan, you can still use the services of AAA or other roadside assistance service provider at a cost. You can also Ask a Mechanic if you are unsure about what the problem is, or even have one of our expert mechanics at YourMechanic meet you to diagnose the problem and get you back on the road.
---
Next Step
Schedule 75 Point Safety Inspection
The most popular service booked by readers of this article is 75 Point Safety Inspection. YourMechanic's technicians bring the dealership to you by performing this job at your home or office 7-days a week between 7AM-9PM. We currently cover over 2,000 cities and have 100k+ 5-star reviews... LEARN MORE
SEE PRICING & SCHEDULING
---
The statements expressed above are only for informational purposes and should be independently verified. Please see our
terms of service
for more details